Mimi Leder To Direct 'All Quiet On The Western Front'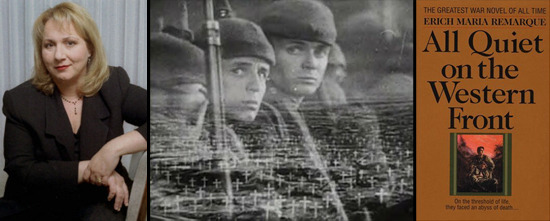 But what about Daniel Radcliffe? The last time we heard about the new movie version of Erich Maria Remarque's WWI novel All Quiet on the Western Front, it was June 2010 and Daniel Radcliffe had been attached to play the lead role.
Fast-forward through more than a year to now, as Mimi Leder (Deep Impact, Peacemaker, Luck) has been announced to direct. This is the same project on which we previously reported, produced by Ian Stokell and Lesley Paterson, who also wrote, and it still plans to shoot in 2012. But for now there is no mention of Mr. Radcliffe.
Deadline has the new report, and quotes the director waxing very enthusiastic about the material,
Even though the original film was made in 1930 at the advent of the talkies, I was moved by its depiction of the terrible senseless brutality of war," Leder said. "With this version, most of it takes place in the last 24 hours of the war. WWI fighting was brutal, hand-to-hand and ugly, and it practically wiped out a generation of young men. What is so compelling is the catastrophic levels of violence, this mind-numbing savagery, and what happens to a boy who in the journey to becoming a man has to become an animal. War destroys the humanity of this young man, stripping away his ability to feel, and making him act like a beast. Taken with the emotionality of how this young boy joined the war out of nationalism as many of our boys do to keep America safe, there is a message here about what happens to them and the politicians who are making war. It's alarming how little this has changed. There is an opportunity to make a great film about war, but it is also an anti-war film, an un-romanticized version of war and its consequences.
Previously a Spring 2012 start was mentioned, which at that point was meant to accommodate Daniel Radcliffe's run on Broadway in How to Succeed in Business Without Really Trying. Now, as financing is still coming together, Deadline says 'late 2012' is the new goal. With no mention of a lead actor I'm left to surmise that the casting options are open once again.
Erich Maria Remarque's novel, one of the greatest war stories ever written and a classic of anti-war literature, tells the story of Paul Bäumer, a soldier who—urged on by his school teacher—joins the German army shortly after the start of World War I. Bäumer arrives at the Western Front with his friends. There they meet Stanislaus Katczinsky, an older soldier, nicknamed Kat, who becomes Paul's mentor. While fighting at the front, Bäumer and his comrades have to engage in frequent battles and endure the dangerous and often squalid conditions of warfare. More than just a tale of simple warfare on the field, the novel describes extreme physical and mental stress during the war, and the detachment from civilian life felt by many of these soldiers upon returning home from the front.