New Photos And Video Blog: Francis Ford Coppola's 'Twixt'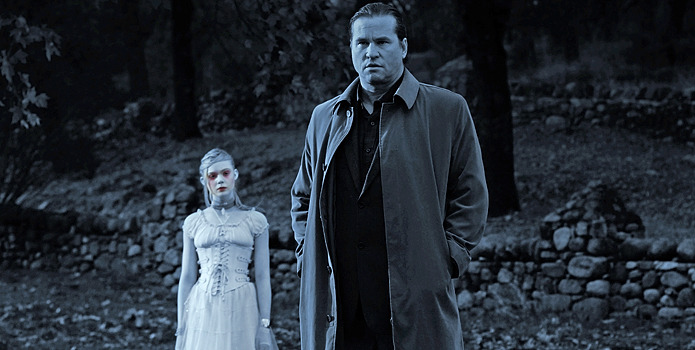 Francis Ford Coppola's panel for his new film Twixt was one of the absolute highlights of Comic Con this year. (It was one of the highlights of my entire run of Comic Con experiences, truth be told.) Not necessarily because of the film, which may or may not actually be good, but because of the innovative manner in which it will be presented.
You can read the full recap here, but in short Twixt stars Val Kilmer as a hack horror writer, Elle Fanning as a murdered small-town girl, Bruce Dern as the local sheriff, and Ben Chaplin as Edgar Allan Poe. It will be the focus of a roadshow this fall in which the film will be dynamically edited during the screening in response to audience reaction. Some scenes may be made longer or shorter, and other changes could occur. It's a great idea meant to bring some live unpredictability into the moviegoing space.
We've now got the first images of Val Kilmer in the movie, and you can see a gallery below. Along with the new pics, you'll find a grainy video blog that Germain Lussier and I recorded in the murky back aisles of Hall H right after Mr. Coppola finished up the panel.
Twixt also features Joanne Whalley, Don Novello, David Paymer, and Alden Ehrenreich. Tom Waits narrates the film — or he has recorded a narration which Mr. Coppola may or may not use during the roadshow, but will be on whatever version ends up being released as the 'final' cut.
As for the video, it's a pretty low-res affair. Apologies for that; it was recorded on my phone, which was set to a lower video resolution than usual. I also apologize for my crazy eyes and the frenetic, scattered impression it gives of the panel. What can I say? We were a little caught up in the throes of a genuinely exciting presentation.