'Dodgeball' Director Rawson Thurber To Rewrite 'The Umbrella Academy'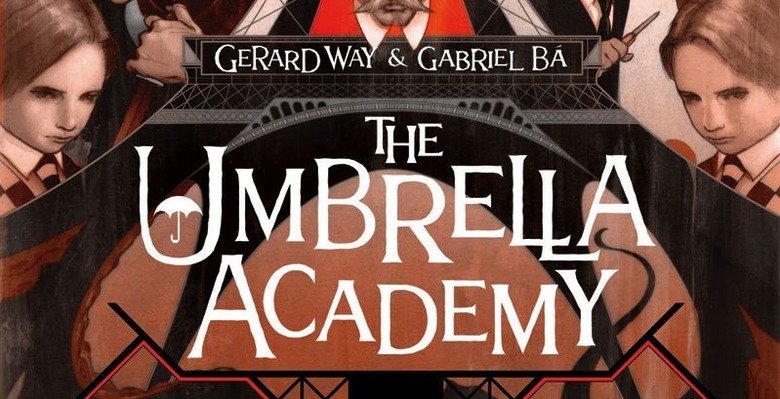 Back in 2009, we reported that screenwriter Mark Bomback (Race to Witch Mountain) was working on a screenplay adapted from Dark Horse Comics' The Umbrella Academy series. Now, after a couple of years of not much activity, the project is getting a whole new draft. Universal Pictures recently hired Rawson Thurber, best known as the writer/director of Dodgeball, to rewrite the script.
Written by My Chemical Romance singer Gerard Way and illustrated by Gabriel Ba, The Umbrella Academy follows a disbanded group of superheroes who reunite after the death of their adoptive father. The series won an Eisner Award for Best Finite Series/Limited Series in 2008 and has received praise from writer Grant Morrison, who called it "An ultraviolet psychedelic sherbet bomb of wit and ideas." More details after the jump.
In an inexplicable, worldwide event, forty-seven extraordinary children were spontaneously born by women who'd previously shown no signs of pregnancy. Millionaire inventor Reginald Hargreeves adopted seven of the children; when asked why, his only explanation was, "To save the world." These seven children form The Umbrella Academy, a dysfunctional family of superheroes with bizarre powers. Their first adventure at the age of ten pits them against an erratic and deadly Eiffel Tower, piloted by the fearsome zombie-robot Gustave Eiffel. Nearly a decade later, the team disbands, but when Hargreeves unexpectedly dies, these disgruntled siblings reunite just in time to save the world once again.
The Umbrella Academy adaptation was initially planned back in 2009 as part of a three-year production deal signed between Universal and Dark Horse in the wake of Hellboy II: The Golden Army's success. The big screen adaptation of R.I.P.D., starring Jeff Bridges, also came out of that pact.Discuss: Have you read The Umbrella Academy? Is it worth picking up? Who would you like to see in the cast and crew? Are you looking forward to this project, or are you suffering from superhero fatigue?