Superhero Bits: Ant-Man, Dark Knight Rises, Captain America, Iron Man, Mark Millar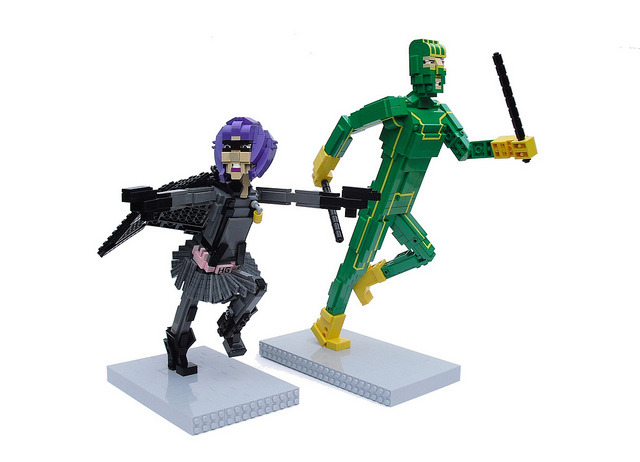 And we're back! Why is Tom Hardy comparing The Dark Knight Rises to Starbucks? Does Edgar Wright have an actor in mind for the Ant-Man lead? Is Henry Cavill comfortable in his Man of Steel costume yet? What are The Muppets doing to Green Lantern and Captain America now? And what do Conan O'Brien and Kenny Rogers have to do with superheroes? Read about all of this and much more in the triumphant return of Superhero Bits!
Last week, we ran a story on the latest Ant Man news but now you can watch Edgar Wright and Joe Cornish actually talk about it to MTV News. And they have someone in mind for the lead.
On a Captain America kick after this weekend? What Culture has a list of the "5 Best Captain America Graphic Novels" that you can pick up and feed your fancy.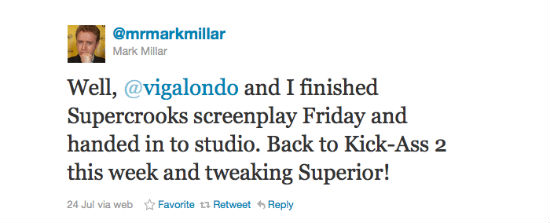 Mark Millar took to his Twitter feed to let us all know that Supercrooks, a comic/movie he's working on with Nacho Vigalondo is still progressing quite nicely.Comic Book Movie contributor JDUKE25 spoke to Henry Cavill at Comic Con this weekend about his suit for Man of Steel. It's not a super revealing bit, but its fun none the less. Jump to 8:45, or watch he and Tarsem Singh talk Immortals first.
With Captain America: The First Avenger currently the number one movie at the box office, Geeks of Doom though it would be a good time for a fun retrospective on the 1990 version of the film.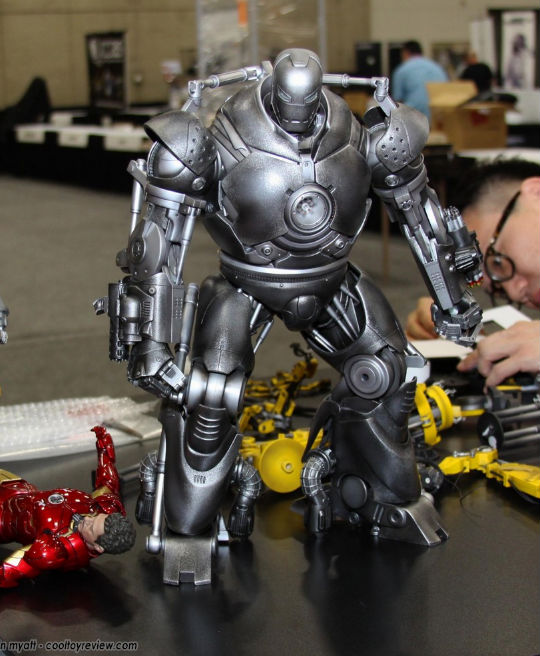 Some of the most breathtaking things on the floor of San Diego Comic-Con were the Sideshow Collectibles/Hot Toys pieces. One of the best of those was the above rendition of Iron Monger from the first Iron Man. And yes, Jeff Bridges is inside. Thanks to the I Love Toys blog for the image.
FirstShowing alerts us to this extremely cool fake trailer for The Flaming C, an animated superhero property starring Conan O'Brien.
Steven Rogers is Captain America. Kenny Rogers is the Gambler. What do they have in common? Screenjunkies takes the Rogers boys (no relation) and puts them side by side.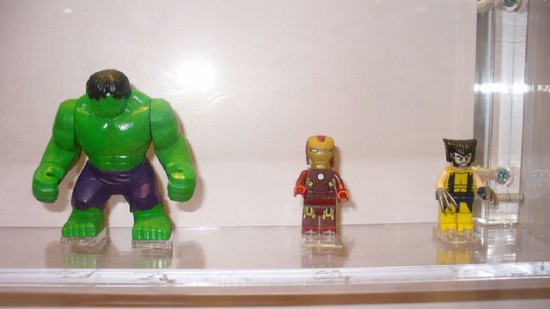 Lego men have sort of become a niche collectable in recent years and this year they've teamed up with Marvel for some Minifigs. Very cool stuff over on Gizmodo.Topless Robot has an enlightening and frequently funny list of "The 10 Crappiest Moments in Captain America's History." Dressing up like a lady is one of them.
Due to the amount of graphics and images included in Superhero Bits, we have to split this post over THREE pages. Click the link above to continue to the second page of Superhero Bits.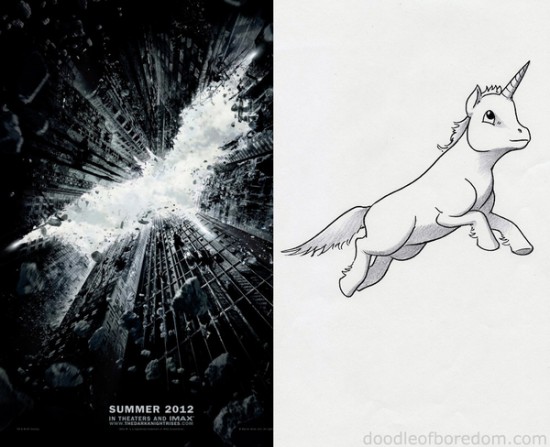 Doodle of Boredom (via Buzzfeed) surmises that the above image "ruins" The Dark Knight Rises teaser poster. I disagree but it's kind of amusing none the less.The Muppets continue their parodies of this summer's superhero movies with this Green Lantern parody trailer. Thanks to First Showing.
We might have taught you 15 new things learned about the new Amazing Spider-Man movie at Comic-Con this year but io9 has the much more revealing list of 10 sexy facts you didn't know about the Web Slinger. Like that he calls his Aunt the peach of the beach. What a creep.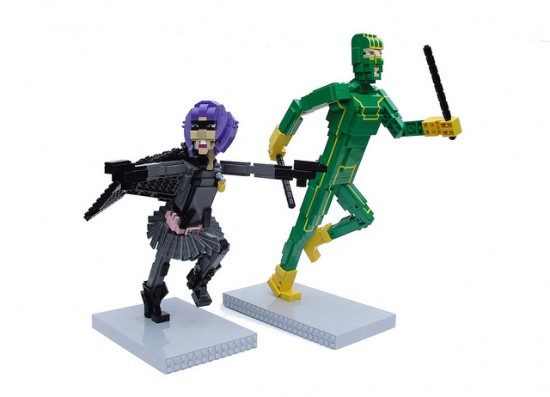 Iain Heath (via Super Punch) has created these gorgeous looking Lego versions of Kick Ass and Hit Girl. Visit the site for more information.
Comic Book Resources talked to Marvel Chief Creative Officer Joe Queseda for an extended period of time and he spoke about Avengers, Iron Man 3, Thor 2 and more. Check out the video above.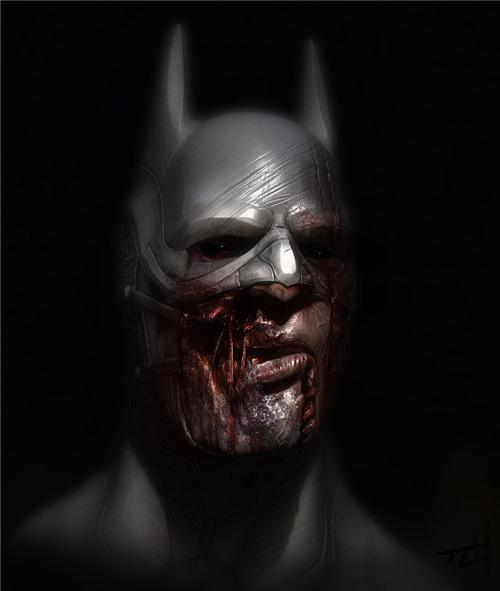 RampagedReality (Via The Daily What) has this cool looking Zombie Batman by artist Tom Lishman.
According to Batman-News, the new Batcave for The Dark Knight Rises is being built on the lot at MGM Studios in California.
Joss Whedon talks about how things are going on The Avengers to MTV News. No real updates, but passion a plenty.
At Comic Con, Tom Hardy spoke to Hitfix about playing the villain in The Dark Knight Rises. He calls the franchise a crowd-pleaser, a Starbucks, and that playing one of the leads is like screaming in an airport:
You deal with something Dark Knight – or 'Mad Max,' or 'Superman' or 'Spider-man,' whatever – it's like going to work in an airport and going, 'Hi I'm over here!' and then everybody goes 'Oh here's that, that's the villain of the piece.' Then it's a thousand people going to Duty-Free. Like, [shouting] 'I AM THE VILLAIN!' and make a lot of noise. There's a formula here, you can't muck around with it. There's a lot of rules, you're restrained in many ways as an artist. But then you're also grateful because of the huge exposure and the paycheck. Or the not-paycheck 'cause they're making you a stahhh," he affects. "Whatever it is, you're paying an entrance to getting higher exposure. These movies are huge vehicles to make a lot of money... and make a large audience happy. So now you're at the very top level of trying to bring character work in a boutique way to something that is, y'know, Starbucks.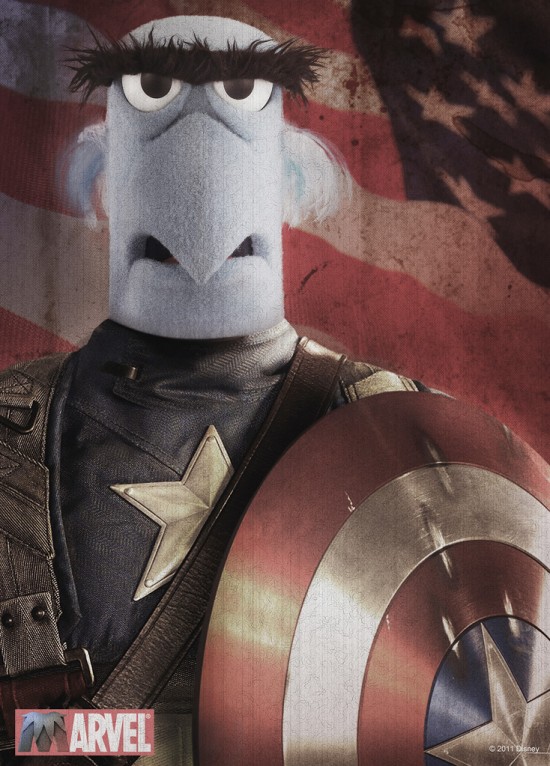 Sam the Eagle is Captain America: The First Avenger in this poster thanks to Yahoo Movies.
Due to the amount of graphics and images included in Superhero Bits, we have to split this post over THREE pages. Click the link above to continue to the third page of Superhero Bits.
Want to work out like your favorite neighborhood webslinger? Check out this Spider-Man workout video via The Mary Sue and The Daily What.
Movieline spoke to Captain America: The First Avenger screenwriters Christopher Markus and Stephen McFeely and got their "8 Pro Tips for Writing A Comic Book Movie". Some examples are "Be a fan of your source material — but don't be too beholden to it, because you have to adapt for a new audience" and "In order to write a superhero movie, don't write a superhero movie." Really interesting advice.
We've seen so many major Batman characters in Batman: Arkham City that it's no surprise to see yet another one. This trailer focuses on The Penguin. Thanks to Bloody Disgusting.
Warning: huge Captain America infographic coming up.
Click image to enlarge
Via: Military VA Loan
Pretty self explanatory. Thanks to ItThing for the heads up on that one.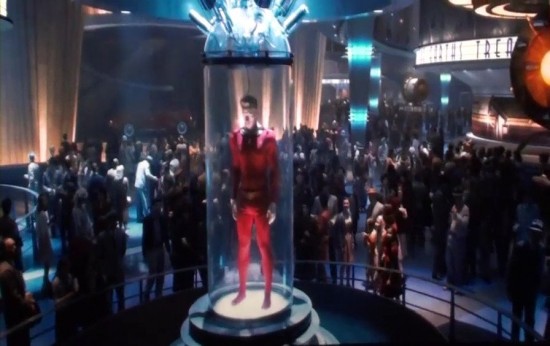 Left this for towards the end, it's a cameo from Captain America: The First Avenger of the original Human Torch. Read more about it over on Comic Book Movie.