'A Good Old-Fashioned Orgy' Trailer- In Case You Haven't Had Enough Jason Sudeikis This Year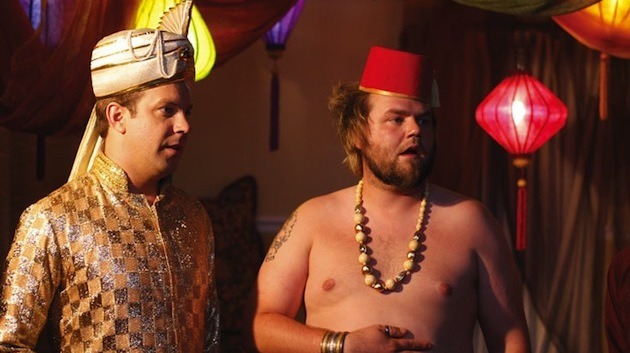 I'm not sure who decreed that 2011 be the year of the R-rated-comedy-starring-Jason-Sudeikis, but here we are with a trailer for the third such project this year. A Good Old-Fashioned Orgy stars the SNL vet as Eric, a frat boy-ish 30something who lives to throw over-the-top parties at his dad's Hamptons home. When Eric's dad decides to sell the house, Eric decides he has to do something truly special for his last big blowout. (You can probably guess from the title what theme he eventually settles on.)
Leslie Bibb, Lake Bell, Michelle Borth, Nick Kroll, Tyler Labine, Angela Sarafyan, Lindsay Sloane, Martin Starr, Lucy Punch, and Will Forte co-star. Watch the trailer after the jump.
[via CinemaBlend]
I'm feeling lukewarm on the trailer, which is neither funny enough to be compelling nor awful enough to be offensive. Based on the reviews I've read for the movie, though, I suspect the trailer isn't all that representative of the film. Critics who caught the film at Tribeca have praised it for its "heart," which you really don't see at all here. I'm also intrigued by the supporting cast — particularly Labine and Starr, two perpetually underrated talents who deserve more screen time.
Written and directed by TV vets Alex Gregory and Peter Huyck, A Good Old-Fashioned Orgy opens September 2, 2011 — just in time to inspire you to host your own Labor Day orgy.
Synopsis:
Jason Sudeikis is Eric, a thirtysomething party animal famous among his close circle of friends for his lavish summer theme parties at his father's swanky Hamptons pad. But when members of the crew start settling down, and Eric's dad announces plans to sell the beach house, Eric decides it's time for one last bash to go out with a proverbial bang—a good old-fashioned orgy. The only obstacles to overcome are actually convincing each of his reluctant friends to join in on the bacchanal, and an inconveniently blossoming romance with the real estate agent threatening to sell the house out from under him before the main event can even take place.