'Immortals' Is 'More Hardcore' Than The Trailers Suggest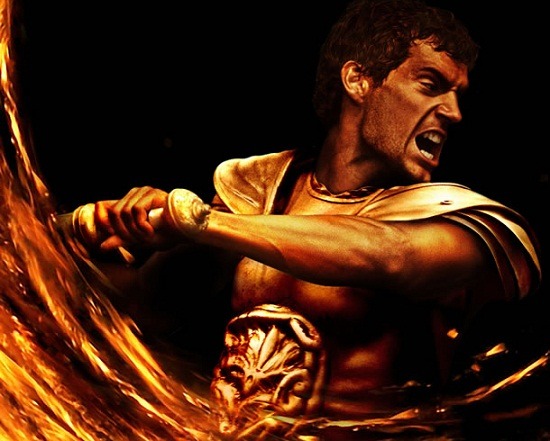 Right at the start of Relativity's Hall H panel for their swords and sandal, Gods and Titans epic film Immortals, director Tarsem Singh was quick to say that the trailers that have been released for the film are for everyone. The film itself, he said, was darker and "more hardcore" than those trailers suggested. To bolster his point, he showed an extended sort of red band trailer and then a pivotal action scene that takes place late in the movie. Oh, and he also paraded out stars Henry Cavill, Stephen Dorff, Luke Evans, Kellan Lutz and Frieda Pinto. Read about the footage and find out if Tarsem is telling the truth after the jump.
The first clip was cut like a trailer and, for the most part, showed what we already knew. This movie looks like 300 if it was renamed "300 Million." It takes that kind of glossy, shirt-off look and puts it on a much grander scale with the story of a human (Cavill) who finds himself somehow embroiled in a battle between the Gods and Titans. We saw action scenes where the main protagonist skillfully distributed violence around the room, leaving a cloudy mist behind them. Bodies exploding as they met with weapons. Severed limbs and sprouting blood. You get the drift.
The second clip, played a bit later in the panel (and, oddly, played twice), showed an massive, massive room with statues of Titans. Five Gods, lead by Zeus (Luke Evans) transport in with a mission to unleash hell. They're fighting a sort of more muscular, lean, orc type creature and the action is exciting but familiar. Long, static takes of martial arts moves that all end in the slow motion destruction of one or the other combatant. One example is a trident is stuck into a neck, rips off the head, the head is stomped on the ground and then flinged up into another enemy. We're talking bloody, cool stuff.
Seemingly victorious, though many lives have been lost, Zeus pulls on these two, huge, golden chains attached to the aforementioned titan statues. Bringing the two structures down brings sets off a chain reaction that brings down an entire mountain and the clip ends with Zeus standing inside the mountain, holding a fallen comrade, with more of the orc things approaching him.
I don't know. Tarsem said all the right things and seems to think he's got an exciting, epic action film. The footage suggests that. And yes, it's more hardcore than the trailers suggest. But we'll find out if it was right on November 11, 2011.