'Dream House' Trailer: Daniel Craig, Rachel Weisz And Murder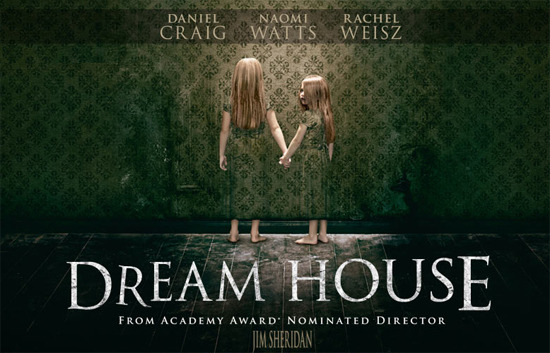 The years since Jim Sheridan's great film In America have been filled with a couple of strange choices: the 50 Cent movie Get Rich Or Die Tryin', and the remake of Susanne Bier's Brothers. (The latter being a film I liked in part, but the idea of remaking it still seems like a strange choice.)
Now here's Dream House, which looks like it might be a too-predictable wacky thriller in which Daniel Craig gets to go a little bit crazy. He moves into a new home with his wife (Rachel Weisz, now his real-life bride as well) and children, only to discover that the previous inhabitants were murdered. From there, Daniel Craig goes off the rails a bit as he discovers that his own past might not be what he assumed it to be. This is definitely a trailer that appears to show too much, but what it might really show is that Dream House is going to be a tough sell. Check it out after the break.
Dream House was scheduled to be released in 2010, but had to be pushed back when Daniel Craig's schedule prevented reshoots from taking place in a timely manner.
Some say that all houses have memories. For one man, his home is the place he would kill to forget. Daniel Craig, Naomi Watts and Rachel Weisz star in Dream House, a suspense thriller about a family that unknowingly moves into a home where grisly murders were committed...only to find themselves the killer's next target. Successful publisher Will Atenton (Craig) quit a high power job in Manhattan to relocate his wife, Libby (Weisz), and two girls to a quaint New England town. But as they settle into their new life, they discover their perfect home was the murder scene of a mother and her children. And the entire city believes it was at the hands of the husband who survived. When Will investigates, he's not sure if he's starting to see ghosts or if the tragic story is just hitting too close to home. His only clues come from Ann Paterson (Watts), a mysterious neighbor who knew those who were shot. And as Will and Ann piece together the haunting puzzle, they must find out who murdered the family in Will's dream house before he returns to kill again.
Apple has the HD trailer.