Comic-Con 2011: Join Us For The Third Annual /Film Meet-Up Tonight
Please Note: This post will be Sticky'd to the top of /Film until Thursday night.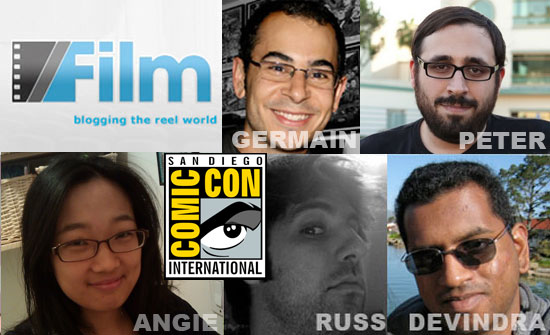 /Film will be invading San Diego for the 2011 Comic-Con International. /Film team members Peter Sciretta, Devindra Hardawar, Russ Fischer, Angie Han and Germain Lussier will be covering the entire con, Wednesday through Sunday (unfortunately, David Chen and Adam Quigley couldn't make it this year).
If you're not going to be at the Con, /Film will be the place to be for extensive coverage of all things movies and television from Comic Con. We will have panel coverage, interviews, sneak preview screening reviews and so much more. There will be plenty of coverage on the site, but you should also be following us on Twitter (individual accounts linked above).
If you're in San Diego and happen to see any of us, please come over and say hello.
WEDNESDAY NIGHT MEET-UP: Ever wanted to meet your favorite /Film writers and podcasters in person? We'll be holding the third annual /Film Comic-Con Meetup on Wednesday night at 10 PM after preview night at the Marriott Marina Hotel Lobby Bar, which is located in the North Tower. The Marriott Marina is the hotel located next to the convention center on the right. Please join us for a casual drink tomorrow night, and some pre-Comic Con chatter! We'd love to meet you all.
Our friends from FirstShowing and Screenrant will also be joining us as well, and you never know who else might also show up.