Video Blog Reaction: 'Captain America: The First Avenger'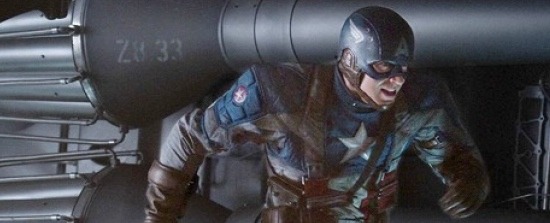 Last week I got a chance to see Marvel's Captain America: The First Avenger. I'm not able to write up a proper review at the moment as I just arrived in San Diego and have much to do prepping for the 2011 Comic Con, but I recorded a quick video blog reaction with Alex from FirstShowing immediately following the screening. You can watch that after the jump, along with my quick thoughts.
Brief spoiler-free reaction: I loved Captain America – For my money, this is Marvel's best movie since Iron Man. I was a little worried after seeing some of the clips and advertising that the tone might be too jokey or corny, but Joe Johnston hit just the right note and tone for this period tale. The action is so well choreographed, shot in an old school style which actually allows you to understand the geography of the scene — It is a welcome break from the new school fast cuts/close-ups cinematic style. Each action sequence builds and features some unexpected twists and turns.
While Thor and Iron Man 2 feel a bit heavy handed in their SHIELD-focused set-up for The Avengers, Captain America feels free of forced set-ups. The film's storyline works well as a standalone, but also sets up enough interesting situations, which will likely be continued in The Avengers or announced Captain America sequel.
Hugo Weaving is awesome as Red Skull, and Chris Evans pulls off the idealistic Steve Rogers character. The best compliment I can give is that I can't imagine any other actors in the suit after seeing this movie.