New Concept Art Continues To Tease The Return Of 'Riddick'

The teasing little updates on David Twohy and Vin Diesel's third movie featuring the sci-fi antihero Riddick are certainly coming along with greater frequency. Does that mean the movie is any closer to getting made? Not so far as we know, but for those interested it is certainly the best piece of concept art to date.
For the past couple years the duo have talked about making Riddick, which would continue the story begun in Pitch Black and The Chronicles of Riddick. Not long ago Vin Diesel said they might shoot the film this summer, and David Twohy has exhorted fans to continue their vocal support for the project, in the hopes that Universal would say yes. We don't have word of a green light yet, but Vin Diesel has posted a new piece of concept art, which you can see in full below.
This is the story outline that has been offered for Riddick in the past:
Betrayed by his own kind and left for dead on a desolate planet, Riddick (Diesel) fights for survival against alien predators and becomes more powerful and dangerous than ever before. Soon bounty hunters from throughout the galaxy descend on Riddick only to find themselves pawns in his greater scheme for revenge. With his enemies right where he wants them, Riddick unleashes a vicious attack of vengeance before returning to his home planet of Furya to save it from destruction.
Click the image to enlarge.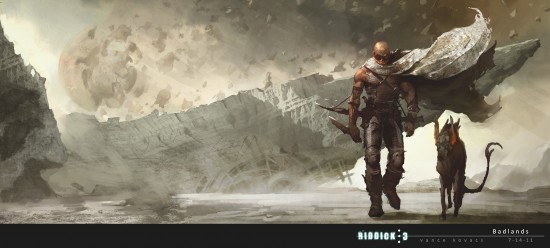 [Facebook]