First Poster For 'The Hunger Games' Premieres, And It Burns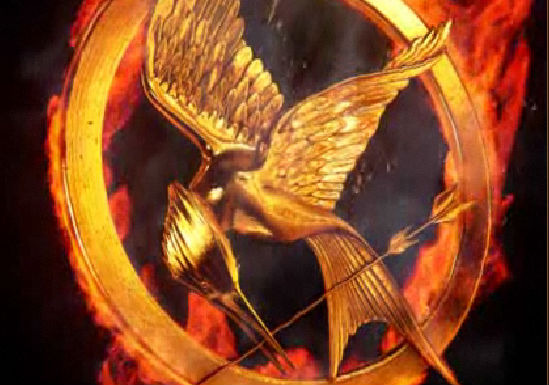 Mere months from now, audiences will get a chance to see Jennifer Lawrence and Josh Hutcherson attempt to murder 22 other children to survive The Hunger Games. Directed by Gary Ross and based on the popular book by Suzanne Collins, the film is currently shooting aimed at a March 23, 2012 release date. Yahoo has your first look at an official piece of marketing for the film: a gorgeous motion poster. Check it out after the jump.
Thanks to Yahoo for this poster. If you are unfamiliar with the story, we'll describe what you're seeing below.
If you are a fan of The Hunger Games, you know exactly what you're looking at here. If you aren't, here's the explanation. In the books (plural, this is a trilogy) the lead character Katniss (Lawrence) always wears the above pin. It's a Mocking Jay, a hybrid bird that can sing songs they hear humans sing. The Mocking Jay becomes her symbol and saying more than that would give several things away.
But why the fire? Well, Katniss is from District 12, a mining district, and coal and fire are the main representation of her people. So when she is presented to the country before the games her stylist, Cinna (Lenny Kravitz) designs a costume that looks like it's literally on fire. Katniss then becomes known as "The Girl on Fire."
Then there's the tagline, "May the odds be ever in your favor," which is what the people running the Games have adopted as their mantra.
So, a lot of things going on in one simple little image. Lionsgate obviously hopes The Hunger Games will be their version of Summit's Twilight or Warner Brother's Harry Potter and while we have yet to see the kind of fan super obsession of those franchises, Hunger Games certainly has that potential.
For MUCH more on this movie and franchise, head back into our archives to read about some of the amazing cast, crew and more.