First Look: Elle Fanning In Francis Ford Coppola's 'Twixt'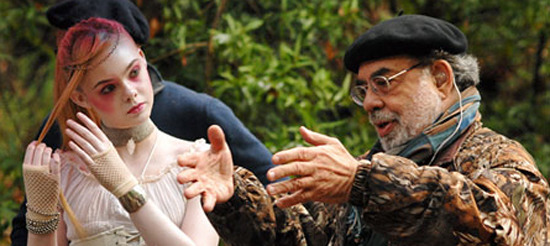 I don't know what I was expecting from Twixt, but this wasn't quite it. Francis Ford Coppola's latest film (formerly Twixt Now and Sunrise) is a gothic thriller of a sort, but one inspired by Hawthorne and Poe, filmed partly in 3D and featuring a soundtrack by analog knob-tweaking electronic musician Dan Deacon.
The film will be previewed at Comic Con later this week — the director's first visit to the San Diego event since 1991 — and now we've got the first image. The on-set snap features, obviously, Mr. Coppola, and also Elle Fanning in costume and makeup seemingly inspired by Delirium from Sandman. See a slightly larger version below.
EW has the photo, and encapsulates the film as being about " a hack horror novelist (Val Kilmer) as ghostly visions in a bizarre small town lead him to explore the murder of a young girl (Elle Fanning)." The film was partly inspired by a dream the director had not long ago, and he assembled the cast and began shooting the project with relatively little fanfare. While there is no distributor or release date set at this point, it could easily end up being self-released.
I'm very much looking forward to the Comic Con panel for the film on Saturday, as the official schedule announces that " Legendary filmmaker Francis Ford Coppola and acclaimed musician Dan Deacon present sequences from Coppola's latest film, TWIXT, and involve the audience in a dress rehearsal of the completely unique and innovative way they plan on performing it." What does that mean? No idea, but I can't wait to find out.
Twixt also features Joanne Whalley, Bruce Dern, Ben Chaplin, Don Novello, David Paymer, and Alden Ehrenreich.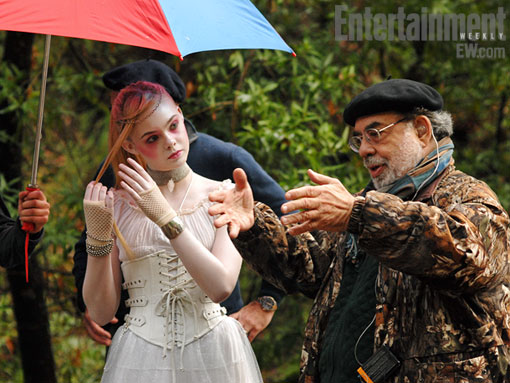 [EW]