Universal Won't Make Ron Howard's 'The Dark Tower'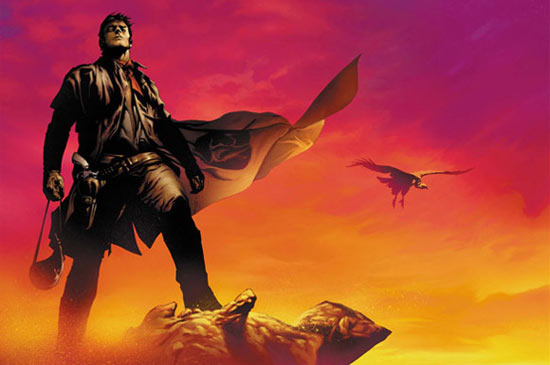 The writing has been on the wall for a little while now, but here's the final word: Universal doesn't want to risk coin on three movies and two connecting TV arcs based on Stephen King's The Dark Tower. Imagine Entertainment wants a commitment for more than one film, which is all Universal was willing to sign off on. So the Universal chapter of this story is over. The studio has passed on the project, leaving Ron Howard, Akiva Goldsman and Brian Grazer holding a script, the possible lingering willingness of Javier Bardem to play the lead role, and some big hopes.
Deadline has the report, saying that the trio of Howard, Goldsman and Grazer were hoping to do the first movie and TV arc at the same time, using more or less the same cast and sets. But without a check from Universal that plan is on hold. So it looks like The Dark Tower is in turnaround, leaving Imagine Entertainment able to take it to other backers. Will anyone bite? Warner Bros. is most likely, but at this point we have no serious data to work with.
This may be the endpoint of a project that has always looked as if it might be too ambitious for its own good. In May, word filtered down that Universal might put the project into turnaround, but all parties involved denied that fact. Instead, some script and budget changes were made to try and bring the project in line with what Universal was willing to spend. The schedule was pushed, but the official line was that things were still 'go.' Remember, too, that this was right around the time the same studio passed on Guillermo del Toro's $150m At the Mountains of Madness. Is anyone really surprised The Dark Tower ended up falling? This does not appear to be the sort of project Universal wants to take a chance on.
We'll keep an eye open for more news and see if another studio is willing to pick up the project and associated development costs. In the meantime Ron Howard has been assembling his Formula One true story Rush, which looks ready to shoot with Chris Hemsworth and Daniel Brühl starring.