Superhero Bits: The Avengers, Captain America, Dark Knight Rises, Man Of Steel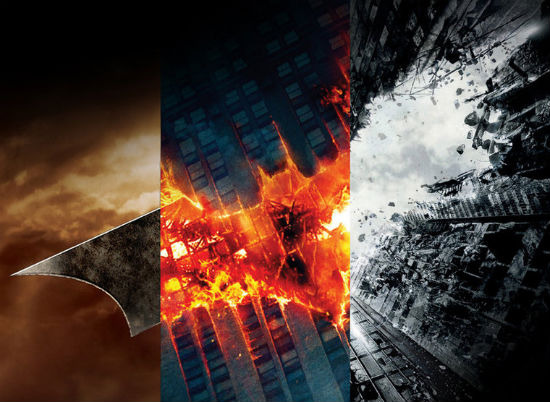 What actress surprisingly pops up at the end of Captain America: The First Avenger and maybe in The Avengers? Want to look at an epic list of 26 Captain America themed t-shirts? How about take a video tour of Plano, Illinois, which is Smallville in Man of Steel? What do Chris Evans and Joe Johnston have to say about The Avengers? Why would Batman be pointing at Superman's crotch? And how can you buy tickets right now to see Captain America: The First Avenger a day early? Read about all this and more in today's massive Superhero Bits.
Get More: Movie Trailers, Movies Blog
In an interview with MTV, Chris Evans talked about filming The Avengers with Joss Whedon. Watch the clip above.
If you're going to be at Comic Con and missed those GoFobo tickets we gave away to the 10am screening of Captain America: The First Avenger, you can head over to Fandango now as the same theater is now officially selling tickets for the movie all day on Thursday.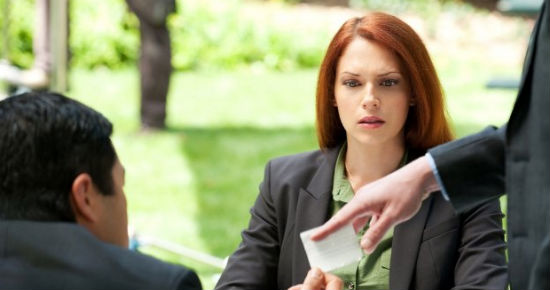 Amanda Righetti, best known for her TV work on The Mentalist and The OC, shows up in the credits of Captain America: The First Avenger listed as "SHIELD Agent." The Daily Blam seems to think she's "either Carol Danvers — also known to comic fans as the superpowered heroine Ms. Marvel — or Sharon Carter, niece of Peggy Carter."
The Dayton Daily News (via CBM) spoke to a local Air Force Staff Sergeant who went to an open casting call for The Avengers and got a role in the movie:
As I understand it, I will have lines to say and I will be in the deck scene (on an aircraft carrier) along with Samuel Jackson and Robert Downey Jr. Yes, me. That's all I know about the movie at this point.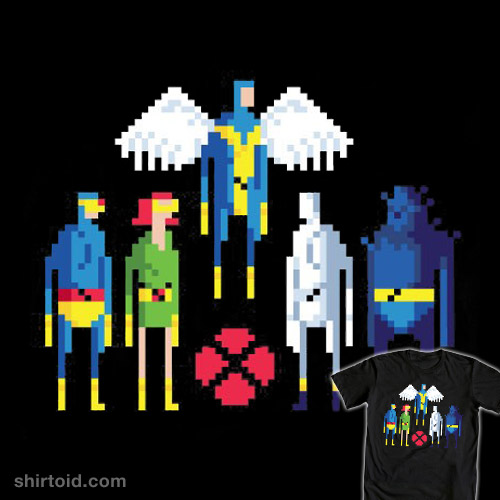 If you like the X-Men and 8-bit videogames, this t-shirt from Shirtoid is a must buy.
Gamma Squad is starting a special Cosplay Flickr group with a theme each month that you can be a part of. This month it's The Avengers, next month The Walking Dead and in September, the DC Reboot.The Examiner (via Comic Book Movie) has posted this video tour of Plano, IL which is where Zack Snyder is shooting the Smallville stuff in Man of Steel. The narration is a little nerve-wracking but Superman fans will enjoy this.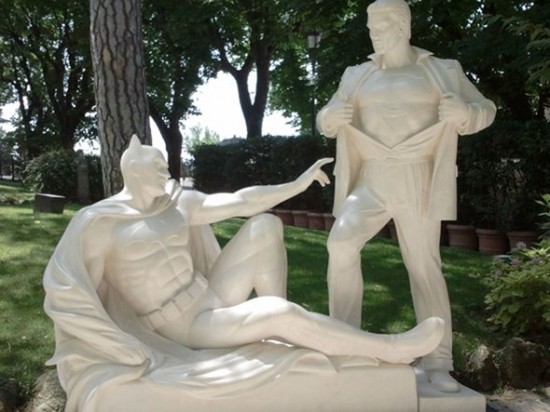 Um. Why are Batman and Superman doing that? Please guys, stop. Please. Thanks to Reddit (via Nerd Approved) for pointing out this uncharacteristic Italian sculpture.
According to director Joe Johnston, Captain America is going to be a very different character in The Avengers. Here's what he told MovieWeb.com:
Chris Evans plays a slightly different character in The Avengers. Which I think is good. I think he should be a different character, because he is in a different world. He is still Steve Rogers, and he retains those traits that make him the guy we all call Captain America, but at the same time, he should be different. Now? He is a man out of time. It should affect him.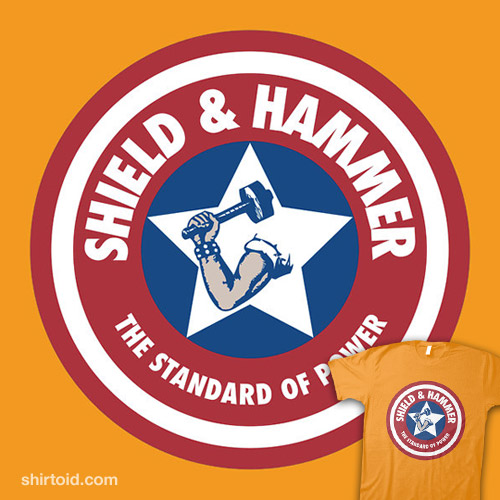 Hide Your Arms has an awesome list of 26 different Captain America t-shirts, everything tongue in cheek (like above) to historical. Seems like a great way to suit up for this weekend.Brian Michael Bendis (via What Culture) has posted a bunch of unrevealing set photos from the upcoming superhero FX pilot Powers.
Due to the amount of graphics and images included in Superhero Bits, we have to split this post over THREE pages. Click the link above to continue to the second page of Superhero Bits.
Trailer Addict has found a 5 minute run of B-roll footage from Captain America: The First Avenger that shows a ton of behind the scenes movie magic.io9 has an "aesthetic analysis of The Dark Knight Rises teaser poster." Pretty cool read, and a possible glimpse into Nolan and WB's feelings about the movie.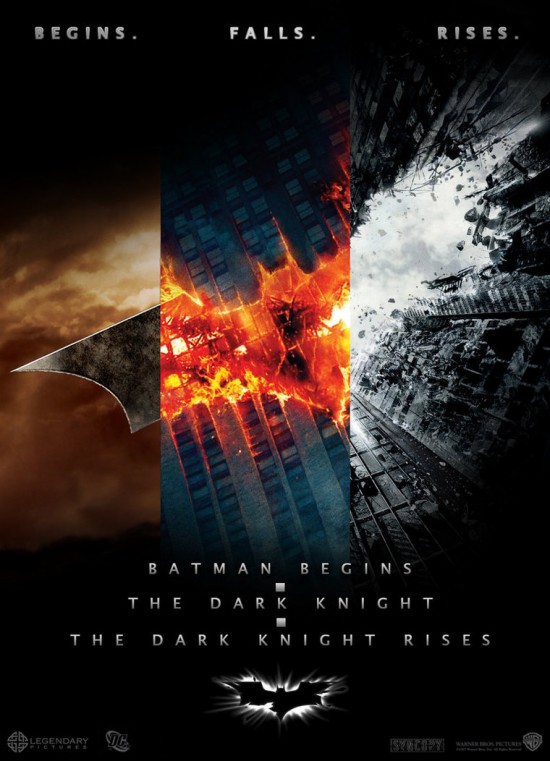 Speaking of The Dark Knight Rises teaser poster, my colleague David Chen found this really cool mashup of the three teaser posters from Christopher Nolan's Dark Knight movies. Look how well the marketing all goes together.
Collider did an interview with Agent Coulson himself, Clark Gregg and talked about a ton of Marvel things. If you are an Avengers fan, you'll want to check it out, but here's a little snippet:
It's kind of bizarre to be in a comic book movie and a superhero movie, and to look across and... first of all, to walk in and try and have a serious conversation with a bunch of people with giant muscles, some real, some not, in neoprene, and they look very much like the people you've been reading in comics. It's hard to keep a straight face. On the other hand, to see those people and have it be Robert Downey Jr., Jeremy Renner or Sam Jackson, a lot of Academy Award nominations out there. That's kind of remarkable. Unfortunately, a lot of times, very few of us were there at the same time. There was one or two weekends, when everybody was there, and there were some hilarious 'Avengers assemble' texts that went out, with the location of Avengers assemble being some very rowdy Albuquerque nightclubs.
Want even MORE B-roll footage from Captain America? Thank you Trailer Addict, here's another four minutes.
We'd heard about this a few months ago but now it's official. DC Comics is going to run in-theater ads before movies to promote the upcoming comic book relaunch. It's going to be cool to see comic books advertise in the mainsteam. Read the press release at Comic Book Resources.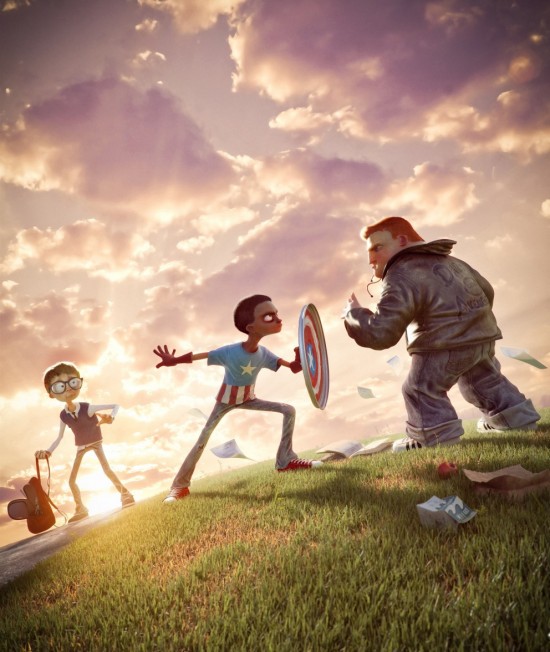 This image is awesome. Victor Hugo Queiroz designed the Captain America themed image, which we found on Cool Vibe. Great stuff.
What does Shakespeare have to do with Superman? Not much usually, but io9 has a write up of a current Shakespeare in the Park production of Measure for Measure and how this new show is heavily influenced by Superman. Do you agree with these inferences?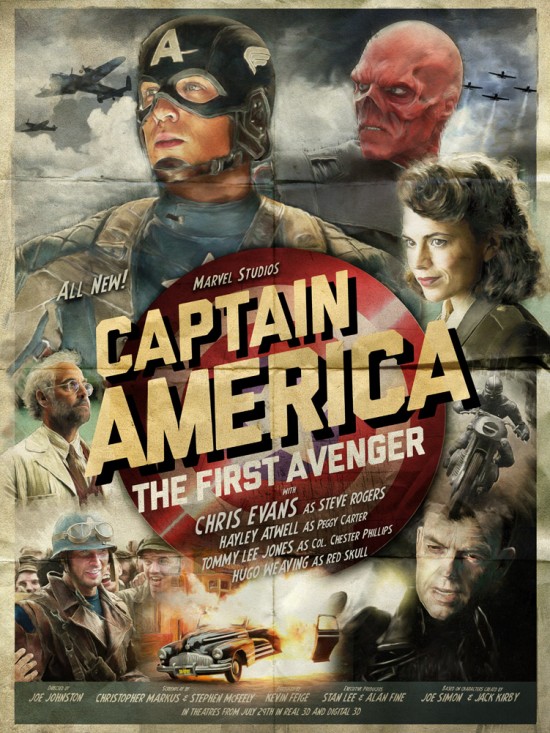 Here's a cool alternate Captain America: The First Avenger poster by Turk1672 on Deviant Art. Love the built in folds.
Cleveland.com (via On Location Vacations) confirms that The Avengers will indeed be shooting at a NASA facility in Sandusky Ohio, which has an anti-gravity station which – in theory – could be used for any scenes that would be set in space.
Kids say the darnedest things. Especially when watching the Captain America: The First Avenger trailer on YouTube.
Due to the amount of graphics and images included in Superhero Bits, we have to split this post over THREE pages. Click the link above to continue to the third page of Superhero Bits.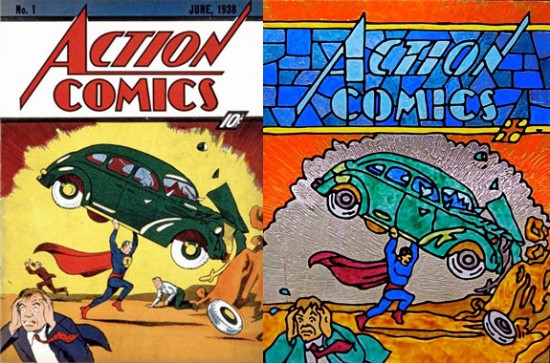 Gamma Squad has another great gallery up today, this one of classic comic book covers and their stained glass window companions by Brandon Michael Barker. That's Action Comics #1, the first appearance of Superman above. Check the rest at that link.Comic Book Movie found a Facebook post where an extra on Man of Steel described her scene. Another piece of the puzzle:
I'm going to be in a scene where a natural disaster happens. Went to a casting call 3 1/2 weeks ago for extras and was selected.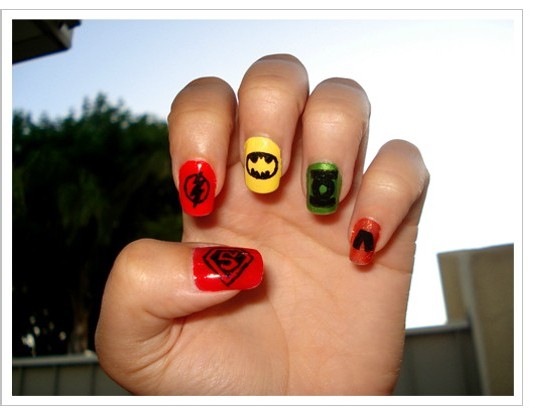 Reddit (via Geeks Are Sexy) posted these superhero finger nails. Pretty self-explanatory.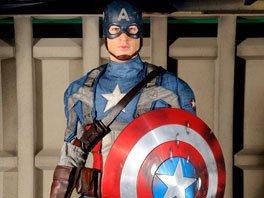 Captain America has been spotted in London. Immortalized in wax. He's the latest addition to Madame Tussauds and the likeness is pretty amazing.
If you don't have wax to make Captain America's shield, you can use cardboard and duct tape. Instructables (via Super Punch) has a full how-to and the above video of a flying shield.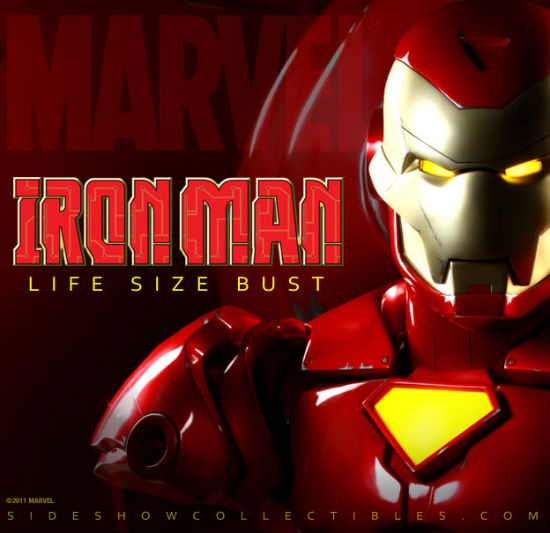 Sideshow Collectibles (via Cool Toy Review) has a new, more comic book influenced, Iron Man bust coming.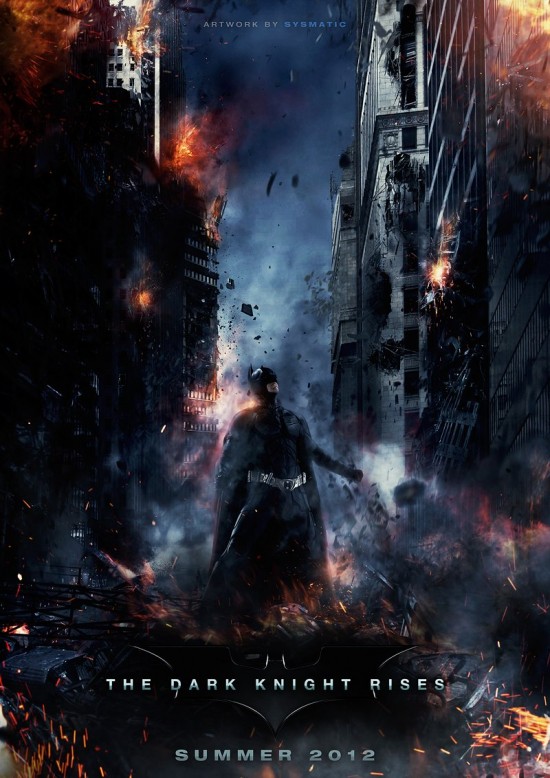 Jordy Roelofs posted several fan made posters he did for The Dark Knight Rises on Deviant Art (via CBM). Nice job working in the actual image.