Sequel Bits: 'Jurassic Park 4;' 'Gremlins' 3/Remake; And 'Zombieland 2'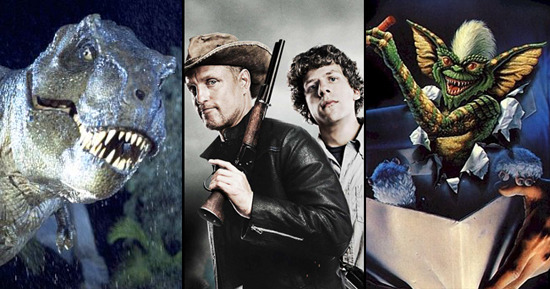 Summer time is sequel time. For the purposes of this particular article, it's the time for sequels that don't exist yet and, for all we know, may never exist. But Zombieland 2, Jurassic Park 4 and Gremlins 3 are all films that come up in conversation with filmmakers on a semi-regular basis. We've got the latest updates on all three below. A hint: don't warm up the popcorn just yet.
First up lets do Zombieland 2. During a press conference to promote his new movie 30 Minutes or Less, Ruben Fleischer made the prospects for another movie sound shaky at best. There is a script, but it isn't the script, and the movie isn't likely to happen soon: "It's something we'd all like to do, but the reality of it happening depends on finding a script that we're all excited to get aboard, so until then that happens it's gonna continue to be in the... 'not-happening-process.'"
Getting slightly more specific, the director told The Playlist,
[Rhett and Paul] wrote something and it was really great. A script exists. We all are excited of the prospect of making the movie, but I guess we all haven't found the perfect story to tell yet.
and to ComingSoon he added,
I can promise you it's something we all want to do. I think the reality of it happening is getting less and less real. It's just harder and harder every day, because everybody's gotten really busy and the reality is that we've never had a script that we've all just fallen in love with.
Put that together with a recent semi-dismissal from Jesse Eisenberg, and the summation is: "don't get your hopes up." Eisenberg said earlier this month,
They're writing the script right now but I haven't seen it and I suspect that the longer we wait, the less relevant it will be. I mean, all the actors would love to do it and the director would love to do it but I'm not sure what's happening.
As for Jurassic Park 4, there is still the looming possibility of production. We heard recently that Steven Spielberg is workshopping ideas with screenwriter Mark Protosevich, but that is only an indicator that something could happen. Sometime. Maybe. Now Joe Johnston, who directed the third film in the series and four years ago was said to have dropped away from the series, told ScreenRant,
We are in discussions about 'Jurassic Park 4.' The most important thing I can tell you is that it starts a new trilogy that will go off in a different direction — a completely different direction that is very exciting, and different from anything we've seen. It starts with the history of the first trilogy, but it spins it off in a completely different direction. That's all I can tell you.
Finally, there is the Gremlins series, which has been dormant since the Looney Tunes-inspired, studio-mocking Gremlins 2 arrived in 1990. The prospect of either a third film or a remake crops up every once in a while, but never seems to go anywhere. Asked recently about a third Gremlins film, Joe Dante told EW,
Every so often I call Warner Bros. and say, "You guys doing anything with this?" And they always say, "No." There was a period a couple of years ago when I think they were working on something but that fell through. I don't know. They didn't really understand the first movie, so I think they're having trouble figuring out what to do, especially with the change in special effects. The first movies were defined by the technique that we used, which is now out of date. Now, with CGI anything can happen, so it's difficult to focus the story onto something that's going to have a point. So rather than being No. 3, I would think they would just go back to the beginning and remake it.. It would be very flattering if they came to me and said, "Would you like to be involved?" But I have a feeling that they've moved on.
You might have seen the footage in front of Harry Potter and the Deathly Hallows – Part 2 this weekend, or perhaps you caught one of the many bootlegs that have been circulating for the past week. But here's the real thing: the first official teaser trailer for Christopher Nolan's third and final Batman film, The Dark Knight Rises.
Facebook has the clip, which means the embed is wonky. Thanks to The Film Stage for their embed:
Warner Bros. Pictures' and Legendary Pictures' "The Dark Knight Rises" is the epic conclusion to filmmaker Christopher Nolan's Batman trilogy. Leading an all-star international cast, Oscar® winner Christian Bale ("The Fighter") again plays the dual role of Bruce Wayne/Batman. The film also stars Anne Hathaway, as Selina Kyle; Tom Hardy, as Bane; Oscar® winner Marion Cotillard ("La Vie en Rose"), as Miranda Tate; and Joseph Gordon-Levitt, as John Blake. Returning to the main cast, Oscar® winner Michael Caine ("The Cider House Rules") plays Alfred; Gary Oldman is Commissioner Gordon; and Oscar® winner Morgan Freeman ("Million Dollar Baby") reprises the role of Lucius Fox.

The screenplay is written by Christopher Nolan and Jonathan Nolan, story by Christopher Nolan & David S. Goyer. The film is produced by Emma Thomas, Christopher Nolan and Charles Roven, who previously teamed on "Batman Begins" and the record-breaking blockbuster "The Dark Knight." The executive producers are Benjamin Melniker, Michael E. Uslan, Kevin De La Noy and Thomas Tull, with Jordan Goldberg serving as co-producer. The film is based upon characters appearing in comic books published by DC Comics. Batman was created by Bob Kane.
The Dark Knight Rises will be released on July 20, 2012. It stars Christian Bale, Michael Caine, Gary Oldman, Morgan Freeman, Anne Hathaway, Tom Hardy, Marion Cotillard, Joseph Gordon-Levitt, Juno Temple, Josh Pence, Liam Neeson, Nestor Carbonell, Matthew Modine, Brett Cullen, Chris Ellis, and Alon Abutbul.