'You Instead' Trailer – Nymphadora Tonks And That Pothead From 'Attack The Block' Get Cuffed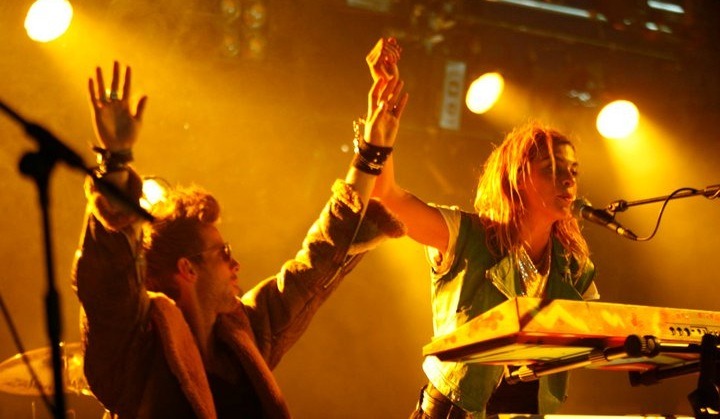 David Mackenzie's first movie of 2011, Perfect Sense, was a cerebral end-of-the-world tale in which Ewan McGregor and Eva Green fell in love as the human race slowly lost its senses. Mackenzie's second film of the year, You Instead, seems to be in many ways its polar opposite: a lighthearted, energetic story about enjoying the hell out of your senses.Natalia Tena (Tonks from the Harry Potter franchise) and Luke Treadaway (the scrawny pothead from Attack the Block) star as Morello and Adam, leaders of rival bands who find themselves handcuffed together during Scotland's T at the Park music festival. Watch the trailer and after the jump.
[via Thompson on Hollywood]
Early reviews of the film have been mostly positive, though just about everyone seems to agree that the premise is pretty damn silly. Based on the trailer, I'd have to agree — aside from the music festival angle, the setup sounds straight out of a middling Katherine Heigl romcom. Still, if Tena and Treadaway have enough chemistry, and the story around that incredibly contrived plot twist is strong enough, You Instead could be a fun, youthful romance. Plus, if the setting is any indication, we can probably expect a solid soundtrack.
You Instead opens in U.K. theaters September 16. The film has yet to find a U.S. distributor, but don't fret, fellow Americans — it'll probably find one when it hits TIFF this fall.
Synopsis:
Shot guerrilla-style, over five days during T in the Park in the summer of 2010, YOU INSTEAD is a free-wheeling rock'n'roll love story set against the raucous magnificence and unforgettable sounds of Scotland's leading music festival.
The film features a charismatic performance from Luke Treadaway as strutting indie star Adam. Arriving at T in the Park for his gig, Adam is handcuffed to punky girl-band leader Morello. Initial frustration gives away to grudging acceptance and then the stirring of genuine feelings over the next 24 hours of the festival.