Post-Credits 'Avengers' Sequence For 'Captain America' Confirmed, Details Revealed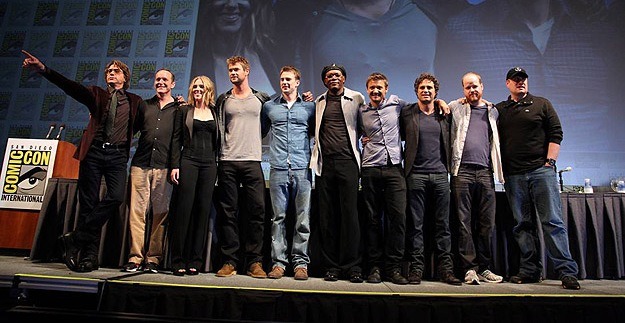 It's become common for Marvel to include post-credits scenes in its films, particularly in movies connected to next year's The Avengers. So it probably won't come as a surprise that Captain America: The First Avenger, the last Marvel film leading up to The Avengers, will include a special sequence after its credits as well. What's really intriguing, though, is the content of that sequence. (WARNING: Spoilers for the post-credits sequence from Captain America follow.)
According to a couple of recently posted accounts, audience members who stick around past the closing credits of Captain America will be treated to a one-minute teaser for The Avengers. Seeing as we've been anticipating this movie for years now, this is exciting news indeed. Read details from the teaser after the jump.
Steve Rogers is in an empty gym throwing haymakers at a punching bag before finally punching it so hard it breaks off it's chains and (I believe) through the wall. Nick Fury walks in and says something along the lines of "getting ready for the enemy?" and Steve goes "Well it's been awhile." Then we see quick snippets of Tony Stark and Steve Rogers, Loki being escorted in "handcuffs" by SHIELD. After that it's a long shot of Thor rocking a new outfit reminiscent of his Ultimate garb (sleeveless) in front of some roundtable of SHIELD. Then basically after that it's shots of action scenes with each character – Iron Man in what still looks to be his Mark 7 outfit getting ready to fire his repulsor beams, Cap in some sorta battlefield, Black Widow doing some flips and throwing darts, Hawkeye shooting an arrow, Thor summoning lightening, a shot of Bruce Banner taking off his glasses. Then the trailer closes off with really quick action shots. Couldn't tell what they were, no actual clue as to who the villain(s) is/as we only see Loki. You don't really see a shot of all of them together though I could be wrong about that and missed it.
Comic Book Movie has its own account of the sequence, which matches up pretty well with Coming Soon's description. You can read CBM's post here, but be warned that the article also contains major spoilers for the (pre-credits) ending of Captain America: The First Avenger.
Directed by Joe Johnston and starring Chris Evans, Captain America: The First Avenger opens Friday, July 22. The Avengers is scheduled for a May 2012 release.