Fox Buys Graphic Novel 'Rust,' An Adventure Story With A Jet Pack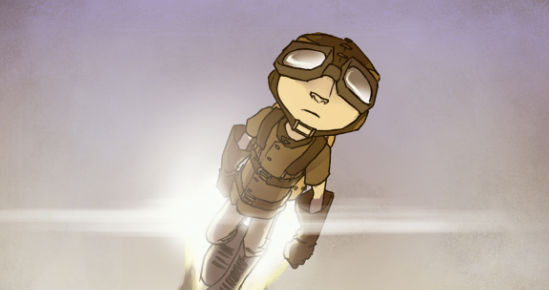 Royden Lepp's family-friendly graphic novel Rust won't hit stores until September but all the major studios got a crack at it this week and, it seems, 20th Century Fox is going to buy the right to turn it into a movie. Aline Brosh McKenna (We Bought a Zoo, The Devil Wears Prada) will write the screenplay and Simon Kinberg (X-Men First Class, Abraham Lincoln: Vampire Hunter) will produce the adventure story that sounds like a blend of The Rocketeer and The Iron Giant. Read the description, see the full promo image and more after the jump.The Hollywood Reporter broke the news of the Rust sale. According to their article, Akiva Goldsman really wanted to develop the property at Warner Bros. but Fox "moved aggressively to make Rust theirs." Here's how the official preview website for the comic, which will be published by Archaia, describes it:
Rust is a high-octane adventure set in the prairie lands of an unknown time. Life on the Taylor family farm was difficult enough before Jet Jones crashes into the barn, chased by a giant decommissioned war robot! Oldest son Roman Taylor struggles to keep his family's small farm afloat as the area heals from a devastating world war. While the rest of his family may not trust the mysterious boy with the jetpack, Roman believes the secrets of Jet's past may be the key to their survival.
And they give this piece of art.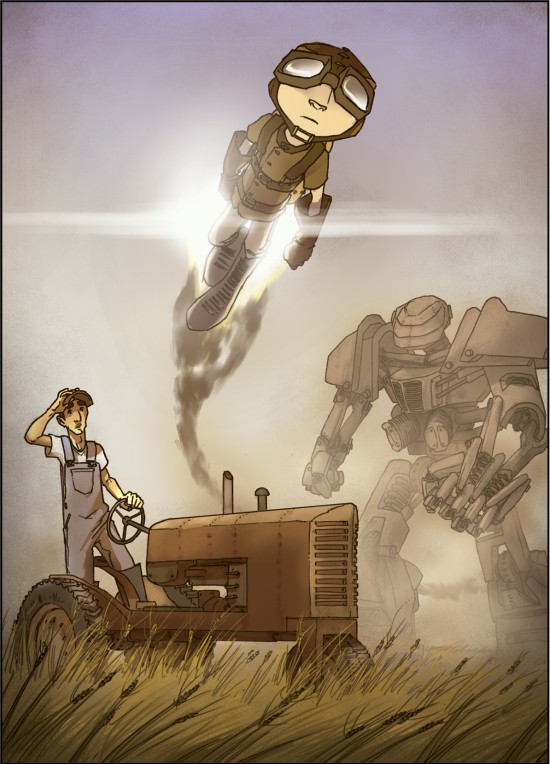 Rust sounds like a really fun, interesting, family adventure film and those are certainly movies studios are interested in. I'm all about harkening back to the 1980s with the live action, kids adventure stories. J.J. Abrams did a decent job of trying to resurrect the genre with Super 8, but that just scratched the surface.
Is this a comic you think you'd read? What do you think of the writer and producing team? Let's hope the eventual movie gets off the ground better than this real-life jet pack did: