Two Scripts Commissioned For 'Bad Santa' Sequel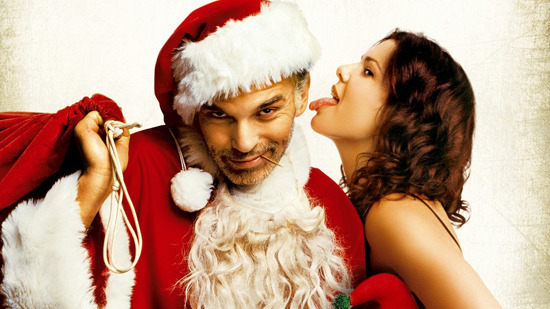 Paraphrasing Jack Lipnick in Barton Fink, "The writer is king here at Dimension!" You should recognize that as a joke of the highest order, at least in the context of Barton Fink. Turns out to be a cosmic gag in the context of real life, too. Because Dimension and Miramax, which are working together to make sequels to a few films produced under the old Miramax order, have hired not one, but two screenwriters to script a sequel to Bad Santa.
Two screenwriters: no big deal, right? Well, they're writing two scripts, which will eventually be dressed in strappy leather fetish outfits, slathered in pig grease and thrown into some executive Thunderdome, where they'll do battle to see which becomes Bad Santa 2.
The LA Times says that the two young writers are Johnny Rosenthal and John Phillips, both of whom have sold sripts to studios that have yet to be produced. Glenn  Ficarra and John Requa wrote the first film, which was directed by Terry Zwigoff. None of those three are involved at this point, and may well never be involved. Bad Santa star Billy Bob Thornton is definitely involved, or at the very least has been vocal about his willingness to make another movie featuring his unlikely new holiday icon.
This isn't a totally unheard of scenario. I understand that multiple scripts have periodically been commissioned for other films, and you might remember the story where George Nolfi and Josh Zetumer both wrote drafts for for a fourth Matt Damon Bourne film. But in that case the timing and communication was a little different.
And while I don't think this is a very good move, it's not like Rosenthal and Phillips don't know that the other is writing a draft. The lines of communication here seem to be open. And, as a consolation prize, whichever of the two scripts doesn't become Bad Santa 2 will possibly become Bad Santa 3, should such a thing seem like a good idea. Still, seems weird to go ahead and openly have two scripts written at once — doesn't seem to put much faith in either approach. Am I being too cynical about this methodology?