'The Thing' Trailer And Poster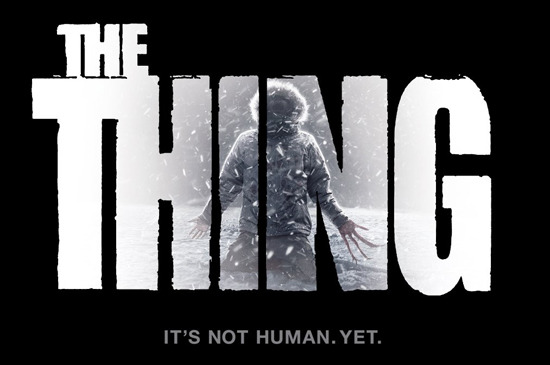 Seemingly dormant since appearing at the New York Comic Con last year, Universal's prequel to John Carpenter's The Thing has started to show signs of life this week. A teaser poster arrived (see below) and now there is a trailer.
The movie tells the tale of an ill-fated Norwegian research camp that dug up a shapeshifting alien something in the permafrost of Antarctica, as seen in the early scenes of John Carpenter's movie. It stars Mary Elizabeth Winstead, Eric Christian Olsen, Joel Edgerton, Adewale Akinnuoye-Agbaje, Ulrich Thomsen, Kim Bubbs, Trond Espen Seim, Stig Henrik Hoff, Jonathan Walker, and Carsten Bjørnlund and was directed by Matthijs van Heijningen Jr.
Check out the trailer below.
The question is: how does one make a film that acts as a prequel to one of the best effects-based films of the '80s, and which takes place in basically the same environment and under the same circumstances, and not have it look just like a remake? This trailer only offers a partial answer.
The movie looks good — a lot better than I expected, really — but there are so many shots that could be direct replicas of similar moments in John Carpenter's film. Some of that is due to the fact that the production took great pains to replicate what Carpenter filmed, so that this really would feel like a prequel.
Beyond that, some of the new feel comes from splitting the Kurt Russell character, more or less, into two characters. The main hero is a heroine/final girl, played by Mary Elizabeth Winstead (looking very capable, hooray) with support from Kurt Russell like-a-look Joel Edgerton. The scope here is obviously a bit bigger, too, with some scenes that explore much larger spaces than anything in the 1982 The Thing. There's a bit of Alien/Aliens influence, as well, and that's OK.
MSN has higher resolution versions of the trailer. The Thing is rated R and will release on October 14, 2011.
Antarctica: an extraordinary continent of awesome beauty. It is also home to an isolated outpost where a discovery full of scientific possibility becomes a mission of survival when an alien is unearthed by a crew of international scientists.
Click the poster to enlarge: