Fantastic Fest 2011 Announces First Wave Of Depraved, Awesome Genre Programming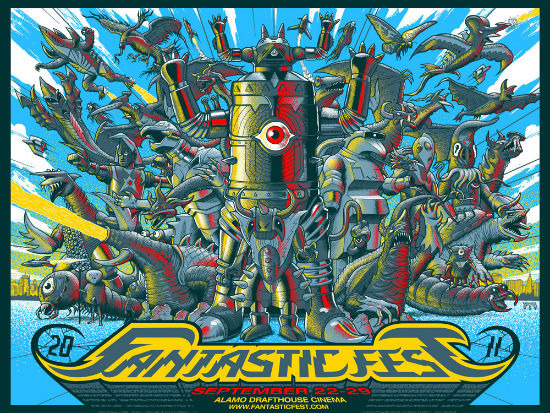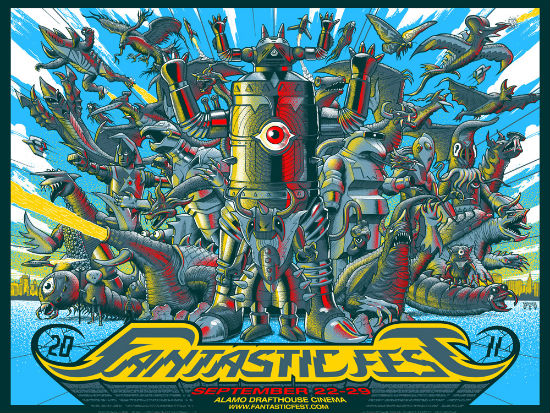 Fantastic Fest is one of the most chaotic, disturbing, entertaining and best film festivals in the United States. For one week straight, the Alamo Drafthouse South Lamar in Austin, Texas plays nothing but the most promising, controversial and exciting genre films the world has to offer with many of them not seeing wide release until several months later. /Film will once again be on the ground in Austin from September 22-29  and we just got the announcement of the first wave of films playing at the festival. Chances are that, with the exception of two restored Fulci films (Zombi and House by the Cemetery) and the 10th Anniversary release of Versus, you haven't heard of these movies yet. But, come September, you most certainly will start hearing a lot more.
Check them out after the jump.
The above art is this year's official art by Mike Saputo. Below is the press release list of films playing at the festival.
Comin' At Ya! 3D "30th Anniversary" (2011)- Real D PresentsWorld PremiereStar Tony Anthony and Producer Tom Stern live in personDirector: Ferdinando Baldi, USA, 118 minutes
The film that kicked off the '80s 3D Boom returns in a state of the art digital re-imaged restoration. Equal parts western and rollercoaster, COMIN' AT YA pulls out every stop to entertain you.  If the modern wave of 3D were as fun as COMIN' AT YA! 3D, the motion picture industry would have nothing to worry about.  The only Spaghetti Western shot in 3D is now completely restored with the latest in 3D technology and stars Tony Anthony as H.H. Hart, an avenging hero out to retrieve his kidnapped bride, played by Victoria Abril. Gene Quintana plays the slave trader who is holding her hostage in this extremely memorable cult favorite.
Beyond the Black Rainbow (2011)
Regional Premiere
Director: Panos Cosmatos, USA, 110 minutes
A trance inducing, psychedelic head trip from visionary director Panos Cosmatos, BEYOND THE BLACK RAINBOW is a sci-fi dystopia sent with love from the Reagan years. Imagine STALKER meets LOGAN'S RUN.
Body Temperature (2011)
North American Premiere
Director: Takaomi Ogata, Japan, 72 minutes
Takaomi Ogata's BODY TEMPERATURE chronicle's a young man's love affair with a life-sized sex doll.  Think LARS AND THE REAL GIRL but with all the creepiness that story was strangely missing.
Borderline (2011)
North American Premiere
Director: Alexnadre Coffre, France, 89 minutes
When David finds a bag in the park, he sees its nefarious contents as the perfect escape from his dead-end life; hopefully without losing it entirely at the hands of the bag's former owner.
Boys on the Run (2010)
Texas Premiere
Director: Daisuke Miura, Japan, 114 minutes
Based on a manga (surprise), BOYS ON THE RUN's central courtship starts with a bestiality DVD and ends with a Taxi Driver-style showdown. Guaranteed to warm the heart of the serial masturbator inside all of us.
Bullhead (2011)
US Premiere
Director Michael R. Roskam live in person
Director: Michael R Roskam, Belguim, 129 minutes
Testicular trauma, the underground beef hormone black market, steroid addiction and a vast swath of suppressed emotions swirl together to form one of the most powerful narratives we have seen in recent memory.
El Infierno (2010)- Cine Las Americas presents
Texas Premiere
Director: Luis Estrada, Mexico, 145 minutes
Luis Estrada's El Infierno (Hell) finds pitch-black dark humor in a peasants rise to power amid the drug-war-torn streets of the Mexican border.
House by the Cemetery (1981)- Blue Underground Presents
Theatrical Premiere of the 2K digitally restored version
Director: Lucio Fulci, Italy, 87 minutes
Lucio Fulci's classic Italian gore rollercoaster, now presented in a digital restoration from Blue Underground.
Invasion of Alien Bikini (2011)
Texas Premiere
Director: Oh Young-Doo, Korea, 75 minutes
The no-budget bikini-clad alien invasion martial arts romp INVASION OF ALIEN BIKINI was so fun, it took the $25,000 jury prize at this year's Yubari Fantastic Fest, a sum more than five times the budget of the film.
Kill Me Please (2010)
US Premiere
Director Olias Barco live in person
Director: Olias Barco, Belgium, 96 minutes
From the producers of MAN BITES DOG, KILL ME PLEASE details the day-to-day exploits of one of the world's foremost assisted suicide clinics. Dark comedy and pathos are as well mixed as Dr. Krueger's lethal cocktails.
A Lonely Place to Die (2011)
Regional Premiere
Director: Julian Gilbey, UK, 98 minutes
This back-to-basics, no-BS modern take on the survival genre features a violent Russian girl in a cage, gun-toting maniacs, and a cat-and-mouse chase across lawless, rural Scotland.
Milocrorze, A Love Story (2011)
Regional Premiere
Director: Yoshimasa Ishibasha, Japan, 90 minutes
This bizarro musical/variety/samurai/love story from Japan is cinematic LSD from Yoshimasa Ishibashi, the mad genius behind the Fuccon Family, and Takayuki Yamada, who plays all three male leads.
New Kids Turbo (2011)
US Premiere
Dirctors: Steffen Haars and Flip van der Kuil, The Netherlands, 87 minutes
Gutter comedy escalates to ludicrous extremes in the Dutch smash hit that will leave you gasping for air. The mullets are magnificent, as are the moustaches.
Revenge: A Love Story (2011)
US Premiere
Director: Ching-Po Wong, Hong Kong, 91 minutes
Ching-Po Wong's REVENGE: A LOVE STORY follows a severely wronged man in his quest to avenge  a terrible crime.  This is a new ultra-violent Hong Kong action, one deeply influenced by the best of Korean revenge films.
Snowtown (2010)
US Premiere
Director: Justin Kurzel, Australia, 120minutes
Justin Kurzel, part of the Australian Film Collective BLUE TONGUE FILMS whose members include Spencer Susser (HESHER) and NASH Edgerton (THE SQUARE), knocks out a stellar debut feature with SNOWTOWN, a dark hypnotic tale of a lower-class youngster who has the misfortune of finding a father figure in John Bunting, Australia's most notorious serial killer.
The Stoker (2010)
North American Premiere
Director: Alexei Balabanov, Russia, 87 minutes
Genius storyteller and two-time Fantastic Fest veteran, Alexsei Balabanov (CARGO 200, MORPHIA) delivers his unique blend of bloody crime drama by way of the darkest recesses of the Russian human condition.
Underwater Love (2011)
Texas Premiere
Director: Shinji Imaoka, Japan, 87 minutes
The simple life of a fish factory worker gets turned upside-down when she falls in love with a legendary Japanese creature in this kinky, musical romp of a pink film lensed by the legendary Christopher Doyle and directed by Fantastic Fest veteran Shinji Imaoka (UNCLE'S PARADISE).
Versus (2001)
US Premiere
Star Tak Sakaguchi and writer Yudai Yamaguchi live in person
Director: Ryuhei Kitamura, Japan, 119 minutes
The 10th anniversary screening of the yakuza vs. zombies action classic that cracked open Japan's indie film business like a can of cheap beer.
Yakuza Weapon (2011)
Regional Premiere
Star/co-director Tak Sakaguchi and co-director Yudai Yamaguchi live in person
Directors: Tak Sakaguchi and Yudai Yamaguchi, Japan, 106 minutes
Ten years after starring in VERSUS, former street fighter-turned actor/director Tak Sakaguchi is back with this mondo trasho flick about a yakuza with a machine gun arm and a rocket launcher leg.
Zombie (1979)- Blue Underground Presents
Theatrical Premiere of the 2K digitally restored version
Director: Lucio Fulci, Italy, 92 minutes
Lucio Fulci's extreme masterpiece of post-Romero corpse mania is back in a gorgeous 2K digital restoration.
If you want more information on how to attend Fantastic Fest, head to the official site: www.fantasticfest.com
Any of these movies jump out at you? Have you heard of seen any of them? Will you be at Fantastic Fest?