UPDATED: New 'The Amazing Spider-Man' Images In Entertainment Weekly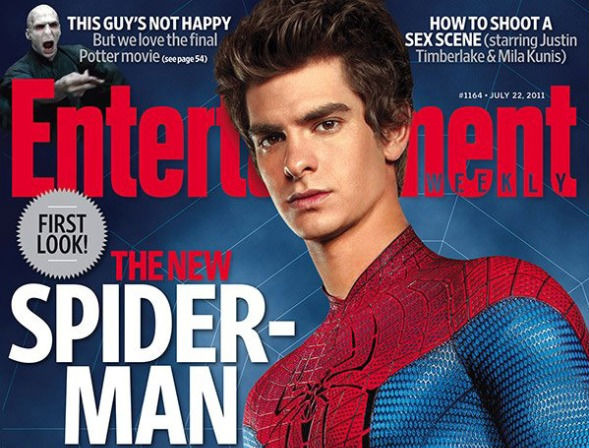 UPDATE: We've added the high resolution scans from the magazine and website and changed some of the wording to reflect that.
Every year around Comic-Con, Entertainment Weekly runs a huge blow out about the pop culture convention and this year is no exception. The cover of their latest issue, hitting newsstands Friday, features brand new photos of The Amazing Spider-Man including Andrew Garfield, Emma Stone, mechanical webshooters and that beautiful costume. The Insider got the first look at the magazine and while we first posted some lo-res TV screengrabs, we've now got hi-res scans from the magazine. Check them out after the jump.
Thanks to Superhero Hype (via The Insider) for the first images and iFanboy for the new ones.
Of course, head to Entertainment Weekly for the real deal. They have the original of all the below photos.
The Amazing Spider-Man is arguably the biggest, most anticipated movie that'll hit Hall H at Comic Con this year and Sony is hoping to blow the roof off the place and steal the buzz for the entire weekend. With the right presentation, that could happen, especially if they are showing as much  – or more – in the presentation than they are showing in EW. If so, Sony's presentation is going to be one you don't want to miss.
Do any of these images really interest you? I have to say, the one of Andrew Garfield climbing up the building looks fantastic, not to mention our first really good look at the full back of the costume and the mechanical webshooters. I'm excited to get my EW and read all about it. Will you go out and pick it up?