'Cowboys & Aliens' Clip Features Alien Tease And Harrison Ford Vs. Daniel Craig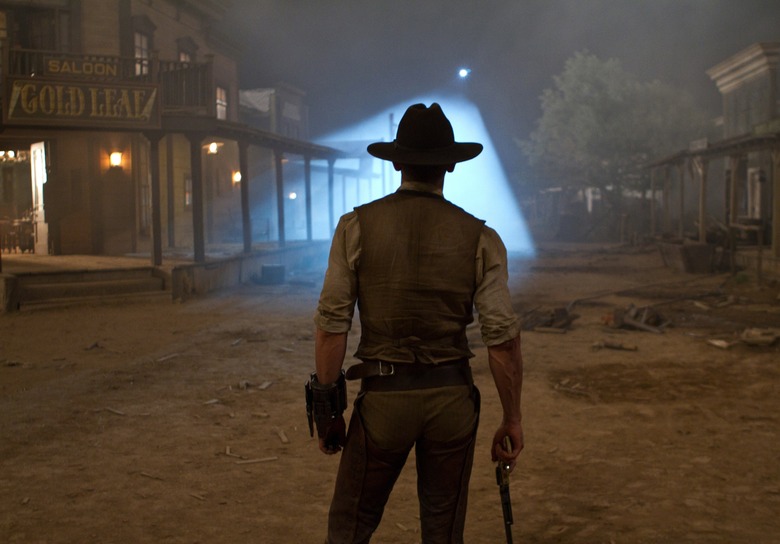 By now we've all seen trailers and footage from Jon Favreau's upcoming genre-mixer Cowboys & Aliens in which Daniel Craig's character uses a weapon around his wrist to shoot down a spaceship. It's a scene from early in the movie that gives the audience an idea of what to expect without giving away too much. However, no matter where you saw the scene – be it at Comic Con, in a theater, or online – Favreau always cuts it off soon after, leaving us begging for more. More is finally here.
This latest clip from the July 29 release is a continuation, not immediate but seemingly close, of that scene and features not only a tease at the aliens in the film but a little mano-a-mano showdown between Han Solo and James Bond, aka Harrison Ford and Daniel Craig. Check it out after the jump.
Thanks to Yahoo Movies for this clip.
For a big, summer blockbuster like this, I think Universal and Favreau have done a masterful job of raising awareness while simultaneously holding their cards close to the vest. I follow movie news and dissect these things for a living and I couldn't give you a halfway decent plot description of Cowboys & Aliens or tell you what the aliens look like or any of that. Sure, with some digging those details are out there – any information is out there if you look hard enough – but just on a normal, surface, marketing level, Universal has given the audience a concept and just let them make up their own minds based on that.
Of course, the latest trailers and clips – this one included – have shown a little more: A cave, a big structure, some spider looking things flying in the air, but none of the connective tissues are there and that bodes well for an exciting theatrical experience come July 29.