Nick Frost Is The Final Dwarf In 'Snow White And The Huntsman'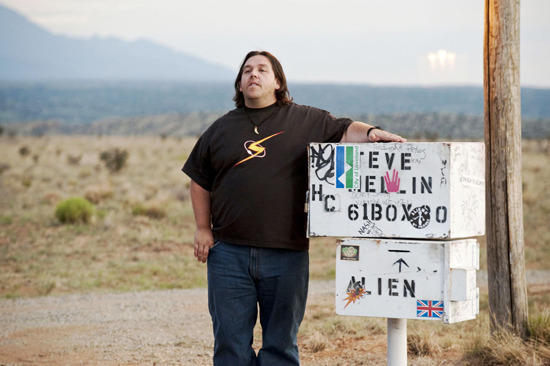 I like it! Universal's Snow White and the Huntsman has already cast a stellar group of British actors to play the seven dwarfs in the action film that will see the Huntsman (Chris Hemsworth) saving and mentoring Snow White (Kristen Stewart) rather than doing away with her as commanded by the evil queen (Charlize Theron). When the last of the primary seven dwarfs was cast I wondered if Gus, the young dwarf mentioned in the script as kind of a hanger-on, had been cut. Looks like he's still in the picture, though, and he'll be played by Nick Frost.
Variety has the report, saying that Nick Frost is the seventh and final dwarf, which is slightly confusing as drafts of the script from a few months back feature eight dwarfs. The trade does not specify his role. But unless Eddie Izzard, not mentioned in Variety's report, has dropped out, the last character remaining to be cast was that young eighth dwarf Gus, a role for which Nick Frost is perfect.
Here's the previous casting breakdown for the older dwarf characters, each of which is named for a Roman leader:
Ian McShane is Caesar, the eldest. Stephen Graham is Nero, the angry one. Eddie Izzard is Tiberius, the biggest and burliest. Bob Hoskins is the blind Constantine. Toby Jones is the timid Claudius. Ray Winstone and Eddie Marsan are the twins Trajan and Hadrian.
We've heard that Snow White and the Huntsman, which starts shooting soon for a 2012 release, is planned as the first of a trilogy, but those plans may be relatively tentative at this point. Here's what producer Joe Roth said about the overall approach to tweaking the old tale for this film:
We retain the basic story in the same way we retain the basic story of Alice, a young girl meant to be the queen who is cast out... The Huntsman is a mercenary, in the sense that he's a guy who is very able in the woods, more able than most anyone. His job is to capture runaway girls, who are all fleeing the kingdom because of the queen. He's a nondescript bounty hunter, as we first meet him... [Snow White] starts out not a damsel in distress, but innocent, and after 11 years of imprisonment by the Evil Queen, she escapes and learns the ways of a warrior in the woods
The cast also features Lily Cole as a character named Greta, Sam Spruell as Finn, the Queen's henchman sent to kill the Huntsman and Snow White, and Sam Claflin as the Prince.