/Filmcast Ep. 154 - Horrible Bosses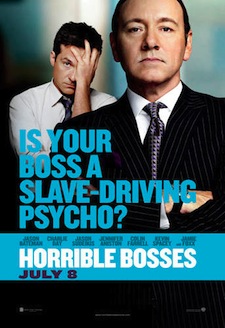 This week, Dave, Devindra, and Adam continue the discussion over Terence Malick's Tree of Life, praise indie films like Another Earth, Insidious, and Rubber, and ponder the state of television as art.
You can always e-mail us at slashfilmcast(AT)gmail(DOT)com, or call and leave a voicemail at 781-583-1993. We'll be back on Sunday at 10 PM EST / 7 PM PST to discuss Harry Potter and the Deathly Hallows: Part 2.
Download or Play Now in your Browser:
Subscribe to the /Filmcast:
Shownotes
Introduction
What We've Been Watching
Devindra (02:00): Into the Wormhole, Insidious
David (07:00): 13 Assassins, Conan O'Brien Can't Stop, Another Earth
Adam (20:00): Tree of Life, Rubber
News Discussion
Featured Review
Credits
Contact us at our voicemail number: 781-583-1993
You can donate and support the /Filmcast by going to www.slashfilmcast.com and clicking on the left-hand side "Donate" links! Thanks to all our donors this week!