Lionsgate Releases Official Info About Arnold Schwarzenegger's 'The Last Stand'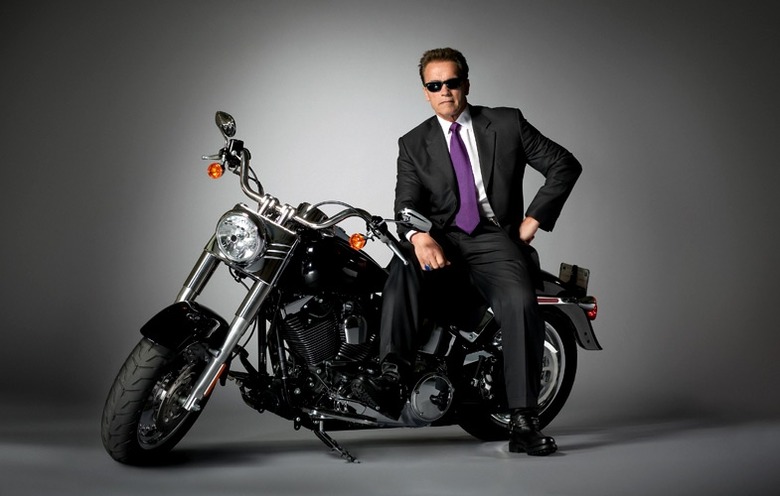 Several months ago, we were among the first to report that Arnold Schwarzenegger was very interested in starring in The Last Stand, an original action movie set up at Lionsgate with Kim Ji-Woon (I Saw The Devil) attached to direct. He eventually decided against it, opting instead for the small character piece Cry Macho, but then some major personal issues stopped all projects in their tracks. A revival of The Last Stand was rumored to be close yesterday, and now it is a certainty. Lionsgate has officially announced that Arnold Schwarzenegger's return to movies will, in fact, be The Last Stand, written by Andrew Knauer and Jeffrey Nachmanoff. Read the brand new plot description and more after the jump.
Lionsgate announced the news on their Twitter feed. Most of the press release is basically what we said above. The most important bit is the following, brand new, detailed plot description:
Schwarzenegger will be starring as Sheriff Owens, a man who has resigned himself to a life of fighting what little crime takes place in sleepy border town Sommerton Junction after leaving his LAPD post following a bungled operation that left him wracked with failure and defeat after his partner was crippled.   After a spectacular escape from an FBI prisoner convoy, the most notorious, wanted drug kingpin in the hemisphere is hurtling toward the border at 200 mph in a specially outfitted car with a hostage and a fierce army of gang members.  He is headed, it turns out, straight for Summerton Junction, where the whole of U.S. law enforcement will have their last opportunity to make a stand and intercept him before he slips across the border forever.  At first reluctant to become involved, and then counted out because of the perceived ineptitude of his small town force, Owens ultimately accepts responsibility for one of the most daring face offs in cinema history.
Then there's this quote from Joe Drake, the President of Lionsgate's Motion Picture Group:
Arnold Schwarzenegger will bring incredible magnetism to this complex but classic roll [sic]. When he came on the screen in THE EXPENDABLES, it always electrified the audience.  In this film, the Sheriff Owens character grapples with some really tough stuff, but ultimately triumphs, and we knew he'd truly elevate this high octane ride.
It almost sounds like this role was written for Schwarzenegger and that he'll be able to bring a lot of what he's gone through in the past few months to it. What are your thoughts?