Arnold Schwarzenegger Ends Post-Scandal Hiatus With Kim Ji-Woon's 'The Last Stand'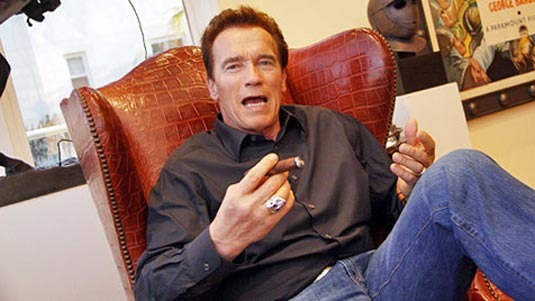 It's been a rollercoaster year for Arnold Schwarzenegger. After finishing his term as Governor of California, the icon announced his return to acting, helped create awful-looking animated series The Governator, and waffled between a few projects including Kim Ji-woon's English-language debut The Last Stand and another film, Cry Macho, before settling on the latter as his first major post-political film role.
But then his paternity scandal caused him to put all media activities on hold for an indefinite period. That period has evidently now come to a close as there is a report that the actor will star in The Last Stand, which will shoot this September.
Deadline says that Arnie won't get nearly as much money for this project as he would have when he was booked for Cry Macho in the pre-scandal days. This project will be a test on multiple fronts, then: of his ability to draw an audience both after the end of his political career and after being hit by the scandal torpedo.
Kim Ji-woon is the director of The Good, the Bad, the Weird and the recent bloody thriller I Saw the Devil. While promoting that film last year he talked about The Last Stand, which was written by Andrew Knauer:
My concept for The Last Stand is that it's kind of a combination of Die Hard and High Noon where (the latter) was about protecting something very important that needs to be protected, while Die Hard is a very drawn-out, long process that almost kills someone in the process, so my film will be something that has to be very well protected and in the process, we almost die protecting it in a way. So if I Saw the Devil was about a person's extreme remorse about having lost something that they couldn't protect, The Last Stand would be where someone puts their lives on the line to protect something that's very important and it will be a bit more optimistic film in that regard.
Meanwhile, Cry Macho could still happen, but if it does, it isn't likely to shoot until early next year. And now what does this mean for Terminator 5?