Spike Lee Reprising 'Do The Right Thing' Role In 'Red Hook Summer'?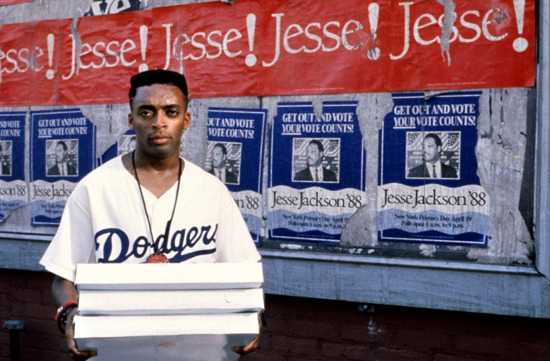 The last time we heard from Spike Lee he was bemoaning his inability to get a film financed. After Miracle at St. Anna flopped three years ago, he couldn't even get moneymen interested in a sequel to his most successful film, Inside Man, despite having stars like Clive Owen ready to go. There's the report that Spike might direct the Oldboy remake that has been in development for quite some time, but that isn't likely to happen soon. So when the director tweeted this morning that he was on the way to the first day of shooting for "the new Spike Lee joint," what was he talking about? Perhaps a film called Red Hook Summer, in which he will reportedly revive one of his most famous characters: Mookie, from Do the Right Thing.
Spike Lee tweeted this morning:
Wake Up. I been up since 430am. On the way to the set of THE NEW SPIKE LEE JOINT.Today is 1st Day of Shooting.Awwwwwwwwwwww Sheeeeeeeeeeeeet
Given his most recent comments, that was a little confusing — what's the movie? We thought he couldn't get anything together? But evidently there is a project, and probably not the HBO project called Da Brick that he was said to be creating with John Ridley and Doug Ellin.
Blackfilm (via Shadow and Act) reports that the new film is Red Hook Summer, which the site says is about "[an] adult from Atlanta who comes and spends the summer in Red Hook section of Brooklyn, NY." (Spike Lee was born in Atlanta and moved to Brooklyn when he was young; whether there will be any autobiographical content in the film is unknown.) And in the film, Spike Lee will play Mookie, the Brooklyn pizza delivery man who was a key figure in his 1989 film Do the Right Thing.
We don't know any more than that, but it's a pretty wild prospect. Just the idea of Spike going back to Brooklyn is great, whether it is the Brooklyn of today, or of some point in the past.
Here's the trailer for Do the Right Thing, which is just as powerful now as it was in 1989. Watch the film via the Netflix streaming service if you're in the US and need to revisit Spike Lee's greatest joint.