First Footage & Posters For 'Sherlock Holmes: A Game Of Shadows'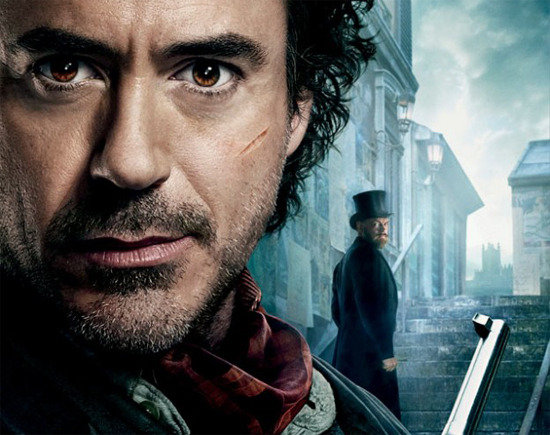 One again, we get to see the first footage of a blockbuster via the whizzing graphics and frighteningly cheerful hosts of Entertainment Tonight. The trailer for Sherlock Holmes: A Game of Shadows will premiere this week (see it in front of Harry Potter, or very likely online) but you can check out some footage in an ET preview of the preview. That's after the break, along with two character posters. 
A Game of Shadows reunites director Guy Ritchie with stars Robert Downey, Jr. and Jude Law. Noomi Rapace (The Girl With the Dragon Tattoo) joins in, and Jared Harris is on hand to play Moriarty, the arch-rival to Holmes. He's the most exciting part of this sequel, as far as I'm concerned — a great choice of actor to play one of the most famous small parts in mystery literature. Those two new characters can be seen in the backgrounds of the two posters. Eddie Marsan, Stephen Fry, and Gilles Lellouche all add their own color to the supporting cast.
Here's the (bootlegged) footage. Quality isn't great, so you might want to wait for the real trailer.
Well, it isn't exactly the BBC Sherlock, is it? Robert Downey, Jr. looks a bit non-plussed as he introduces this footage. That could be because a good bit of what we see here has Sherlock in drag, bickering like a fishwife with Watson.
Guy Ritchie helms a new action-packed adventure, following the world's most famous detective, Sherlock Holmes (Robert Downey Jr.), and his longtime trusted associate, Dr. Watson (Jude Law), as they match wits with their arch-nemesis, the criminal genius Moriarty (Jared Harris).
Sherlock Holmes: A Game of Shadows hits theaters December 16th, 2011.
[footage via The Film Stage, posters via Yahoo]