Watch The First Six Minutes Of 'Project Nim', By 'Man On Wire' Director James Marsh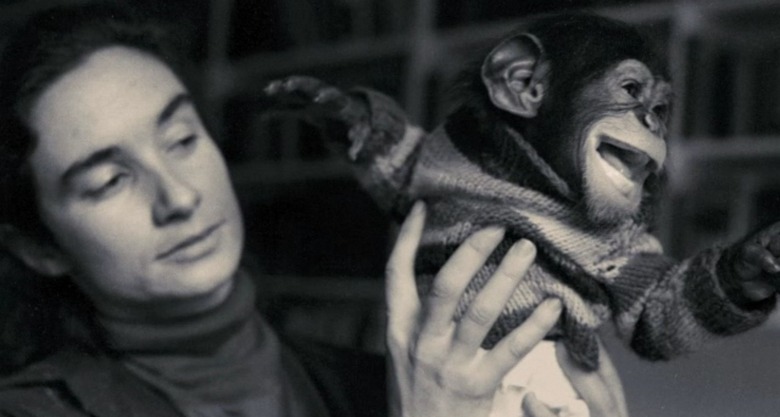 One of the most talked-about documentaries at this year's Sundance was Project Nim, director James Marsh's follow-up to 2008's acclaimed Man on Wire. The film centers around a chimp named Nim Chimpsky, who was the subject of a famous animal language acquisition experiment in the 1970s. Nim was raised from infancy as a human child and taught American Sign Language so that he could communicate with people. Unsurprisingly, the experiment raised profound, occasionally disturbing questions about ethics, language, and the line between humans and animals.
At time of writing, Project Nim is scoring an astounding 96% on Rotten Tomatoes, with 50 reviews counted. Our own David Chen gave it a positive review from Sundance, saying "There are moments of absolute magic in Project Nim"; more recently, Russ Fischer had nothing but praise for the full-length trailer. But just in case all that isn't enough to convince you to check it out when it hits your city, the first six minutes have now landed online. Watch after the jump.
How can you not want to find out what happens next?
Project Nim opened this past Friday in Chicago and New York; it will expand to other cities in the U.S. throughout the month of July and hit the U.K. August 12. (Check here to see when the film will be coming to your town.)
Synopsis:
From the Oscar-winning team behind MAN ON WIRE comes the story of Nim, the chimpanzee who in the 1970s became the focus of a landmark experiment which aimed to show that an ape could learn to communicate with language if raised and nurtured like a human child. Following Nim's extraordinary journey through human society, and the enduring impact he makes on the people he meets along the way, the film is an unflinching and unsentimental biography of an animal we tried to make human. What we learn about his true nature – and indeed our own – is comic, revealing and profoundly unsettling.