Mondo Posters To Be Archived By Academy Of Motion Picture Arts & Sciences Including Drew Struzan's First Screenprint

In addition to giving out Oscars every year, the Academy of Motion Picture Arts & Sciences, the world's largest movie related organization, does its best to preserve the history of cinema. One of the many ways does they do this is by keep an extensive catalog of every movie poster produced by a major studio. They've now decided to go a little outside of the studio system though and begin archiving posters from an independent producer: Mondo, the collectable art boutique of the Alamo Drafthouse.
To commemorate this incredible honor, Mondo is releasing their most impressive poster yet. They've managed to get legendary poster artist Drew Struzan out of retirement to do a screenprint for the 1931 Frankenstein starring Boris Karloff. It's the first screenprint Struzan has ever done and it's stunning.
After the jump, we talk with Mondo Creative Director Justin Ishmael about being honored by the Academy and working with Struzan. Plus, you can check out the piece and Mondo's brand new website.
We are always seeking out the unusual, and the Mondo collection certainly fits the bill. We are looking forward to working with the Alamo Drafthouse to ensure that its contribution to the art of movie posters will be around for future generations to appreciate.
That's the Academy's graphic arts librarian, Anne Coco talking about the Academy of Motion Picture Arts and Sciences' Margaret Herrick Library which will now archive Mondo prints along with almost 40,000 other pieces of art the studios themselves. Ishmael, speaking on the phone from his home in Austin Texas, was floored that the Academy approached Mondo to be part of the archive, not vice versa. He obviously didn't think twice about it. Though Mondo has worked with several studios in the past, this was just another way to legitimize what they do and bring them to a whole other level of respect:
The Academy, who awards [the studios] and says who's the best at the end of the year, is putting us right beside them in their archives. To me, it legitimizes us to the point of we're doing equal art work for their movies. It's such a crazy thing to have happen.
How it's going to work is, beginning with the Shepard Fairey They Live print, Mondo will take one piece out of each and every edition and, several times a year, send the Academy a big package of posters. Then, they'll be preserved, scanned and made available to the public for all time:
There's the National Film Registry where they'll vote films in every year. It's like Empire Strikes Back is going in forever, it'll never be lost. So I don't think this is that necessarily but it feels like our stuff will always be around. That was always a concern.
When Ishmael started at Mondo a few years back, none of the previous work that had been released was archived. Since then, he's started archiving it and – timed with this prestigious announcement – Mondo is also revealing www.mondoarchive.com where you can now look through everything Mondo has done since 1999, not just the one or two latest posters to sell out over on their official site www.mondotees.com:
I don't think this is, knock on wood, the end either. I would hope that this would be another beginning where we get more jobs because people see that we're in with everyone else. They'll be like, 'Oh, we didn't know about these guys before but, wow, look at this stuff.' I think the archive site is also going to help a lot too because when you go to our site you're looking at stuff for sale and it's a poster and it's sold out. A week goes by and it's gone and you see another poster and it's sold out. So there's really no way, unless you Googled us, to see like 'Oh, they did that, that's them.' So now we have a site where they can go in and look.
Timed with the announcement of partnering with the Academy and www.mondoarchive.com is the announcement of Drew Struzan's first screenprint: Frankenstein. We know what you're thinking. Drew Struzan is retired. Well, not anymore.
Ishmael tells the story of how he emailed Struzan's website looking to buy a piece and, when Drew himself replied, they began chatting. Struzan was adamant that he was retired but, on a trip to LA, Ishmael called him up and asked to hang out:
So we went to his house, hung out, drank lemonade and I talked him into it.
Obviously, there's more to it than that. Ishmael brought the legendary artist a few of Mondo's latest prints to show him the type of quality work they did. He also went in loaded with some insider knowledge.
He loves Universal monster stuff. And so the premise of him coming out of retirement to work with us was, reading his book, there's a line in there that says there was movies he wanted to do posters for that he wasn't born yet. He could never do them because everyone just wanted stuff for new movies. He wanted to actually do old posters for movies that he liked. So I wrote him an email, before I went to his house, that said we have all these licenses, what would you be interested in? And he said 'I love Frankenstein. I did this painting for nobody, I didn't do it for anybody, I just did it for myself because I like this movie' and I was like, that's perfect, we can totally use that to do a poster.
Ishmael brought artist Kevin Tong along with him to preach the art of screenprinting and, after being on the fence a bit, Struzan agreed. So began a year long process where Ishmael and D&L Screenprinting, along with Struzan, tried to figure out how to screenprint one of the artists detailed and beautifully colored works.
No one has ever done a screen print of his poster. So I brought Kevin Tong, and he's a master at printing and talking about this stuff, so he talked to Drew about it and he brought the file on his computer and we showed him what we could do with overlays and make it different from a giclee. A giclee is going to look exactly like the painting but your not going to get any of the atmosphere of a screen print, texture, any of that stuff.... Screenprinting paintings is very difficult because the final product never looks like the actual painting. We're trying to get it as close to the painting as we can but not cheaping out and doing a giclee. So D&L has been working on it, Kevin Tong has been working on it and I think the biggest screenprint we've ever had is Tyler (Stout)'s Akira which was 10 colors or something. This one is going to be at least double that. It may be close to 30 colors. It's gonna be outrageous. The whole thing is going to be very cool. He's going to sign them all, number them all. It's going to be legit. It's all through Universal, they're totally down with it and excited.
And they should be. Here's what the final product will more than likely look like: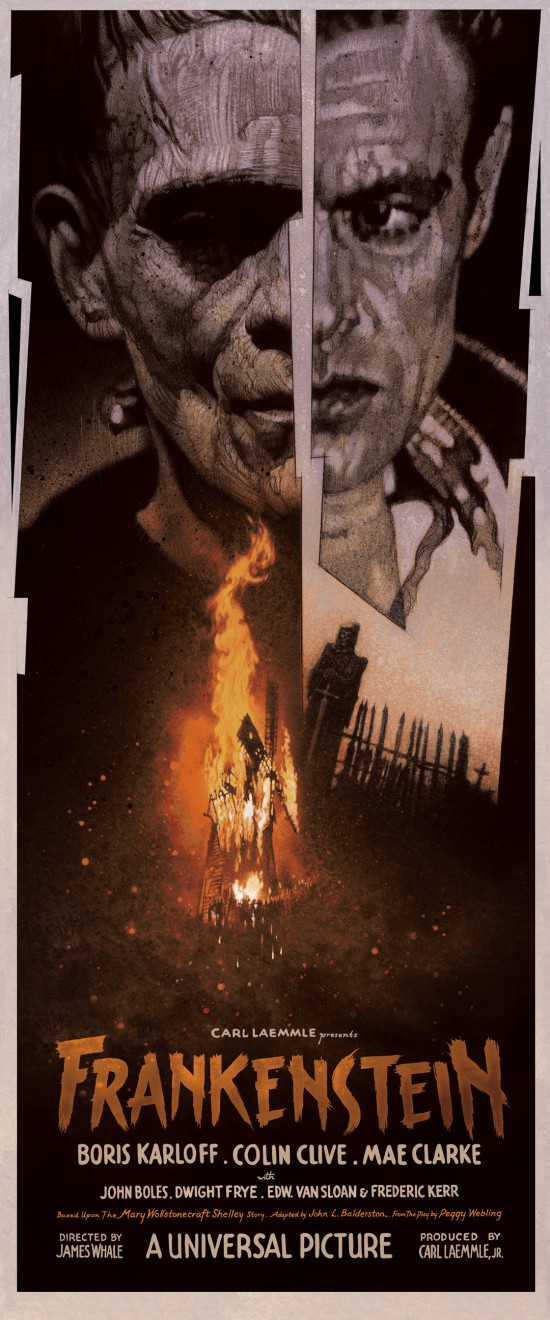 There's no information yet on price (but it'll be expensive) edition size (smaller than most) or release date, but that'll all be announced on @MondoNews very soon.
With all of these announcements, plus some major ones coming up concerning Comic-Con, it seems that Mondo is on track to become more popular than ever. Which will making buying their posters even more difficult than before, a regular complaint of almost everyone on the internet. But Ishmael stressed that he and his team have explored all options and are sympathetic to the fan's concerns:
I know a lot of people online think 'They don't give a shit what we think, they're sold out, they're making money,' but it's like we really do. We watch it a lot and we've looked into different things.
They've looked into lottery systems, ticketing systems, and concluded that nothing would be a significant improvement. And while they've beefed up the website considerably and continue to gradually raise the runs, they still want to keep their cool cache:
Our thing is limited edition. If you go too high, it's a debate of what is really limited. It's like you'll see a DVD, limited edition, 30,000, that to me isn't limited. I never want to use that word falsely. I know a lot of people say 'limited edition, crazy rare.' It's like eBay, you go on there and type in 'action figure rare' and it comes up with a bunch of Power of the Force Star Wars figures from the 90s, that's not rare.
Thanks to the Academy of Motion Picture Arts and sciences, while Mondo's posters will continue to be rare, they will now live on for eternity. For more information visit www.mondotees.com or the brand new www.mondoarchive.com.