Harry Lennix Is A General In 'Man Of Steel'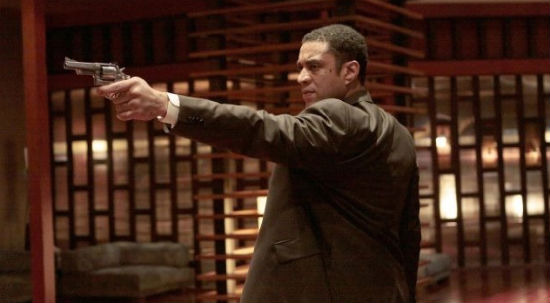 He lead the people of Zion in The Matrix sequels and now he'll lead the American military with Superman. Variety reports that Harry Lennix has been cast as a "high-ranking military officer named General Swanwick" in Zack Snyder's Man of Steel. He'll join an impressive cast that includes Henry Cavill as Superman, Amy Adams as Lois Lane, Michael Shannon as that other General, Zod, and Kevin Costner, Diane Lane, Russell Crowe and Julia Ormond's as Superman's Earth-bound and Kryptonian parents. Read more after the jump.
Thanks to Variety for the heads up.
If you don't know Lennix from his roles as Jason Lock, leader of the Zion defense forces in The Matrix Reloaded and Revolutions, you might know him from his ongoing role as Boyd Langton in Joss Whedon's show Dollhouse. He was also in the Oscar-winning film Ray, the 6th season of 24 and about 70 other things going back two decades or so.
In the common Superman mythology, there doesn't seem to be a character called "General Swanwick" so we can't be sure exactly what the role will entail. If anything, using Superman 2 as a broad reference, maybe he's one of the high ranking officials that will eventually kneel before Zod. That's just a guess though.
Recently in Superhero Bits, where you can read a ton of stuff on the production of Man of Steel as well as all the other superhero movies, we ran a brand new rumored plot description for the film. Actually, it seems to be more an "act 1" description as it doesn't talk about how several of the main characters fit in but it's worth highlighting again:
Clark Kent is a freelance reporter in his early 20's, traveling all around the world covering various news stories. However, Kent is forced to fly back into action to attain a fleeing assassin instead of covering an ethnic conflict between the Ghuri and Turaaba clans in West Africa. Upon his return to form, Kent returns to Smallville to learn more about his origins and become the hero he was born to be.
You can also just click here to read everything we've written about the film, which includes some set construction photos, casting calls and more.
Are you fans of Lennix? How do you think he'll fit into the Man of Steel universe? And what about this General Swanwick?