Superhero Bits: The Dark Knight Rises, Captain America, Iron Man, Green Lantern, Issues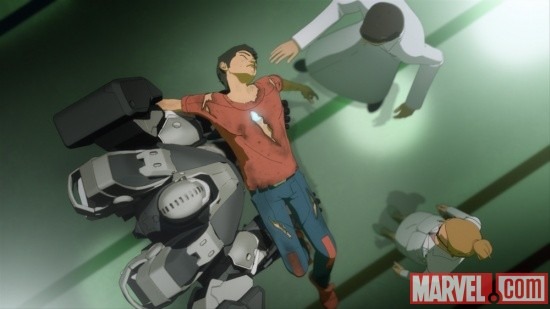 Want to read a bunch of spoilery tweets from an extra on the set of The Dark Knight Rises? Curious for an update on that Adam West rumor? How does a Captain America: The First Avenger poster look without the "Captain America?" Have a question for Chris Evans that you'd like to ask? Find out about all of that, and even the Iron Man animated series, in today's Superhero Bits.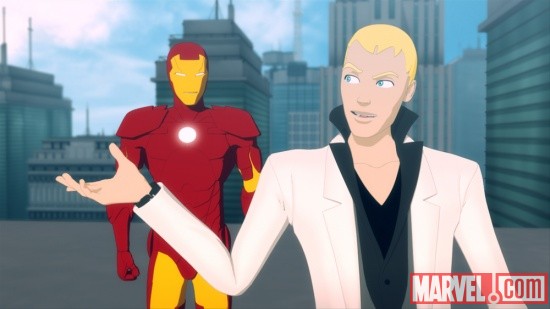 The new season of Iron Man: Armored Adventures starts next week on NickToons and Marvel.com has premiered a bunch of new stills including War Machine (top), Justin Hammer (above), and more.
Certain superheroes have so many powers, it begs the question, why aren't they putting them to better use? Blastr has an eye-opening, and funny, list of the 7 Superheroes Who Aren't Doing Nearly Enough To Save the World and it includes some big names. Here's a snippet:
Pick even one of [Superman's] lesser powers—heat vision, for instance—and you see that he could very easily help out cities afflicted by cold waves. And why isn't he spending more time at Third World hospitals with limited equipment, employing his X-ray vision to diagnose entire wards of afflicted patients at once?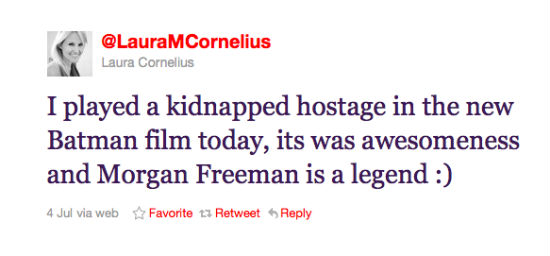 Twitter can be such a problem for people. Look at that above tweet. That's from an extra on the set of The Dark Knight Rises talking about her scene. And, guess what? She has like 10 more with even more details and description! We won't spoil them all here, head over to Comic Book Movie to see the rest.
The Wrap has a piece that sort of speaks for itself: 10 Ways to Un-Screw Up Green Lantern. Some good suggestions there, including this one:
Make it a reboot. Take a cue from the "Incredible Hulk." The Ang Lee version didn't do that badly at the box office. Still, Marvel didn't throw good money after bad. They re-shot, re-thought and did it right the second time. The same thing is happening with Superman. A new reboot is in the works after the failure of "Superman Returns." You're only tied to successes, not failures. Start all over again. Re-cast if necessary.
Agent M recently posted the above video which, I know, is years old. But I'd never seen it before and it made me laugh so I think some others might enjoy it too. It's the Teenage Mutant Ninja Turtles performing hardcore music. Kind of.

Upper Deck is doing trading cards for Captain America: The First Avenger and Comic Book Movie has scanned in about 20 of them, two of which you can see above. Many many new images over there.
We recently reported a rumor that Adam West was in England and, therefore, might be making a cameo in The Dark Knight Rises. Well, Batman Online wisely points out that Batman Live is also happening across the pond and him attending that seems far more likely.
Due to the amount of graphics and images included in Superhero Bits, we have to split this post over TWO pages. Click the link above to continue to the second page of Superhero Bits.

Bleeding Cool points us to this cool piece of art by Amy Mebberson obviously inspired by the Muppets/Green Lantern trailer. Here's The Muppet Lantern Crops.
The Hollywood Reporter has this exclusive first look at Issues, an upcoming comedy series featuring the voices of Eric Stonestreet, Seth Green, Ron Livingston, Greg Grunberg, Eddie Kaye Thomas and Rob Riggle. It'll premiere on Sony's new video network Crackle and is about a psychologist who deals only with superheroes. Head over to the THR for a Q&A with the creators.
MTV News is hosting a 30 minute sit down interview with Chris Evans to talk Captain America: The First Avenger July 14 and you can get your questions answered. Head over to this site and read the instructions to submit your question to Evans.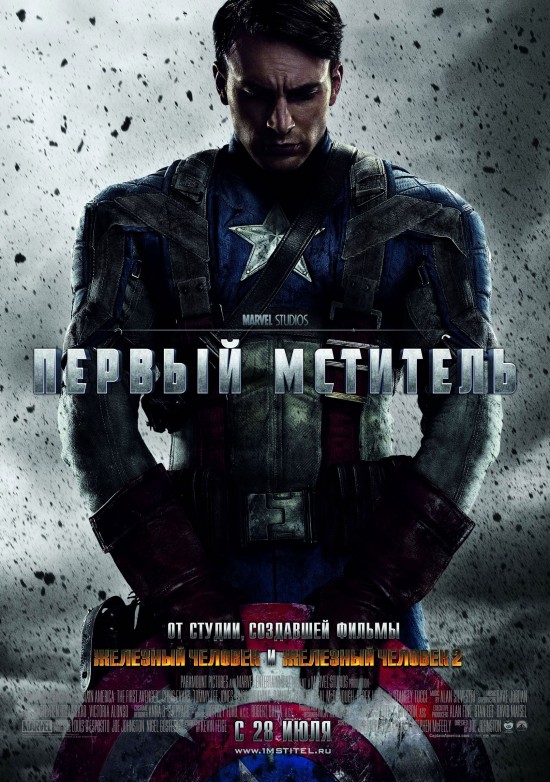 The Daily Blam found the Russian posters for Captain America: The First Avenger which are exactly the same as the regular ones, just with one line of text. And actually, unless you read Russian, this could even be assumed to just say "Captain America" as opposed to "The First Avenger."