Comic-Con Wednesday/Thursday Schedule Announced, /Film's Peter Sciretta To Appear On 'The Masters Of The Web' Panel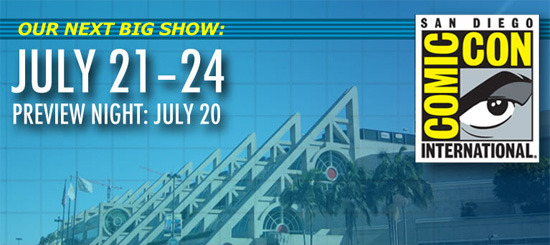 We're less than two weeks away from the 2011 San Diego Comic Con, and convention organizers have finally released the schedule for the first day of programing. You can find the full schedule on comic-con.org, or after the jump I've listed the film and television  highlights, which includes the Masters of the Web panel which I've been invited to be a panelist on (In full disclosure, I've been asked to be on this panel for a few years now, but I've only just recently gotten over my fear of speaking in front of large audiences). It should be a fun panel, and I hear they will be giving away some really cool prizes as well.
Wednesday (Preview Night)6:00-9:00 Special Sneak Peek Pilot Screenings: Alcatraz, Person of Interest, The Secret Circle, and Supernatural: The Anime Series—
Comic-Con and Warner Bros. Television proudly continue their annual Preview Night tradition with exclusive world premiere screenings of the pilot episodes of three of the most highly anticipated TV series pilots of the 2011-12 television season — Alcatraz, Person of Interest, and The Secret Circle — as well as Supernatural: The Anime Series, the first-ever anime adaptation of a U.S. television series.
Alcatraz –From executive producer J. J. Abrams (Super 8, Fringe) and showrunner Elizabeth Sarnoff (Lost) comes Alcatraz, a chilling new drama revolving around America's most infamous prison and onetime home to the nation's worst criminals. The series stars Sarah Jones (Sons of Anarchy), Jorge Garcia (Lost), Jonny Coyne (Lara Croft Tomb Raider: The Cradle of Life), Parminder Nagra (ER), Santiago Cabrera (Heroes), and Jason Butler Harner (Fringe), with Robert Forster (Jackie Brown) and Sam Neill (Jurassic Park). Abrams, Bryan Burk (Super 8, Fringe), and Sarnoff are executive producers; Steven Lilien and Bryan Wynbrandt (both Kyle XY) are co-executive producers. Alcatraz will premiere in midseason and air Mondays 9/8c on FOX.
Person of Interest –Jim Caviezel (The Thin Red Line), Michael Emerson (Lost), and Taraji P. Henson (Hustle & Flow) team up in Person of Interest, a thought-provoking crime action-drama from The Dark Knight's Jonathan Nolan and J. J. Abrams' Bad Robot Productions (Super 8, Fringe). Set in New York City, with all of its multifaceted elements of justice (cops, criminals, corruption), this procedural centers on an ex-CIA agent, presumed dead, who partners with a mysterious billionaire to prevent violent crimes. Kevin Chapman (Rescue Me) also stars in the series, which is executive produced by Nolan, Abrams, Greg Plageman (Cold Case), and Bryan Burk (Super 8, Fringe). Person of Interest is from Bonanza Productions Inc. in association with Bad Robot Productions and Warner Bros. Television. The series will air Thursdays at 9/8c on CBS this fall.
The Secret Circle — The ordinary becomes the extraordinary in The Secret Circle, a romantic drama full of mystery, intrigue, and danger from executive producer Kevin Williamson (The Vampire Diaries) and based on the book series by L. J. Smith (The Vampire Diaries). The series chronicles the story of a young girl who discovers not only that she is a witch and part of a secret coven but that she is the key that will unlock a centuries-old battle of good versus evil. Britt Robertson (Scream 4), Thomas Dekker (Terminator: The Sarah Connor Chronicles), Gale Harold (Queer as Folk), Shelley Hennig (Days of Our Lives), Phoebe Tonkin (H20: Just Add Water), Louis Hunter (Out of the Blue), Jessica Parker Kennedy (Valemont), Ashley Crow (Heroes), and Natasha Henstridge (Species) star in the series, from executive producers Williamson, Leslie Morgenstein (The Vampire Diaries), Gina Girolamo (Alloy Entertainment), Andrew Miller (Nothing), and Richard Hatem (Supernatural). The series will air Thursdays at 9/8c on The CW this fall.
Supernatural: The Anime Series — Warner Bros. Television's hit series Supernatural (Fridays 9/8c, The CW) makes history this summer as Supernatural: The Anime Series is released in the United States, the first-ever live-action series to be reimagined in Japanese anime style. Inspired by the U.S. series' sensational following oversees, Warner Home Video Japan and renowned animation studio Madhouse — working with the full approval of series creator Eric Kripke — produced the anime series, which mirrors the story arc of Supernatural's first two seasons, providing supplemental stories ranging from prequels and spinoffs to untold tales that fit within the Supernatural mythology. The all-new, 22-episode animated series will be distributed July 26 by Warner Home Video on Blu-ray, DVD, On Demand, and for Download. Ballroom 20
Thursday (Day 1)10:00-11:00 TheOneRing.net: Hobbit Talk— From the decade-old and perhaps most influential fan site on the Interwebs (and a consistent breaking news source), staff vets Clifford Broadway (Quickbeam) and Larry D. Curtis (MrCere) take a good, hard look at the latest from the two Hobbit films' production. Since this isn't a studio affair, you'll get the street-level latest (authorized and unauthorized) as well as spy reports, rumors, and even informed opinions. Surprise guests are a possibility; audio and visuals are a given with a Q&A and all sorts of fun. Room 7AB
Tags: Fandom | Movies | Science Fiction & Fantasy
10:00-11:00 Burn Notice: The Fall of Sam Axe— For fans of USA's hit series Burn Notice who've always wanted to know what happened before Sam Axe (Bruce Campbell) teamed up with Michael Weston and Fiona, Comic-Con attendees are invited inside the USA made-for-TV movie Burn Notice: The Fall of Sam Axe, debuting on DVD exclusively at Comic-Con! The Burn Notice prequel chronicles what turned out to be the last military mission of former U.S. Navy SEAL Lieutenant Commander Axe and the expedition that took him from the jungles of Colombia to sunny Miami Beach. Go one-on-one with Bruce Campbell, star of Burn Notice: The Fall of Sam Axe, and Burn Notice creator, writer, and executive producer, Matt Nix. Ballroom 20
Tags: Action/Adventure | Television
10:00-11:00 Deadliest Warrior: Vampires vs. Zombies— Vampires and zombies have terrorized and tantalized their way through pop culture for decades, from Dracula to the Twilight Saga to Walking Dead. SPIKE TV and its Deadliest Warrior franchise are going to finally answer the question: Which of these mythical creatures would come out on top in a fight to the finish? Deadliest Warrior steps outside the confines of history for this groundbreaking fantasy episode destined to rouse heated debates amongst fans in the blogosphere for months. The special episode features an array of icons of film and fiction who are authorities on the topic. Through these expert interviews, scientific tests, and careful analysis, They will determine who would win in a battle to the death between these two iconic groups, zombies and vampires. The Deadliest Warrior team of Richard "Mack" Machowicz, Dr. Armand Dorian, and Robert Daly, guests Steve Niles, Max Brooks, and horror legend Wes Craven, and executive producer of Deadliest Warrior and president of 44 Blue Productions Rasha Drachkovitch make their case for who is, indeed, the fiercest. Los Angeles Times writer and HeroComplex.com founder Geoff Boucher will serve as moderator. Room 25ABC
Tags: Fandom | Horror and Suspense | Television
11:15-12:15 Covert Affairs— For the first time, TV's sexiest spy show, USA Network's Covert Affairs, comes to Comic-Con! Spend some time with stars Piper Perabo (Annie Walker), Christopher Gorham (Auggie Anderson), Sendhil Ramamurthy (Jai Wilcox), Kari Matchett (Joan Campbell), Anne Dudek (Danielle), and Peter Gallagher (Arthur Campbell). Executive producers Doug Liman, Chris Ord, Matt Corman, and Dave Bartis also join the panel, moderated by the one-and-only Oded Fehr. Fans will get an insider's look into the action-packed world of Covert Affairs. Besides having questions answered about the exciting current season, fans will view exclusive video content featuring a sneak peek at upcoming episodes. There will also be surprise giveaways for audience members! Ballroom 20
Tags: Action/Adventure | Television
11:15-12:15 The Twilight Saga: Breaking Dawn Part 1— Summit Entertainment presents a sneak peek at the highly anticipated next chapter of The Twilight Saga. This is a must see for fans interested in the story's final chapters. You'll see exclusive footage from The Twilight Saga Breaking Dawn Part 1 and be treated to a filmmaker and cast Q&A session providing details on the first half of the epic two-part finale. Hall H
Tags: Horror and Suspense | Movies | Science Fiction & Fantasy
11:45-12:45 Battlestar: So Say We All— Richard Hatch hosts a panel and fan discussion of the Battlestar Galactica universe, politics, and philosophy. Richard (Tom Zarek, Capt Apollo), Michael Taylor (Battlestar Galactica, Caprica, Blood and Chrome), Dr Kevin Grazier (BG science consultant), and surprise guests for this exciting round table and Q&A session. Room 6BCF
Tags: Fandom | Science Fiction & Fantasy | Television
12:15-1:00 Focus on Rick Baker— The multi-Oscar winning master of makeup effects will take us on an overview of his remarkable career with a special emphasis on his work with director Barry Sonnenfeld on Men In Black 1 & 2, as well as a first look at some of his creatures and makeup for the upcoming Men In Black 3. Appearing on stage: Rick Baker in conversation with Geoff Boucher of the Los Angeles Times' Hero Complex. Indigo Ballroom, Hilton San Diego Bayfront
Tags: Costuming | Movies | Seminars & Workshops
12:30-1:30 Psych— Calling all Psych-o's! USA Network's Psych is back at Comic-Con with another hilarious panel featuring the stars and producers behind one of cable's most popular shows. Moderated by Psych's resident morgue-dweller and fan favorite, Woody the Coroner (acclaimed actor Kurt Fuller), the one-hour panel will be full of surprises and face-time with series stars James Roday (Shawn Spencer), Dulé Hill (Burton "Gus" Guster), Maggie Lawson (Juliet O'Hara), Tim Omundson (Carlton Lassiter), Kirsten Nelson (Chief Karen Vick), and Corbin Bernsen (Henry Spencer). Joining the cast are Steve Franks (creator and executive producer), Kelly Kulchak (executive producer) and Chris Henze (executive producer). The cast and creative team will share secrets and stories from the set as well as answer questions about the show. Expect exclusive videos, surprise giveaways, live performances, and an extended preview of Season 6 episodes screened only for Comic-Con fans! Ballroom 20
Tags: Humor & Satire | Television
12:45-1:45 Animation Showcase— Sony Pictures Animation plunges Hall H into a 3D animation universe with previews of upcoming films with Aardman, the home studio of Wallace and Gromit, as they make their first trip across the pond to Comic-Con to present a first look at two of their upcoming animated feature films:
Arthur Christmas — The 3D, CG-animated family comedy Arthur Christmas, an Aardman production for Sony Pictures Animation, at last reveals the incredible, never-before seen answer to every child's question: "So how does Santa deliver all those presents in one night?" The answer: Santa's exhilarating, ultra-high-tech operation hidden beneath the North Pole. But at the heart of the film is a story with the ingredients of a Christmas classic — a family in a state of comic dysfunction and an unlikely hero, Arthur, with an urgent mission that must be completed before Christmas morning dawns. Producer Peter Lord and co-writer Peter Baynham discuss the animated film.
The Pirates! Band of Misfits — In the 3D, stop motion-animated The Pirates! Band of Misfits, Hugh Grant, stars in his first animated role as the luxuriantly bearded Pirate Captain — a boundlessly enthusiastic, if somewhat less-than-successful, terror of the High Seas. With a rag-tag crew at his side (Martin Freeman, Brendan Gleeson, Russell Tovey, and Ashley Jensen), and seemingly blind to the impossible odds stacked against him, the Captain has one dream: to beat his bitter rivals Black Bellamy (Jeremy Piven) and Cutlass Liz (Salma Hayek) to the much coveted Pirate Of The Year Award. It's a quest that takes our heroes from the shores of exotic Blood Island to the foggy streets of Victorian London. Along the way they battle a diabolical queen (Imelda Staunton) and team up with a haplessly smitten young scientist (David Tennant), but never lose sight of what a pirate loves best: adventure! Director/producer Peter Lord will be live on stage to talk about the movie. Hall H
1:00-2:00 Nickelodeon and DreamWorks Animation: The Penguins of Madagascar: The Return of the Revenge of Dr. Blowhole— Executive producers Mark McCorkle and Bob Schooley (Kim Possible), supervising producer Nick Filippi (Wolverine and the X-Men), creative consultant and voice of Skipper Tom McGrath (Madagascar 1 & 2), and cast members Danny Jacobs (Epic Movie), John DiMaggio (Futurama), Jeff Bennett (T.U.F.F. Puppy), James Patrick Stuart (Wolverine and the X-Men), and Kevin Michael Richardson (The Cleveland Show) share an insider's look of how the show gets made, along with never-before-seen footage from their upcoming one-hour musical, The Return of the Revenge of Dr. Blowhole. Additionally, the all-star cast performs a table read of selected scenes, highlighted by the amazingly talented Danny Jacobs as the voice of King Julien, singing his booty off as he premieres a showstopper from the special. Followed by a Q&A session moderated by Rich Magallanes, vice president, animation for Nickelodeon. Room 23ABC
Tags: Animation | Kids | Television
1:45-2:45 Ringer— Sarah Michelle Gellar makes her highly anticipated television return in the gripping new thriller Ringer, as a woman who, after witnessing a murder, goes on the run, hiding out by assuming the life of her wealthy identical twin — only to learn that her sister's seemingly idyllic life is just as complicated and dangerous as the one she's trying to leave behind. Be the first to see an exclusive sneak peek at the new series about family secrets and stolen identities, followed by a panel discussion with series stars Sarah Michelle Gellar (Buffy The Vampire Slayer), Ioan Gruffudd (Fantastic Four), Nestor Carbonell (Lost, The Dark Knight), Kristoffer Polaha (Life Unexpected), executive producer Pam Veasey (CSI:NY), and co-executive producers Nicole Snyder (Supernatural) and Eric Charmelo (Supernatural). Ballroom 20
Tags: Horror and Suspense | Television
2:00-3:00 Napoleon Dynamite— Original cast members from the hit indie film including Jon Heder, Tina Majorino, Efren Ramirez, Jon Gries, Sandy Martin, Diedrich Bader and executive producer Mike Scully (The Simpsons) present a new series following your favorite awkward teenager like you've never seen him before — animated! Join us for a sneak peek at never-before-seen footage of the newest member of FOX's Animation Domination lineup and a "sweet" Q&A session. Room 7AB
Tags: Animation | Movies
2:00-3:00 Bill Plympton: Independently Animated— Two-time Oscar nominee Bill Plympton (Mutant Aliens, I Married a Strange Person) celebrates the release of the new Rizzoli Press book Independently Animated: Bill Plympton, about the life and art of the King of Indie Animation. Also, Bill will discuss the recent release of his animated feature Idiots and Angels on DVD, screen some of his recent short films, and present a sneak peek at what he's working on next, including The Flying House, a remastering of a classic Winsor McCay film. Everyone who attends will receive a free Bill Plympton autographed drawing! Room 25ABC2:00-3:00 FilmDistrict Studio Panel— FilmDistrict, the new studio that brought you Insidious, celebrates two upcoming features: Don't Be Afraid of the Dark, a Guillermo Del Toro production starring Katie Holmes and Guy Pearce, and Drive, directed by Nicolas Winding Refn, starring Ryan Gosling, Carey Mulligan, Ron Perlman, and Christina Hendricks. Exclusive footage will be presented and a Q&A will be held for both films. Hall H
Tags: Horror and Suspense | Movies
2:00-3:00 Warner Premiere: H+ and Mortal Kombat: Legacy— From producer Bryan Singer (X-Men, X2, X-Men: First Class, Superman Returns) comes a Comic-Con exclusive first look at H+, the forthcoming Warner Premiere/Dolphin Entertainment web series directed by Stewart Hendler (Sorority Row) and written and created by John Cabrera and Cosimo De Tommaso. H+ takes place in a near-future world where a tiny and stunning new piece of technology lies at the center of a dark and epic mystery. Then, Mortal Kombat: Legacy, a hit web series with over 35 million views, takes the stage for a panel discussion with director Kevin Tancharoen (Mortal Kombat: Rebirth), Jeri Ryan (Star Trek: Voyager), Michael Jai White (The Dark Knight), Darren Shahlavi (Sanctuary), Peter Shinkoda (Falling Skies), and Matt Mullins (Kamen Rider: Dragon Knight). Fans will see — for the first time — the long-awaited final Mortal Kombat: Legacy episode! Indigo Ballroom, Hilton San Diego Bayfront
Tags: Action/Adventure | Movies | Science Fiction & Fantasy
3:00-4:00 Game of Thrones Panel and Q&A session— Based on the bestselling fantasy book series A Song of Ice and Fire by George R. R. Martin, HBO's Game of Thrones concluded its 10-episode debut season on June 19. The series, executive produced and written by David Benioff and D.B. Weiss, follows kings and queens, knights and renegades, liars and noblemen as they vie for power in a land where summers span decades and winters can last a lifetime. Some of the cast featured in the first season and appearing on this panel are (in alphabetical order) Emilia Clarke as Daenerys Targaryen, Nikolaj Coster-Waldau as Ser Jaime Lannister, Peter Dinklage as Tyrion Lannister, Kit Harington as Jon Snow, and Jason Momoa as Khal Drogo. Moderated by George R. R. Martin, who also serves as a co-executive producer and writer on the series. Ballroom 203:15-4:30 20th Century Fox— At past Comic-Cons, 20th Century Fox has previewed Independence Day, X2, Avatar, and X-Men Origins: Wolverine. You won't want to miss the excitement this year, as Fox presents first-looks at some of its most-anticipated pictures of 2011 and 2012. Hall H
Tags: Movies
3:30-4:15 For Big Talent, Multi-Platform Is the New Multiplex— Learn why action, thriller, and sci-fi stars are migrating to emerging platforms as filmmakers create original, compelling digital productions. From upcoming Vuguru projects The Booth at the End, Nuclear Family, Off Season, and The Millionaire Tour, Dominic Monaghan (The Lord of the Rings), Ray Wise (Twin Peaks), Xander Berkeley (Nikita), Rick Fox (Oz), Kyle Rankin (Infestation), and Christopher Kubasik (The Booth at the End) offer a lively discussion. Marriott Hall 2, Marriott Marquis & Marina
Tags: Movies | Science Fiction & Fantasy | Television
3:45-4:45 Awake— Exclusive screening of Awake, the new NBC sci-fi drama about the power of the mind, to be introduced by star Jason Isaacs (Harry Potter) and executive producers Howard Gordon (24) and Kyle Killen (The Beaver). The screening will be followed by a brief Q&A session. Room 6A
Tags: Science Fiction & Fantasy | Television

4:00-5:00 Masters of the Web— Some of the most prominent and influential film pundits on the web discuss the film industry, writing for film online, film fandom, and a whole lot more. Panelists include Peter Sciretta (Slashfilm.com), Anne Thompson (Thompson on Hollywood), Jen Yamato (Movieline.Com), Scott Beggs (FilmSchoolRejects.Com), Sasha Perl-Raver (Movieweb.com), Vic Holtreman (Screenrant.Com), Jenna Busch (Moviefone), and Mike Sampson (JoBlo.Com), hosted by John Campea (AMC Theatres). Room 5AB
Tags: Fandom | Movies | Writers & Writing
4:00-5:00 Archer Screening and Q&A— This animated half-hour comedy revolves around the spy agency known as the International Secret Intelligence Service (ISIS) and the lives of its self-involved employees. Series creator Adam Reed (Sealab 2021, Frisky Dingo) and the show's voice-over actors discuss their daunting and enigmatic work of espionage, reconnaissance missions, and undercover surveillances — which are all actually unmitigated occasions for the ISIS staff to undermine, sabotage, and betray each other for personal gains and prosperity. Panelists include H. Jon Benjamin (Bob's Burgers, Jon Benjamin Has a Van) as the highly skilled yet incredibly vain master spy Sterling Archer; Aisha Tyler (Talk Soup, CSI) as fellow agent provocateur Lana Kane; Chris Parnell (Saturday Night Live, 30 Rock) as the easily intimidated comptroller of ISIS, Cyril Figgis; Judy Greer (Mad Love, Arrested Development) as the loquacious secretary, Cheryl/Carol; Amber Nash (Frisky Dingo, Aqua Teen Hunger Force) as the discordant director of human resources for ISIS, Pam Poovey; and George Coe (Funny People, Curb Your Enthusiasm) as Sterling's elderly and always-exploited butler, Woodhouse. Indigo Ballroom, Hilton San Diego Bayfront
Tags: Animation | Humor & Satire | Television
4:45-5:45 Star Wars: The Clone Wars Season Four Preview— The epic conflict of Star Wars: The Clone Wars intensifies in the upcoming season, as new battle lines are drawn, new threats arise, and old enemies resurface. Take an unparalleled first look into this fall's action, drama, and adventure as the creators of hit series from Lucasfilm preview some of what will astound Star Wars fans in Season Four. Featuring supervising director Dave Filoni, CG lighting/FX supervisor Joel Aron, and other talents from behind the scenes at Lucasfilm Animation. Hosted by Pablo Hidalgo. Room 6BCF
Tags: Animation | Kids | Science Fiction & Fantasy | Television
4:45-5:45 Robert Rodriguez's Quick Draw Productions— Be the first to get a sneak peek at Robert Rodriguez's upcoming films. Robert presents Quick Draw's new slate featuring special guest collaborators. He will also show exclusive material from his latest top-secret project. Hall H
Tags: Movies
5:00-6:00 Beavis & Butthead— In 1993, Mike Judge (creator of Beavis and Butthead) and MTV knocked their heads together and launched a cartoon series starring a couple of lunkheads and unwittingly started an animated pop culture revolution. Now, Beavis and Butthead are coming back to MTV in 2011 to unleash on music videos, Jersey Shore, viral videos, and more. See the first footage from the new episodes, and join Mike as he discusses the duo's return to MTV! Room 6A
Tags: Animation | Humor & Satire | Television
5:30-7:30 Showtime : Tired of Ordinary Television?— This year at Comic-Con, Showtime saves! The casts and creative forces behind Dexter and Shameless give sneak peeks into the new seasons. And be the first to see an exclusive look at the new Showtime original series Homeland.
Dexter — See the exclusive world premiere of the new season's trailer, then moderator Ralph Garman (KROQ entertainment reporter) will preside over a revealing interview and Q&A session with the stars and executive producers, including Michael C. Hall (star/executive producer), C. S. Lee (Masuka), David Zayas (Batista) , guest star Colin Hanks (Peter Jackson's King Kong, Roswell), and more. Also appearing are executive producers John Goldwyn, Sara Colleton, Scott Buck, and Manny Coto.
Shameless — Come party with the cast and creative team behind the hottest new Showtime original series, Shameless. If you thought your family was dysfunctional, wait 'til you meet the Gallaghers. Get the inside scoop on what's in store for the new season as Mike Schneider (TV Guide Los Angeles bureau chief) leads an interview and Q&A with stars William H. Macy (Fargo, Jurassic Park III) and Emmy Rossum (Day After Tomorrow, Dragon Ball: Evolution ), plus more, along with executive producer John Wells (West Wing, ER, Southland).
Homeland — This fall, the war on terror comes home in the new Showtime original series Homeland from executive producers/writers Howard Gordon (24, The X-Files) and Alex Gansa (24, The X-Files, Numb3rs), starring Claire Danes (Terminator 3), Damian Lewis (Band of Brothers, Life), Mandy Patinkin (The Princess Bride, Criminal Minds), and Morena Baccarin (V, Firefly). Comic-Con favorite Morena Baccarin will make a special appearance to introduce exclusive footage from Homeland.
Ballroom 20
Tags: Action/Adventure | Horror and Suspense | Science Fiction & Fantasy | Television
5:30-6:30 Creepy and Eerie: Comics That Can Still Scare You!— Discuss the new Dark Horse Creepy series, the classic age of the Warren Creepy and Eerie magazines, and all the exciting things coming up in the Creepy universe with a bone-chilling panel including Jason Shawn Alexander (Abe Sapien), Overstreet's J. C. Vaughn (Doctor Solar), artist Nathan Fox (Haunt), and classic Creepy and Eerie cover artist Ken Kelly and writer Bruce Jones (Checkmate). Moderated by New Comic Company's twin engines Dan Braun (Creepy) and Josh Braun (A History of Violence). Plus, there will be Creepy trivia questions with extraordinary swag and prizes! Room 24ABC
6:00-7:00 Entertainment Weekly: The Visionaries: A discussion with Jon Favreau and Guillermo del Toro on the Future of Pop Culture— EW moderates an in-depth conversation with Jon Favreau (Cowboys & Aliens) and Guillermo del Toro (Don't Be Afraid of the Dark), two filmmakers at the forefront of bringing geek culture to the masses and making blockbuster art out of pulp fiction. They will discuss their inspirations, their current work, and how they strive to put a personal stamp on blockbuster entertainment. Plus: How is new technology changing the way stories are produced and viewed? And what do they think the pop culture universe will look like a decade from now? Moderated by Jeff "Doc" Jensen. Hall H
Tags: Fandom | Movies
7:00-8:00 Writing Movies for Fun and Profit— Meet Thomas Lennon (Reno 911!, The State, I Love You, Man) and Robert Ben Garant ( Reno 911!, The State, Bob's Burgers). Sure, you love their cult TV shows, but the movies they've written — Night at the Museum I & II, The Pacifier, etc — have made over a billion dollars at the box office. Their new book Writing Movies for Fun and Profit will teach YOU the secrets of the studio system and everything you need to know to break into the film biz and start earning piles of money by SELLING OUT. Join them for an informative and irreverent Q&A. Room 5AB
Tags: Movies | Seminars & Workshops | Television | Writers & Writing
7:00-8:00 Penn & Teller Tell a Lie— They've been fooling people for years, and now they're going to do it on the Discovery Channel. Penn Jillette and Teller talk about their 35+-year careers, answer audience questions, and introduce their new fall series, Penn & Teller Tell a Lie. In each episode, they'll answer the big, urgent questions of the modern world such as: Can you make a welding torch out of bacon? Can you lift a 5,000-pound car with human hair? Can Teller survive a piranha attack? But there's a twist — each episode presents several amazing stories, but one of them is an out-and-out lie. It's up to you to figure it out! Indigo Ballroom, Hilton San Diego Bayfront
Tags: Humor & Satire | Television
7:15-8:15 A New Generation of Spike & Mike Animation— Spike and Mike Animation present a completely different animation festival from Sick and Twisted: A New Generation of Spike & Mike Animation. This show is more sophisticated and artistic, but still very cool, insanely humorous, and accessible. Featured are 16 international award-winning animated shorts, including Oscar nominees and winners. The show includes Madagascar , The Lost Thing, Pixels, Teclopolis, The Saga of Biorn, and A Morning Stroll. Spike & Mike have now partnered with Mondo Media (creators of Happy Tree Friends) to create a new YouTube site full of the best animations the world has to offer. Room 6BCF
Tags: Animation | Web
8:00-11:00 Hall H and Ballroom 20 Thursday Panel Playback— Didn't get into either Hall H or Ballroom 20 today? We feel your pain! In this three-hour block, Comic-Con rebroadcasts some of the day's popular panels from those two giant rooms. Best of all, those in attendance will get to vote on what they want to see. It's democracy at its finest and it's a second chance to see these panels. (Please note: these playbacks will include only the panel discussions. None of the film clips or footage shown at the live events will be shown.) Room 25ABC
Tags: Movies | Television
8:15-9:15 Garth Ennis's Stitched Movie World Premiere— Legendary comic book writer Garth Ennis (Preacher, Crossed) has written and directed his first-ever short film, Stitched, a visceral tale of terror. Meet the film's cast, monsters, producers, and Mr. Ennis himself. Learn behind-the-scenes secrets during the Q&A. See a sneak peak at the Ennis-penned ongoing Stitched comic book series. And thrill to the horror of Stitched in its one-night only Comic-Con viewing! Room 6DE
Tags: Comic-Con Special Guest Spotlights & Appearances | Comics | Movies | Writers & Writing
8:30-10:00 Dr. Horrible's Sing-Along Blog— Sing along with your fellow fans at this screening of the original three acts of Dr. Horrible's Sing-Along Blog hosted by the California Browncoats, complete with callbacks! Dr. Horrible stars Neil Patrick Harris (How I Met Your Mother), Nathan Fillion (Castle, Firefly), and Felicia Day (The Guild) and was written by Joss Whedon, Jed Whedon (Dollhouse), Zack Whedon (Fringe), and Maurissa Tancharoen (Dollhouse). Room 6BCF
Tags: Comics | Fandom | Humor & Satire | Movies | Superheroes | Web
8:30-11:30 Star Wars Fan Movie Awards— Celebrating its tenth year, the Star Wars Fan Movie Awards are always entertaining, and often studded with surprises. Each year the top prize — the George Lucas Selects Award — is chosen by Star Wars writer/director George Lucas. Finalists wait with anticipation to learn who will win industry and audience recognition, as well as the coveted Star Wars-themed trophies. Hosted by David Collins, this promises to be a night of entertainment that fans won't want to miss! Ballroom 20
Tags: Fandom | Movies | Science Fiction & Fantasy
9:30-10:30 Torchwood: Miracle Day Episode 103— Get a sneak peek at this week's new episode, Dead of Night. Torchwood goes on the run and finds a new enemy, but as they launch a raid on PhiCorp headquarters, Jack (John Barrowman) must confront the mysterious Oswald Danes (Bill Pullman). Now airing Friday nights at 10:00 pm ET/PT on Starz. Room 6DE
Tags: Action/Adventure | Science Fiction & Fantasy | Television