First Look: Dwarves Dori, Nori & Ori In Peter Jackson's 'The Hobbit'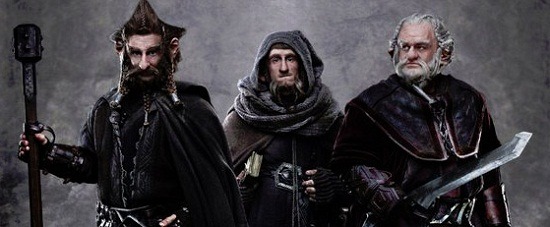 We can probably expect to see a good many materials for The Hobbit before it opens a year and a half from now. We've seen a few images of Bilbo (Martin Freeman) and Gandalf (Ian McKellen) with a few of the company of dwarves in the background of one image. Now here's a promo photo of the three brother dwarves Nori (Jed Brophy), Ori (Adam Brown) and Dori (Mark Hadlow) as they'll look in The Hobbit: An Unexpected Journey. Read a few details from the studio and see a larger image after the break.
Here's the official description:
These three brothers, all sons of the same mother, could not be more different from each other. Dori, the oldest, spends much of his time watching out for Ori, the youngest; making sure he's not caught a chill or got himself killed by Wargs or Goblins. Nobody quite knows what Nori gets up to most of the time, except that it's guaranteed to be dodgy and quite probably, illegal. Dori, Nori and Ori are intensely loyal to each other – and whilst they are perfectly happy fighting amongst themselves, woe-betide any anyone who means harm to one of these brothers.
What else does this pic tell us? That Peter Jackson is toning down the color and costuming of the characters, for one. In the novel The Hobbit, when the dwarves arrive at Bilbo's house, each is wearing a colorful hood, with Dori and Nori sporting purple hooded cloaks. You can see here that there is color in the costumes, but it is very muted — in keeping with Peter Jackson's approach to The Lord of the Rings, really, so no great surprise. He kept the bright silver belts, though. Will each have his signature musical instrument as well?