Page 2: Harry Potter, TMNT, Elijah Wood, Batman, A Clockwork Orange, Patton Oswalt, Game Of Thrones, Star Wars, Firefly, Smurfs, Beetlejuice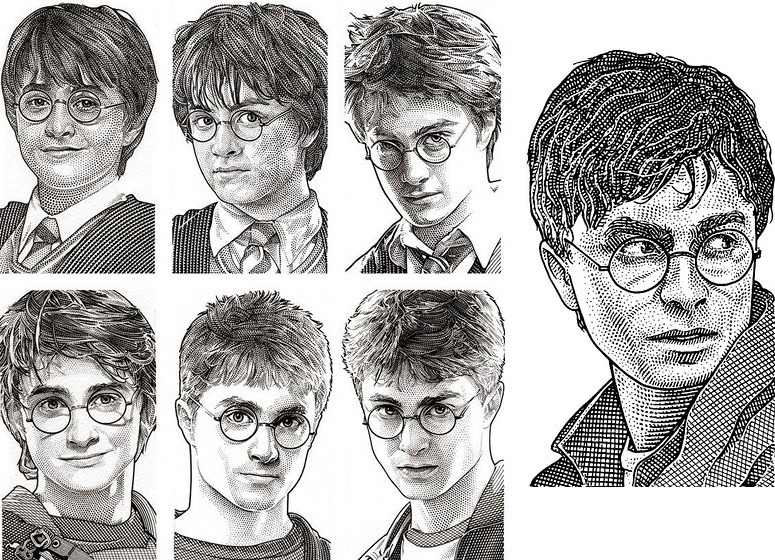 Here are all of the stipple portraits of Daniel Radcliffe published in Wall Street Journal spanning the Harry Potter film franchise.
What is Page 2? Page 2 is a compilation of stories and news tidbits, which for whatever reason, didn't make the front page of /Film. After the jump we've included 46 different items, fun images, videos, casting tidbits, articles of interest and more. It's like a mystery grab bag of movie web related goodness. If you have any interesting items that we might've missed that you think should go in /Film's Page 2 – email us!GeekTwins lists 6 Celebrities You Might Be Surprised to Know Are Geeks.
Teenage Mutant Ninja Turtle.... lets not ever talk about this again.Mashable has some interesting facts about phone numbers, including two bits about phone numbers in films/tv shows:
The "Klondike" or "KL" phone exchange was first used to generate fictional phone numbers in American TV and films. This later evolved to the current "555" prefix, some of which have been set aside purely for fictional purposes. In the UK, 01632 is the fictional area code recommended by Ofcom, although it does also provide non-working suggestions for major cities, as well as fictional cell, freephone and premium rate numbers. Some have bucked the 555 trend. Universal Studios owns (212) 664-7665, which has appeared in The Adjustment Bureau, Definitely Maybe and Scott Pilgrim vs. the World. If you call the number, it just rings and rings. Fight Club uses the 288 area code, which is not yet in use, and Bruce Almighty caused controversy for using a real phone number supposedly belonging to God. After complaints, the original "776-2323" was changed to the more traditional 555-0123 in the DVD release.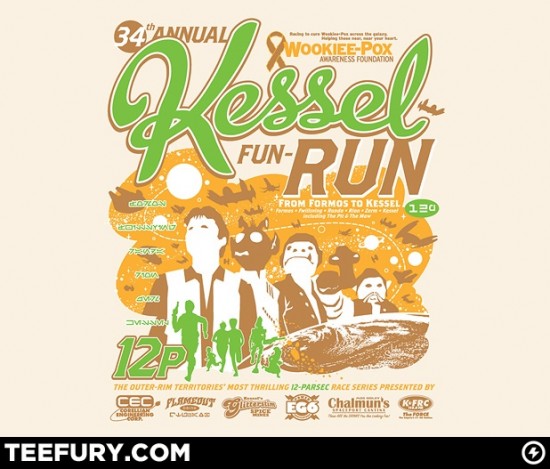 Today's t-shirt of the day on TeeFury is a Star Wars-inspired design "Kessel Fun-Run"
Warner Bros. has acquired big screen rights to the Images Comics comic book mini-series Undying Love, about "an ex-soldier who falls for a girl that happens to be a vampire. The only way the two can be together is if the man takes on the vampire who created her, which also means fighting an army of monsters in the Hong Kong underworld."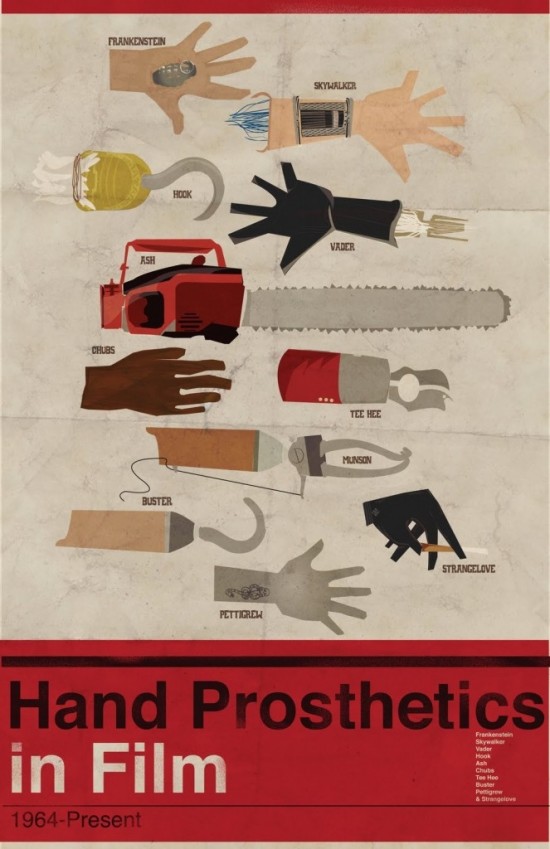 Fro Design has created a poster featuring a collection of "hand prosthetics" from movies.
Hulu has 875,000 customers paying $7.99 a month to watch Hulu Plus, and they anticipate exceeding 1 million paying subscribers before the end of this summer.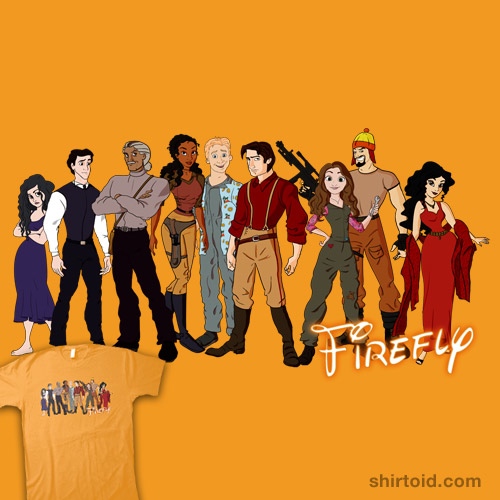 Nana Leonti has created a Disneyfied Firefly t-shirt.
The MPAA classification and rating appeals board upheld the R rating given to the movie Dream House.
Due to the amount of graphics and images included in Page 2, we have to split this post over a BUNCH of pages. Click the link above to continue the second page of Page 2.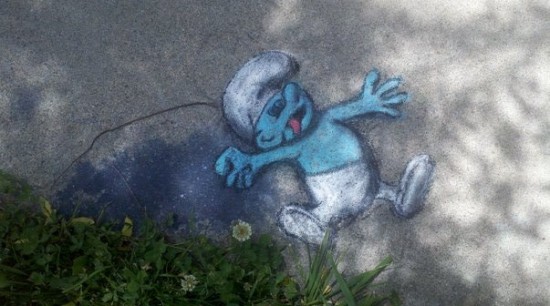 "My sister spilled some blackberries, so she drew this."
All Things Fangirl take a look at Sam Witwicky's Dating Advice.
Get More: Movie Trailers, Movies Blog
Elijah Wood terrorizes the MTV.com offices.
The Care Bears will be making a comeback with a computer animated television show.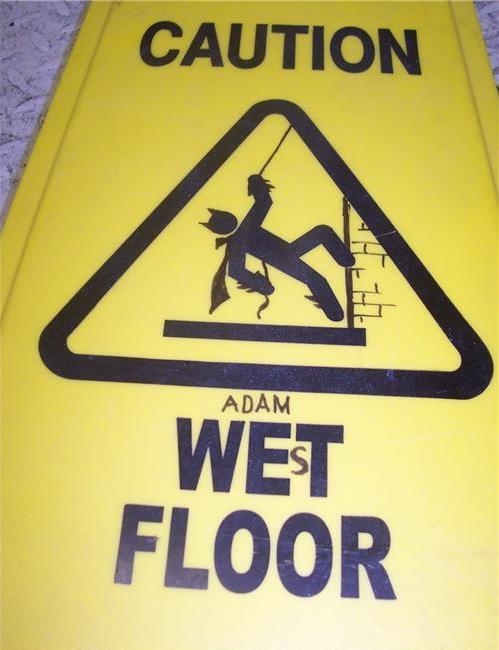 Caution: adam WEsT FLOORDexter will submit six episodes for Emmy consideration for best drama series.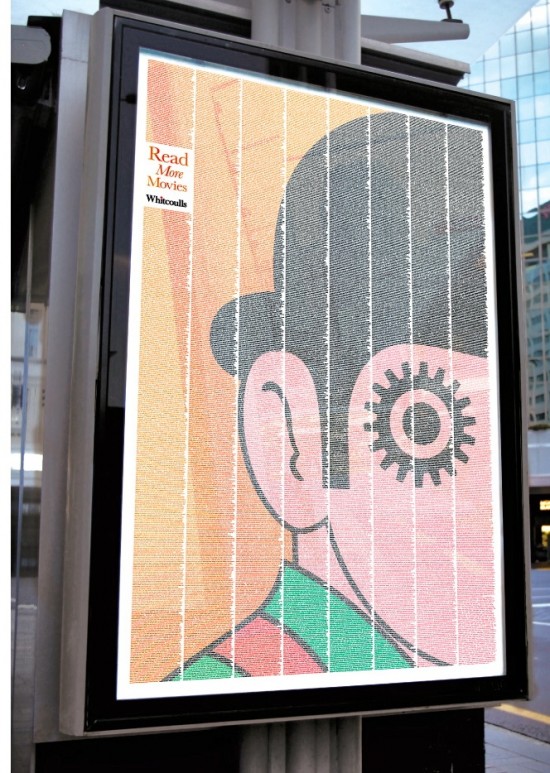 New Zealand bookseller Whitcoulls is advertising "Read More Movies" featuring A Clockwork Orange poster comprised completely from words from the book.
HBO has released plot details for the final season of Entourage.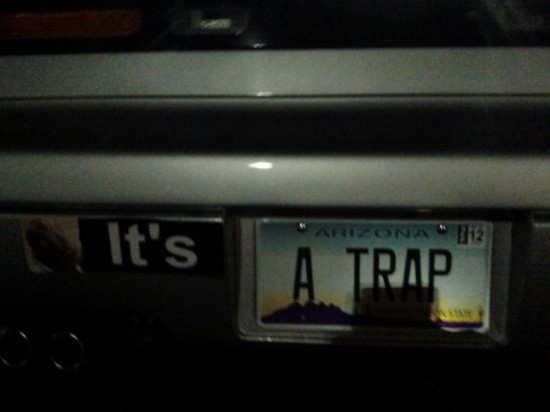 Star Wars license plate.Ropes of Silicon takes a look at the Top 21 Most Anticipated Movies Coming in the Second Half of 2011.
Due to the amount of graphics and images included in Page 2, we have to split this post over a BUNCH of pages. Click the link above to continue the third page of Page 2.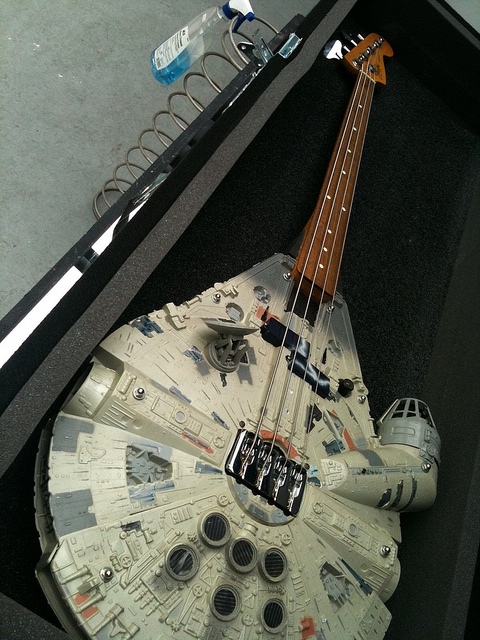 Millennium Falcon guitar.
Showtime will premiere the documentary Talihina Sky: The Story of Kings of Leon in late August.
Watch a brand new episode of Troopers, "Gun Privilges" featuring Aubrey Plaza.
James Spader will join The Office in season 8.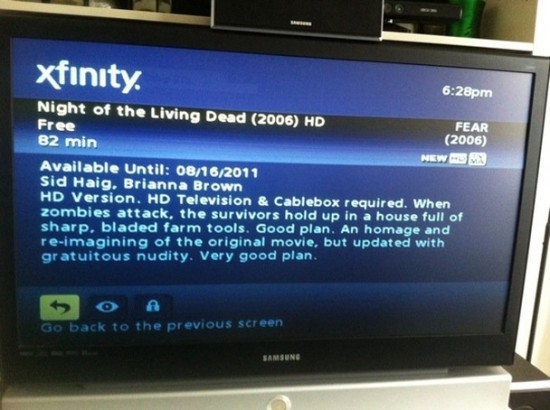 A funny DVR description.
Blastr lists 11 stunning (and strange) versions of the Game of Thrones theme.
Second City Network explains the four houses at Hogwarts School of Witchcraft and Wizardry.
Pajiba lists the 10 Crappiest Movies of Jennifer Aniston's Career.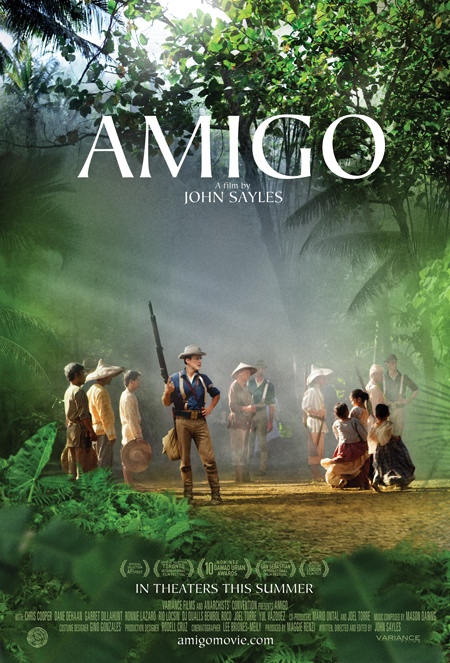 Fandango has premiered the poster for John Sayles' war story Amigo.Waxcky Owl lists the top 10 Strangest Star Trek Foods.
Due to the amount of graphics and images included in Page 2, we have to split this post over a BUNCH of pages. Click the link above to continue the fourth page of Page 2.
Here is the official poster for Lars von Trier's Melancholia featuring Kirsten Dunst.
SyFy announces their Comic-Con schedule.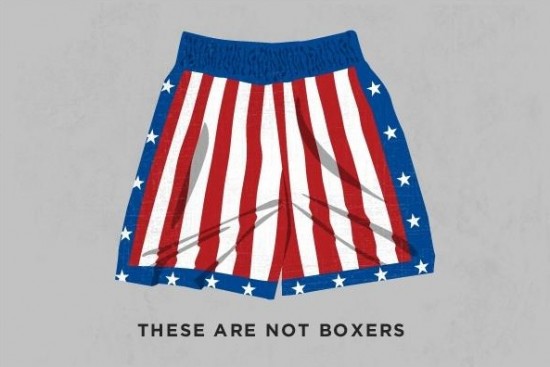 Everyguyed takes a look at regular objects which take on a special significance well beyond that of the material object itself.FilmDrunk lists the ten floppiest flips of 2011.Watch Patton Oswalt in this 8-second short film.IO9 lists 10 science fiction cartoons that didn't make it past one episode.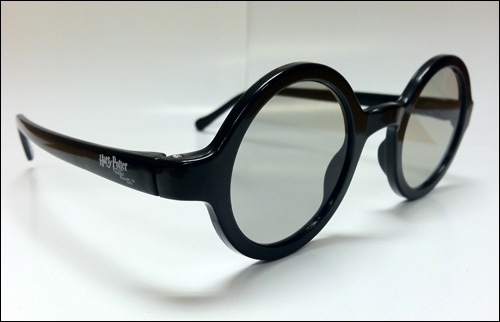 Real D produced special Harry Potter 3D glasses.
Unreality Mag lists the most awesome bar fights in movies.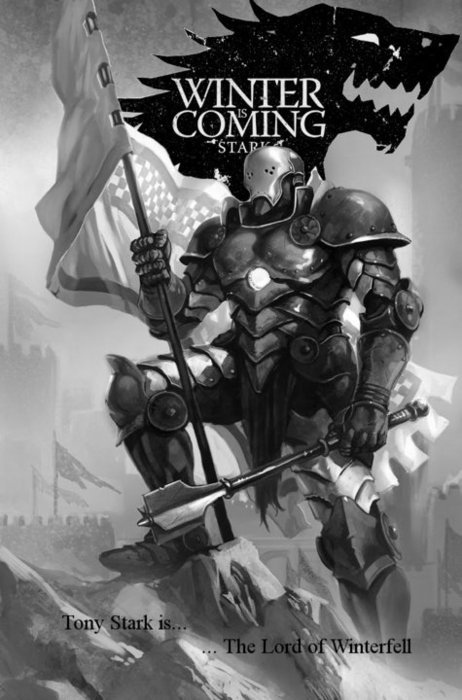 Someone created a Game of Thrones/Iron Man mash-up: Tony Stark: "Winter is Coming"
Rotten Tomatoes recalls 12 movies about work.
Due to the amount of graphics and images included in Page 2, we have to split this post over a BUNCH of pages. Click the link above to continue the fifth and final page of Page 2.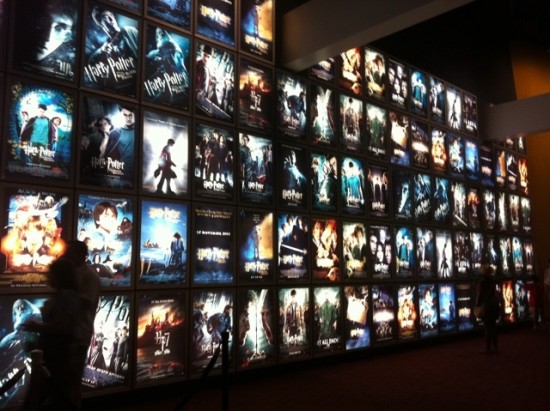 A photo of the wall of Harry Potter posters at Arclight Theater in Sherman Oaks.
EW lists 29 classic summer tv debuts.Joe Lynch has created another new 3am mash-up, this time featuring one of his" all-time favorite (and severely underrated) action/comedies, Dabney Coleman's SHORT TIME...visually remixed with one of my all time favorite bands, 311, and their rockin' new song "TIME BOMB" off of their forthcoming album "Universal Pulse" (due July 19th). "FSR lists the 15 Best Miramax Films.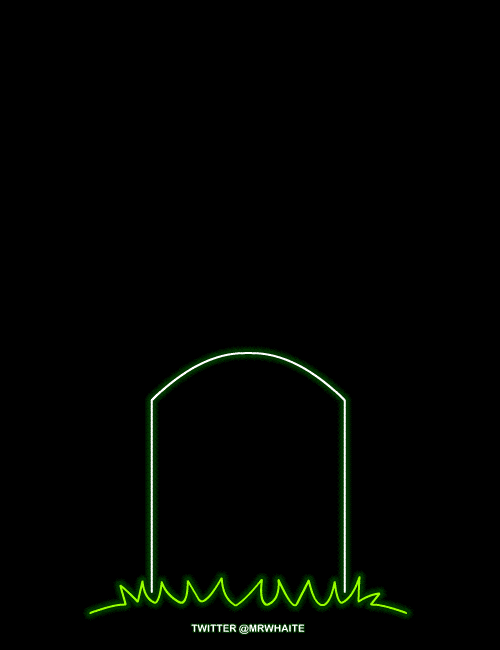 If Beetlejuice was an animated neon sign, it would look something like this.
PopMatters lists 10 Insane Lessons Learned from Transformers: Dark of the Moon.