WTF: 'Zookeeper' Advertising Inserted Into 'How I Met Your Mother' Reruns?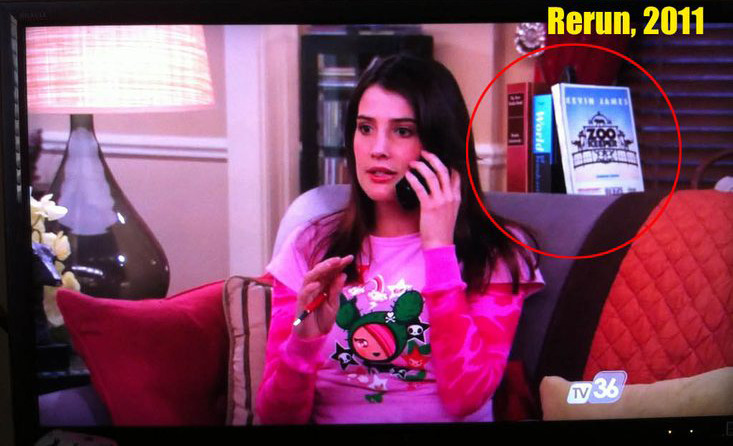 Is nothing sacred?!? How can we trust anything, if we can't trust reruns of How I Met Your Mother?
A couple of eagle-eyed viewers have noticed that episodes of the show from several years back have been digitally altered in reruns to feature ads for Sony, Columbia or Screen Gems films. At least two instances of Zookeeper ads have been screencapped, and there's a Country Strong ad inserted into another episode. Check 'em out and add your own laugh track after the break.
All these examples come via Reddit (here and here), and I might as well crib one Reddit user's post by echoing their exclamation: sorcery! Flickr user stjarna! noticed one of the instances of digitally enhancing the episode 'Moving Day,' from Season 2, originally aired on March 19, 2007. But when seen in syndication on June 30, 2011, the background of the episode had been given a new Zookeeper ad. Check out the images below for a couple more instances. [Edit: Flickr user Maju6406 is responsible for the second image in the gallery below, with Jason Segel and the Country Strong ad.]
And while I can't get upset about How I Met Your Mother being defaced with such advertising graffiti, I'd be pretty pissed off if I caught an episode of Twin Peaks and saw the characters sitting in front of a new ad for Resident Evil 9, or some such thing. And if it can happen with one show, it can happen with others.