'Kokuriko-Zaka Kara' Trailer: Goro Miyazaki's Second Film For Studio Ghibli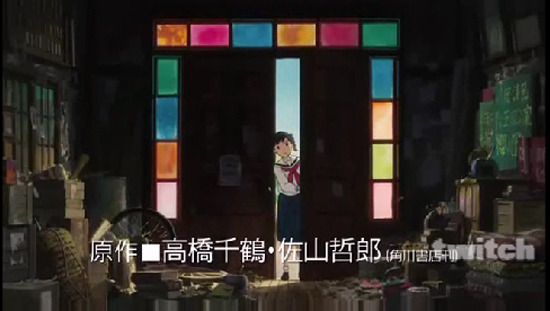 We just saw a new trailer for Arrietty, the Studio Ghibli movie directed by Hiromasa Yonebayashi and co-written by Hayao Miyazaki that was released in Japan not long ago and will hit the US early next year. But there is also a new trailer for another Ghibli film, Kokuriko-Zaka Kara, which was directed by the younger Miyazaki, Goro Miyazaki.
This is one of our first looks at that one, and while it features no English dialogue or titles, you can get a good view of the gorgeous and classic-style animation after the break.
Goro Miyazaki gets a bit of a bad rap because his first directorial effort, Tales From Earthsea, wasn't all that hot. It gets pegged as the worst of the Ghibli movies by some, and while I'd rather watch Earthsea than, say, The Cat Returns, the movie isn't high on my list of regular Ghibli revisitations. In part, the rejection of the movie is due to the opinion of the film held by Earthsea creator Ursula K. LeGuin, who dismissed the cobbled-together plot, and in part it is based on the fact that the son of one of the few living master animators faced tremendous expectations when making his first film.
But Goro has the blessing of his father for this second film, and the animation in this realistic period tale certainly looks wonderful. So we'll start with the optimism based on that. Not every filmmaker takes giant first steps, and there's no doubt that Tales From Earthsea was a big project on which to make a feature animation directing debut. So here's the trailer for his second film:
When we first reported on this one, we knew it would be set in 1963 and follow "the coming of age of an ordinary, pigtailed high school girl named Komatsuzaki in Yokohama, a harbor city near Tokyo. Her sailor father went missing after an accident, and her photographer mother is frequently going abroad for work. Her family now runs a lodging house." The manga upon which the film is based recounts Komatsuzaki's everyday life of "laughter and tears" with two boys — a school newspaper member and the student council president."
The current, more concise synopsis floating around is: 'a group of Yokohama teens look to save their school's clubhouse from the wrecking ball in preparations for the 1964 Tokyo Olympics'.
Koruriko-Zaka Kara will open in Japan on July 16; early adopters should be able to import a DVD by the end of the year. We don't know if or when a US release will take place.