'The Myth Of The American Sleepover' Trailer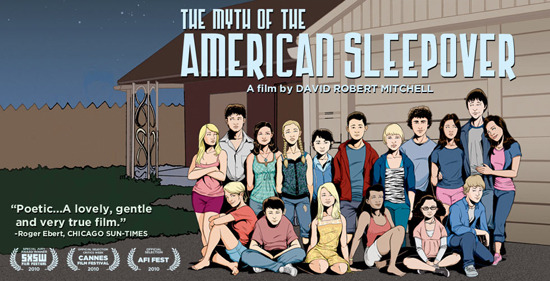 First love, young love. Those days when it feels as if you're right on the brink of some flashpoint moment end up burned into your brain. Or the idea of those days is burned in, at least, and that's what ends up being part of the limitless energy that powers cinema. The Myth of the American Sleepover runs entirely on that energy as it follows a handful of kids on the cusp of adulthood as they try to spark a connection on the last weekend of summer.
First-timer David Robert Mitchell directs a young cast (Jade Ramsey, Amy Seimetz, Nikita Ramsey, Amanda Bauer, Jean Louise O'Sullivan, Claire Sloma) in a story that looks a bit like Gus Van Sant remaking a John Hughes movie, or even like a Larry Clark movie that isn't wholly creepy. I don't know if it works, but the trailer has enough moments that click that I'm definitely sold on seeing the full film.
Apple has the HD trailer.
An official selection of Cannes Critics Week and winner of the Special Jury Prize at SXSW, THE MYTH OF THE AMERICAN SLEEPOVER is a youthful and tender coming-of-age drama from first-time writer/director David Robert Mitchell. In the tradition of free-wheeling tributes to adolescence like DAZED & CONFUSED, the film follows four young people (a cast of brilliant young newcomers in their feature film debuts) on the last night of summer – their final night of freedom before the new school year starts. The teenagers cross paths as they explore the suburban wonderland they inhabit in search of love and adventure – chasing first kisses, elusive crushes, popularity and parties – and discover the quiet moments that will later resonate as the best in their youth.