'Gods Behaving Badly' To Feature Christopher Walken, Sharon Stone, John Turturro And Others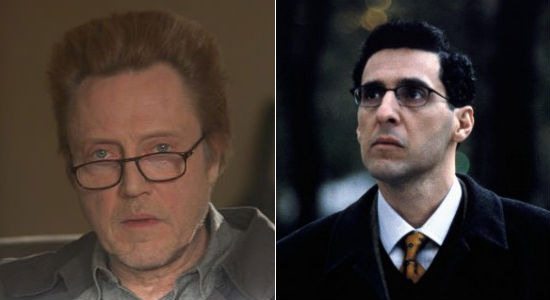 We may receive a commission on purchases made from links.
For many, actors like Christopher Walken and John Turturro could be considered Gods. We remember their performances in films like The Deer Hunter or The Big Lebowski and feel like a higher power came down and blessed them with gifts not worthy of the common man. It seems fitting then that they, along with a slew of other awesome actors, will now actually be playing Gods in Gods Behaving Badly, a film adaptation of the 2007 best-seller by Marie Phillips.
Joining Walken and Turturro as a group of Greek Gods living together in a New York City brownstone are Sharon Stone, Oliver Platt, Edie Falco, Phylicia Rashad, Rosie Perez, Nelsan Ellis, Gideon Glick and Henry Zebrowski. They then cross paths with a mortal couple played by Alicia Silverstone and Ebon Moss-Bachrach. Read more about the story after the jump.
Movieline broke the news of the casting of this film, which was adapted by Josh Goldfaden and Marc Turtletaub and will be directed by the latter. Here's how the press release describes the movie:
The film tells the story of the Greek Gods, alive and well and living in a brownstone in New York City, as they cross paths with a young couple, Kate and Neil. The intersection of the Gods and the mortals threatens not only the couple's budding relationship, but the future of everything else. Kate will be played by Alicia Silverstone and Neil by Ebon Moss-Bachrach. The gods are: Aphrodite — Sharon Stone, Apollo — Oliver Platt, Artemis — Edie Falco, Demeter — Phylicia Rashad, Dionysus — Nelsan Ellis, Eros — Gideon Glick, Hades — John Turturro, Hermes — Henry Zebrowski, Persephone — Rosie Perez and Zeus — Christopher Walken.
But what exactly does that mean? Well, the Publishers Weekly description of the book on Amazon gives some more details:
[Gods Behaving Badly] finds the Greek gods and goddesses living in a tumbledown house in modern-day London and facing a very serious problem: their powers are waning, and immortality does not seem guaranteed. In between looking for work and keeping house, the ancient family is still up to its oldest pursuit: crossing and double-crossing each other. Apollo, who has been cosmically bored for centuries, has been appearing as a television psychic in a bid for stardom. His aunt Aphrodite, a phone-sex worker, sabotages him by having her son Eros shoot him with an arrow of love, making him fall for a very ordinary mortal-a cleaning woman named Alice, who happens to be in love with Neil, another nice, retiring mortal. When Artemis-the goddess of the moon, chastity and the hunt, who has been working as a dog walker-hires Alice to tidy up, the household is set to combust, and the fate of the world hangs in the balance.
With that cast, one would have to imagine the script is solid. On the other hand, a stacked cast like that might have just signed on to hang out and work with each other with the movie becoming an after thought. Either way, to me the whole thing almost feels like a fantasy sports team. What I mean is it's stacked up front with big names but they didn't have the budget to afford all great names so the rest of the team is filled out with other usable, but not great, players.
Do you think Gods Behaving Badly will actually be good or one of those movies that isn't worthy of its cast?