Adam Sandler, Steve Buscemi & Kevin James Lend Voices To Genndy Tartakovsky's 'Hotel Transylvania'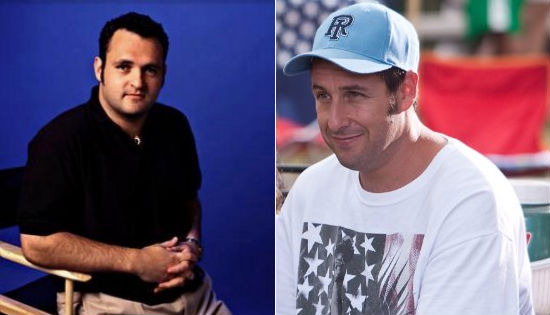 Animation fans know Genndy Tartakovsky well. His shows like Dexter's Laboratory, Samurai Jack and the first Star Wars: Clone Wars have long been revered but those unique talents have rarely been seen off the small screen. That's about to change in a monstrous way.
Tartakovsky will direct Sony Pictures Animation's 3D monster-themed family comedy Hotel Transylvania featuring the voice of Adam Sandler as Count Dracula, and a supporting voice cast including Steve Buscemi, Fran Drescher, Cee Lo Green, Kevin James, Andy Samberg, Molly Shannon and David Spade. Hotel Transylvania follows Dracula as he opens a hotel to keep his young daughter occupied with a never ending run of famous monster patrons like Frankenstein, Mummy and the Invisible Man. Things then get turned upside-down when a regular guy drops into the hotel and falls for her. It's scheduled for release September 21, 2012. Read who each actor is playing and more about the film after the jump.
Variety broke the initial news about Sandler which was quickly followed up by Sony's press release on the film. Here's how they describe the plot:
Welcome to the Hotel Transylvania, Dracula's (Sandler) lavish five-stake resort, where monsters and their families can live it up, free from meddling from the human world. But here's a little known fact about Dracula: he is not only the Prince of Darkness; he is also a dad. Over-protective of his teenage daughter, Mavis, Dracula fabricates tales of elaborate dangers to dissuade her adventurous spirit. As a haven for Mavis, he opens the Hotel Transylvania, where his daughter and some of the world's most famous monsters – Frankenstein and his bride, the Mummy, the Invisible Man, a family of werewolves, and more – can kick back in safety and peace. For Drac, catering to all of these legendary monsters is no problem – but his world could come crashing down when one ordinary guy stumbles on the hotel and takes a shine to Mavis.
Sandler is Dracula, Kevin James is Frankenstein, Fran Drescher is his Bride, David Spade is the hunchback of Notre Dame Quasimodo, Steve Buscemi and Molly Shannon are a married pair of werewolves, Cee Lo Green is a mummy and Andy Samberg is Jonathan, the regular 21-year old who falls for Mavis.
If we're being honest, the voice cast sounds like the sequel to Grown Ups but it's the addition of Tartakovsky that's really exciting. He's been making contributions to film (he storyboarded final scene of Iron Man 2, did a prequel of Priest) and TV (the above shows) for sometime and the transition to feature director is long overdue and well-deserved. I can't wait to see what the look of this film is going to be. What do you think?