Possible Projects: Hayley Atwell And André Benjamin In Hendrix Biopic; Andy Serkis In Mo-Capped 'Animal Farm'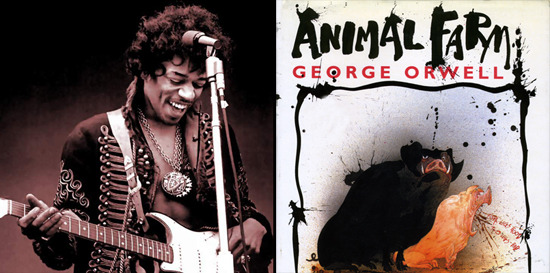 Here are two projects that might happen, but at this point the safest approach seems to be an emphasis on 'might.' One is a Jimi Hendrix biopic that has been gestating for some time with André Benjamin (aka André 3000 of OutKast) playing the iconic rocker. The other is a new version of George Orwell's classic novel Animal Farm, which could be a reunion of Rise of the Planet of the Apes talents Andy Serkis and Rupert Wyatt. Details on both are after the break.
The Jimi Hendrix estate is notoriously closed when it comes to licensing the late musician's story and music. Several producers have attempted to launch films, and most have failed. (Which makes some of the versions of Hendrix that have made it to screens all the more perplexing. But I guess the estate doesn't want another Hendrix TV movie.)
One film that has been slowly developing for some time is a project that would feature OutKast MC and occasional actor Andre Benjamin as the rocker. And, surprise, surprise, it might still be kicking. Captain America's Hayley Atwell says that she's attached to the film, and it might happen soon.
In an interview with Esquire, Hayley Atwell said,
Next up is possibly a Jimi Hendrix biopic — an independent film with Andre 3000 from OutKast playing Jimi Hendrix. But I don't know, really. The Atwell team is like, Let's just wait and see... I love how I call them Team Atwell because each of them works with fifty other people as well. Sometimes they forget who I am.
Endearing as her comments about 'Team Atwell' are, it is the comment about the Hendrix film that really lifts the spirits. I'm not truly all that optimistic that it will ever happen, but this is the first, and possibly best news that we've had on that front in some time.
And then there is Animal Farm, which according to a new feature in Empire (not online, info via The Playlist) could be the target of a new film by Rise of the Planet of the Apes director Rupert Wyatt, who would potentially work with Andy Serkis and his mocap studio The Imaginarium.
This seems like pretty ideal material for the two, given how wonderful their work on the Apes film seems to be. (No idea if Rise will actually work as a movie, but the mo-cap and CGI combo looks marvelous and more subtle than anything we've seen in that realm before.) Animal Farm is, of course, the story of a revolutionary uprising among the animals of an English country farm, written in language that is intended to represent and criticize the rise of Stalin. The story has been filmed before, but it is such an effective and powerful piece of material that there is always reason to go back to it, especially if a new angle can help bring it to an audience that hasn't taken in the story before. This one seems like it might be down the line, but I'll be hopeful.