Superhero Bits: Man Of Steel, Batman Live, Captain America, The Dark Knight Rises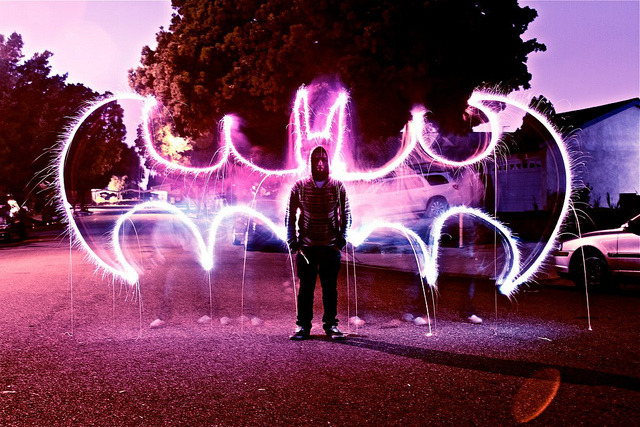 Which countries opted to not call Captain America: The First Avenger by its full name? Want to see some set construction photos from Man of Steel? Who is influencing Hans Zimmer as he writes the score for The Dark Knight Rises? Does four minutes of Batman Live sound cool? And did the guy above win Fourth of July? Read about all of that and much more in today's Superhero Bits.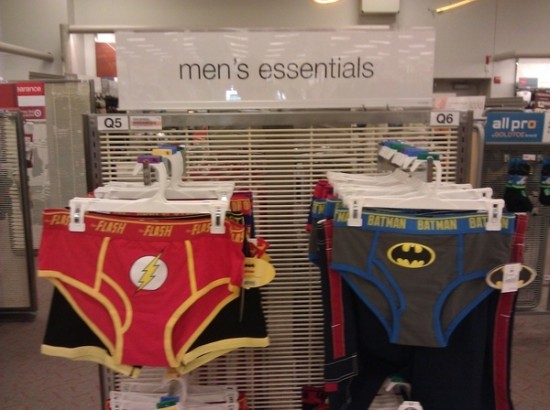 You're reading Superhero Bits, but what if it was called Superhero Briefs? This photo comes from Buzzfeed (via The Daily What) and begs the question, "Are these really essential?"
What Culture has an enlightening list of "10 Things You Didn't Know About Captain America" from both the comics, pop culture and more. Here's one example:
Marvel's first ever African-American superhero, the Falcon, was introduced in Captain America #117 (Sept. 1969). He donned the Falcon guise at the urging of Steve Rogers aka Captain America. Harking back to the days where race was a prickly issue, his introduction into mainstream comics was revolutionary. He was also the first African superhero without the word 'black' in his name!
Kyle Roberts (via Toysrevils) has made this clever stop motion animated film featuring Captain America and a bomb pop. Read more about the creation at those links.
There had been some controversy over the title of Captain America: The First Avenger in that the word "America" might not be used in the title for various countries. Well, it's official, it'll have the full title in all of the world except in Russia, Ukraine and South Korea. In those countries it'll just be called The First Avenger.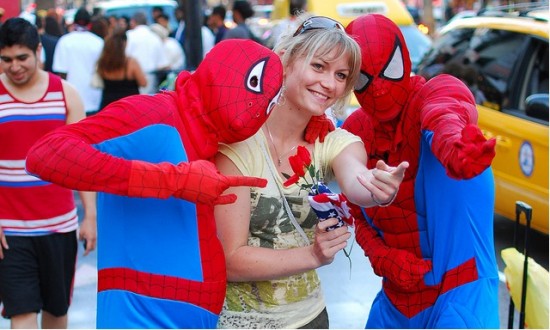 Los Angeles blog The LAIst has posted a funny gallery of the latest superheros to grace Hollywood Boulevard and, predictably, they are a little awkward looking such as the above Spider-Man having a pot belly.
Hans Zimmer will not have the help of James Newton Howard when he scores The Dark Knight Rises, according to an article in the BBC (via The Playlist) but he has been listening to some very different people looking for inspiration:
I've been listening to a lot of Verdi lately. And Alison Goldfrapp, and a lot of electronica as I'm heading into 'Dark Knight' territory again.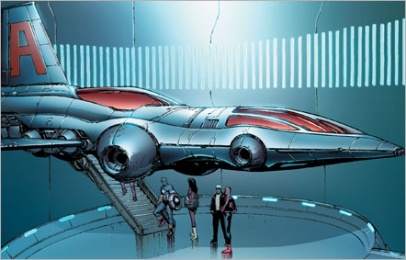 Screenrant reports that Marvel CCO Joe Queseda tweeted from the set of The Avengers: "One word... QUINJET!" Now we'd heard rumors that the vehicle (seen above in its comic form) would be in the movie but here's further confirmation.
Due to the amount of graphics and images included in Superhero Bits, we have to split this post over THREE pages. Click the link above to continue to the second page of Superhero Bits.
Bleeding Cool has highlighted an article that the usually conservative Fox News wrote about Captain America: The First Avenger and deemed it fair and balanced...until you scroll down to the comments which are incredibly closed minded. If you'd like to read a new spin on the American character, head over there.
[No photo]
Yesterday's Superhero Bits had a report that people had been seen jumping out of a giant plane on the set of The Dark Knight Rises. Now, we have a (very blurry) photo of part of a plane. Are these the same plane or another plane that was previously mentioned in a big spoiler stunt report? Chances are – one or the other. Head over to Nolan Fans for more images.
Speaking of those those parachutists in The Dark Knight Rises, apparently, one of them landed in a very precarious position – such as on the roof of a local home. Head over to The Press and Journal (via CBM) for more info.
Haven't seen enough from Captain America: The First Avenger yet? Well, here's yet ANOTHER commercial, the ninth as per First Showing.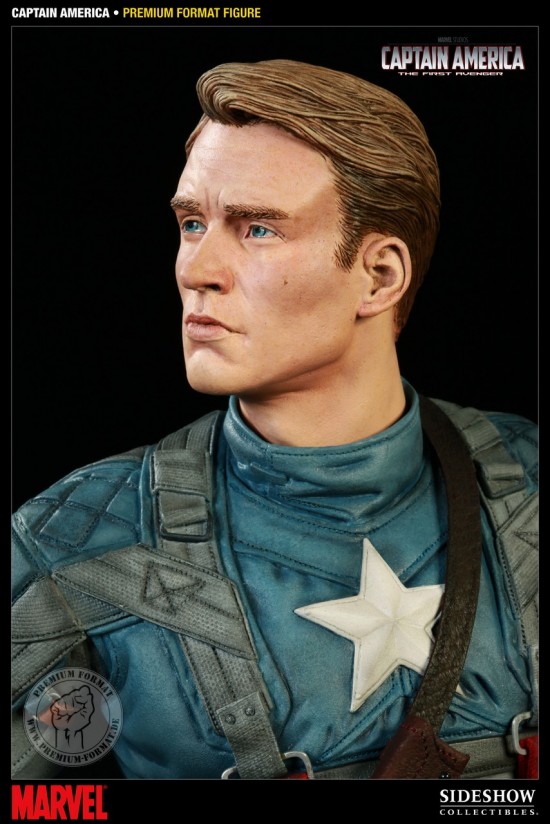 Sideshow Collectibles has put up a brand new gallery of detailed images for their gorgeous Premium Captain America: The First Avenger figure which will cost you $350. Not bad when you consider it's almost two feet tall. Head there for more photos but, I've gotta say, that's quite an incredible likeness.
Later this month in Manchester, Batman Live opens. And boy does it look wacky. Bleeding Cool has some interesting character breakdowns and the above scene from the show. What do you think?
Due to the amount of graphics and images included in Superhero Bits, we have to split this post over THREE pages. Click the link above to continue to the third page of Superhero Bits.
The things people can do with sparklers. Wow. The best comment? "You sir have won 4th of July. Congrats."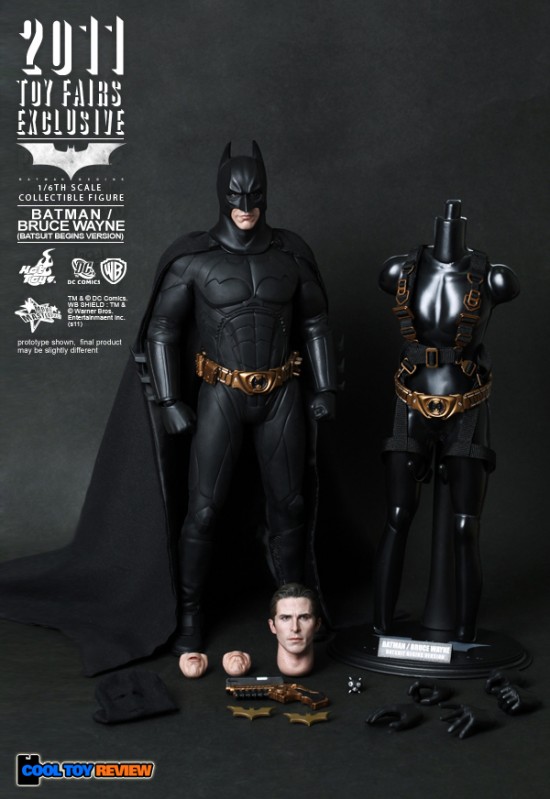 Hot Toys has created this incredibly detailed Batman Begins figure to release at 2011 conventions. There are more photos over on Cool Toy Review.
[No photo]
The Yorkville Patch (via Superhero Hype) has posted a few photos (such as the one above) of set construction in Illinois on Zack Snyder's Man of Steel. The article also has some info on exactly filming locations if you are in the area.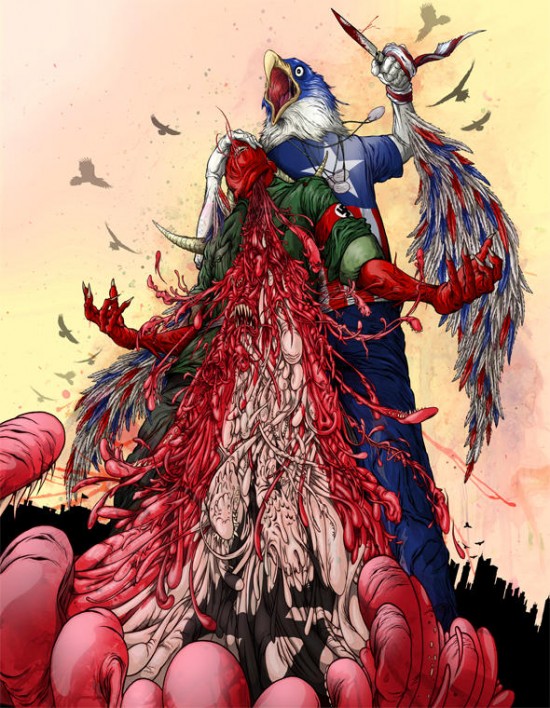 Our friends at Inside the Rock Poster have premiered Alex Pardee's San Diego Comic Con exclusive poster which is a Captain America inspired mashup with his Inglourious Basterds poster.