Watch The English-Language Trailer For 'Arrietty', From Hayao Miyazaki's Studio Ghibli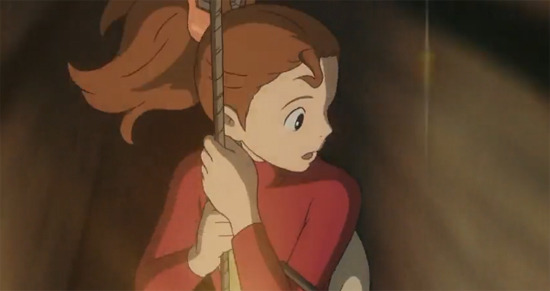 An international English-language trailer has dropped for Studio Ghibli's Arrietty, the directorial debut of animator Hiromasa Yonebayashi. The new spot features the UK voice cast, which includes Saoirse Ronan as Arrietty, Olivia Coleman, Tom Holland, and Mark Strong.
Based on Mary Norton's classic children's series The Borrowers, the film revolves around a 14-year-old girl named Arrietty Clock, who is one of a group of tiny people who secretly reside in the homes of regular-sized people and "borrow" supplies from them as needed. When Arrietty is discovered by a human boy, the two strike up a friendship that has big repercussions for the Clocks' lives. Watch the trailer after the jump.
[via Cartoon Brew]
I don't think this trailer looks as impressive as the Japanese-language one released last year, though some of that can be attributed to the poorer video quality of the English-language trailer and the annoying rhyming voiceover. Still, the spot promises the kind of beauty, warmth and genuine all-ages charm we've come to expect from Miyazaki's Studio Ghibli, which has also produced Ponyo, Howl's Moving Castle and Spirited Away. Yonebayashi has worked at Studio Ghibli for years, and it's impossible not to see Miyazaki's influence on the imagery and storytelling — or at least that's the impression I get based on these teasers and trailers.
In addition the UK dub, Arrietty will also receive a separate US dub featuring the talents of Bridgit Mendler (Lemonade Mouth), Will Arnett, Amy Poehler and Carol Burnett. Why Arrietty needs two separate English-language versions isn't clear to me, but I suppose I can't complain since I love the actors of both casts.
Arrietty already opened in Japan last year. The UK version will be released in the UK August 26; sadly, US audiences will have to wait until February 27, 2012 for our version.Discuss: Will you watch Arrietty? Have any of you read The Borrowers?