'5 Days Of War' Trailer: Renny Harlin's Real-World Action Movie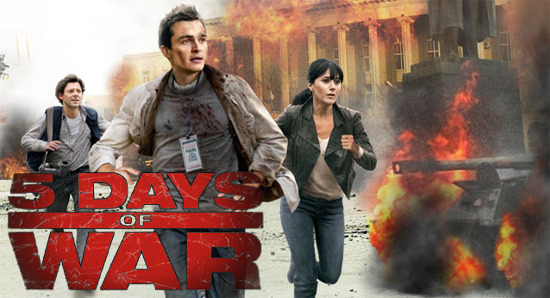 "The first casualty of war is innocence. Oops, the truth. I meant the first casualty of war is always the truth."
Here's the first trailer for Renny Harlin's 5 Days of War, which covers people trying to cover the war that broke out between Russia and Georgia in 2008. Serious topics aren't exactly in the director's wheelhouse; he's best known for sequels (Die Hard 2, Nightmare on Elm St. 4) and the occasionally effective action movie (The Long Kiss Goodnight, Cliffhanger).
So I've been interested to see what comes of this slightly more serious project since it was announced in 2009. Harlin's facility with action is certainly on display in this trailer, and I can't really tell whether or not to have any expectations beyond that. Check it out below and make your own call.
As previously reported, this one stars Rupert Friend, Emmanuelle Chriqui, Richard Coyle, Andy Garcia, and Val Kilmer. The footage looks slick, but is there any real depth to the movie? Or is this a more action-oriented version of The Bang Bang Club? Given that Anchor Bay is distributing, most of us will probably have to wait until VOD or DVD to find out. 5 Days of War will hit some theaters on August 19, however.
Head to Apple for the HD trailer.
A drama set centered around the war between Russia and Georgia, and focused on an American journalist, his cameraman, and a Georgian native who become caught in the crossfire.
That header art above, by the way, is straight from the film's official site. Yike.