Fox Releases Official 'Prometheus' Synopsis; Ben Foster Joins Cast?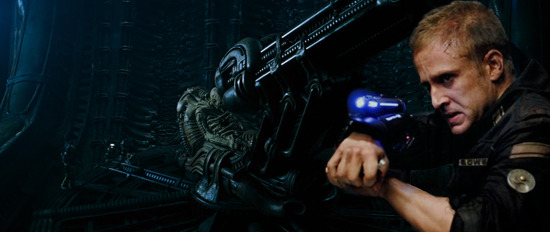 Yesterday we saw the purported synopsis of Ridley Scott's Prometheus, a rundown of the film's plot that gave away a great deal of the story structure. Assuming, that is, that it was accurate at all. Fox has denied the rundown, and issued in its place what must be the most non-detailed synopsis in movie history. It isn't the best counter-move, as denials of story leaks go, but read the new official line below and see what you think. No spoilers in this one! As a bonus, there is also word that Ben Foster has been given a role in the movie, which is continuing to shoot in the UK.
JoBlo has the news of Ben Foster's addition, but doesn't have any details of what role he's got. We're waiting for final confirmation that their report is correct, but I'm thrilled at the idea of Foster joining the crew that already includes Noomi Rapace, Charlize Theron, Idris Elba, Logan Marshall-Green and Michael Fassbender. He is perennially reliable, and could bring some really dark, focused energy to the film.
Here's that synopsis, which seems to be what was left of a longer story rundown after a nearby airlock door was opened, causing all the real info to be sucked out into the blackness of space.
Visionary filmmaker Ridley Scott returns to the genre he helped define, creating an original science fiction epic set in the most dangerous corners of the universe. The film takes a team of scientists and explorers on a thrilling journey that will test their physical and mental limits and strand them on a distant world, where they will discover the answers to our most profound questions and to life's ultimate mystery.