Enter The Biopic Twilight Zone: Film About Rod Serling Goes Into Development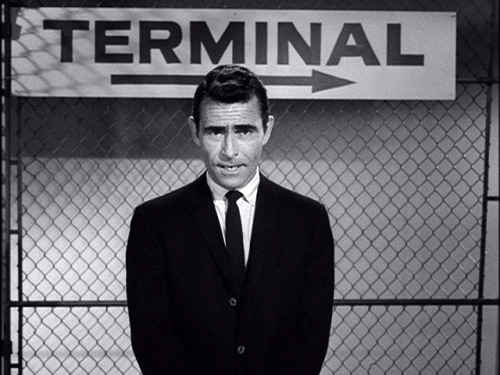 This had to happen: a company has picked up the life rights to The Twilight Zone creator Rod Serling, and is seeking to make a biopic about the pioneering television writer/producer who defined the popular approach to science fiction and unusual short stories when The Twilight Zone hit the airwaves in 1959.
Stanley Weiser (Wall Street co-writer) has been set to write a film about Rod Serling by Andrew Meieran and Bureau of Moving Pictures. Rod Serling's widow Carol Serling (his high school sweetheart and lifelong partner) is producing the film, too, so this counts as an estate-approved project in addition to being officially licensed product.
TV producers aren't usually the most recognizable personalities, but Rod Serling was an exception, as his introductions to Twilight Zone episodes established him as a gatekeeper to the unusual whose position in the public imagination has been rivaled only by Alfred Hitchcock.
Beyond that fact, Rod Serling is one of the most decorated writer/producers in television history. He had the advantage of being with the medium right from the beginning, moving in from radio, and scoring firsts like producing the first rebroadcast show (Patterns, about the business world) and turning the television eye on social issues like racism and union controversies during the '50s.
The Twilight Zone is his most popularly-known work, and one that provided him a framework to engage some of those same social concerns through the slightly more permissive structure of sci-fi, but he wrote for film as well (co-writing the Planet of the Apes script, among others) and became a teacher later in life, at Ithaca College, where he had a post until his death in 1975. There are other great details to be put into a biopic as well, such as his military service in the Pacific Theater of WWII and the fact that he had a brief stint as a game show host in 1969, ten years after The Twilight Zone premiered.
Check out this interview, which shows off some of Mr. Serling's personality beyond what you might know from The Twilight Zone:
[Deadline]