'Tinker Tailor Soldier Spy' International Teaser - Which Of Britain's Finest Modern Actors Is Secretly A Soviet Mole?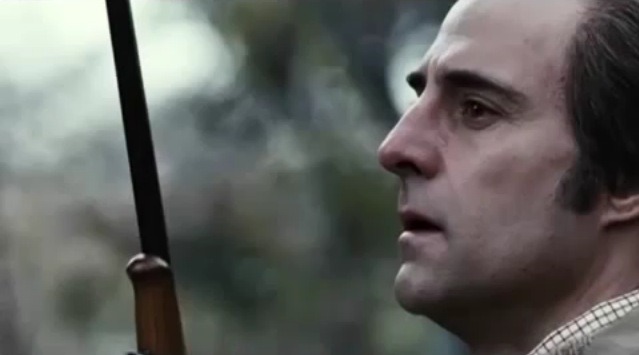 I've been looking forward to Tinker Tailor Soldier Spy since I first heard that Let the Right One In director Tomas Alfredson had been tapped to direct from Peter Morgan's (The Queen, Frost/Nixon) script. My excitement has only increased with each new casting announcement — Gary Oldman! Colin Firth! Tom Hardy! Mark Strong! Now a first teaser has dropped for the film, and though we don't get to see a whole lot, what we do see looks frankly fantastic. See if you agree with me after the jump.
[via In Contention]
When Alfredson was initially chosen to direct the adaptation, Russ cited his mastery of suspense as one good reason to get excited about the spy thriller. Based on what we see here, I have faith that Alfredson won't disappoint. The unsettling music, combined with quiet scenes practically bursting with tension, keep you on edge waiting for something to happen. The premise seems simple but rich — and it's quite clearly explained in the trailer, which doesn't always happen with even good films. I also kind of love all the shots of these men exchanging dark, meaningful looks. It might've looked laughable with a different cast, but all of these men are pros when it comes to the silently smoldering gaze. Besides, when you've assembled a cast that good, why not seize this opportunity to remind the audience of that fact?
Based on John Le Carre's Cold War novel, Tinker Tailor Soldier Spy follows a retired MI6 agent (Oldman) who is called back to ferret out a Soviet mole hiding among the highest ranks of the MI6. In addition to Oldman, Firth, Hardy and Strong, the very impressive cast also includes Benedict Cumberbatch, Ciaran Hinds, Svetlana Khodchenko, Toby Jones, John Hurt, Stephen Graham and Kathy Burke. Tinker Tailor Soldier Spy will open September 16 in the U.K. and Ireland, and November 18 in the U.S (damn that wait).
Discuss: So, are you as excited as I am?