'The Three Musketeers' Trailer - Alexandre Dumas' Classic Tale Gets Updated With 17th Century Blimps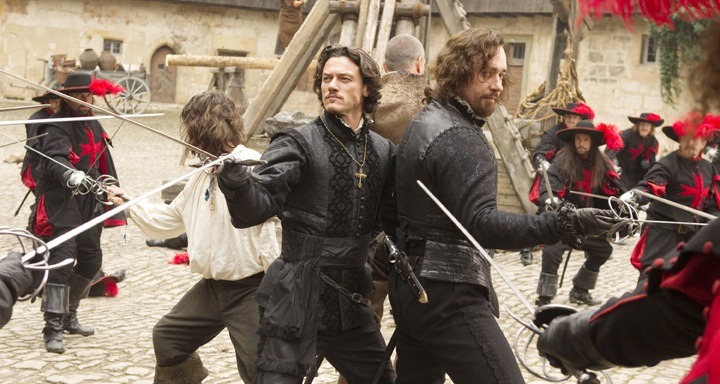 We've already seen some images and a teaser for Paul W.S. Anderson's 3-D "reboot" of The Three Musketeers. Now, a just-released full-length trailer is offering the best look yet at Anderson's take on 17th century France — and apparently, his version involves flying war blimps. Because why not, I guess.
Loosely based on the classic novel by Alexandre Dumas, The Three Musketeers follows the iconic trio (Matthew MacFadyen, Luke Evans and Ray Stevenson) and their young new teammate D'Artagnan (Logan Lerman) as they fight to save their continent from a powerfully malevolent trio of baddies: Cardinal Richlieu (Christoph Waltz), the Duke of Buckingham (Orlando Bloom with evil facial hair and evil-er eyeliner) and the infamous assassin Milady de Winter (Milla Jovovich). Watch the trailer after the jump.
[via First Showing]
On the one hand, the film seems like it could be fun in a gleefully ridiculous, over-the-top way — bombs! blimps! explosions! swords everywhere! And it looks good, at least.
On the other, I'm already getting the impression that the movie is overstuffed. Four heroes, three villains, and a bevy of interchangeable love interests are already a lot for a film to handle without also throwing in a (seemingly) over-complicated plot involving steampunk-y war blimps. Anderson's less than stellar track record (Mortal Kombat, Resident Evil, Alien vs. Predator) isn't very encouraging, either.
Overall, the feeling I'm getting from the trailer is that The Three Musketeers will end up being a less interesting Pirates of the Caribbean (the first one, I mean), with more action but less coherent storytelling and fewer memorable characters. Which, depending on how much less interesting, might not be such a terrible thing. The Three Musketeers, which was shot entirely in 3D, will open October 14, 2011.
Synopsis:
The hot-headed young D'Artagnan (Logan Lerman) joins forces with three rogue Musketeers (Matthew MacFadyen, Luke Evans and Ray Stevenson) in this reboot of Alexandre Dumas' story. They must stop the evil Richlieu (Christoph Waltz) and face off with Buckingham (Orlando Bloom) and the treacherous Milady (Milla Jovovich). The action adventure is given a state of the art update in 3-D.