Danny Elfman And T-Bone Burnett To Collaborate On 'Hunger Games' Score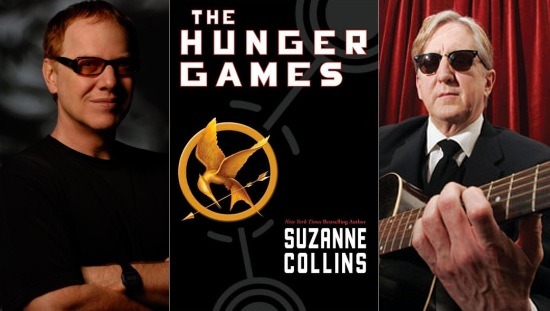 Danny Elfman and T-Bone Burnett are set to team up to score The Hunger Games, Gary Ross' adaptation of Suzanne Collins' dystopian YA novel. Burnett will also produce songs for the soundtrack, as the film's Executive Music Producer. I probably don't need to tell you that this is an impressively high-profile collaboration (but I will anyway) — Burnett is an artist and producer with 40 years of experience and 12 Grammys to his name, while Elfman is a four-time Oscar nominee for his work on Men in Black, Good Will Hunting, Big Fish and Milk. The Hunger Games will mark the first time Elfman and Burnett have worked together. Read more after the jump.
THE HUNGER GAMES is such a special property – it has worldwide mass appeal, but it's also sophisticated, cerebral, soulful, and rebellious. We needed a composer who can translate these qualities musically, and we have not one but two incredible artists in an absolutely thrilling first time ever collaboration.
I couldn't agree more, and I'm excited that the producers have seen fit to hire top-level talent to provide the music. I'm really curious to see what the team will come up with — as the series is set in a dystopian future version of the U.S., there's a lot of room for creativity on the musical front.
Burnett's (relatively) recent career highlights include a Grammy for his production work on the Robert Plant/Alison Krauss collab album Raising Sand, as well as acclaim for his work on Crazy Heart, Walk the Line, O Brother Where Art Thou?, and The Big Lebowski. In addition to the films mentioned above, Elfman has also created scores for Spider-Man, Mission: Impossible, The Nightmare Before Christmas, Alice in Wonderland, and many other films. He's also the guy behind the theme song for The Simpsons. He talked earlier this month about possibly doing the Hunger Games score, so consider this our confirmation.
The Hunger Games will star Jennifer Lawrence, Liam Hemsworth, Josh Hutcherson, Elizabeth Banks, Woody Harrelson, and Lenny Kravitz, and will open March 23, 2012. I'm guessing most of you are familiar with the basic concept by now — Lord knows we've done tons of reporting on this movie already — but here's a synopsis just in case:
Every year in the ruins of what was once North America, the nation of Panem forces each of its twelve districts to send a teenage boy and girl to compete in the Hunger Games. Part twisted entertainment, part government intimidation tactic, the Hunger Games are a nationally televised event in which "Tributes" must fight with one another until one survivor remains.
Pitted against highly-trained Tributes who have prepared for these Games their entire lives, Katniss is forced to rely upon her sharp instincts as well as the mentorship of drunken former victor Haymitch Abernathy. If she's ever to return home to District 12, Katniss must make impossible choices in the arena that weigh survival against humanity and life against love.